SAM Magazine—Ludlow, Vt., September 23, 2020—Resorts are implementing a mix of strategies to manage volume this winter, as most look to get lifts spinning in late November. Pre-booking requirements and reservation systems of varying complexity will be the name of the game for many operations, particularly those in drive markets. However, some resorts are still planning to accommodate walk-ups, especially midweek. Here's a look at recently-revealed plans.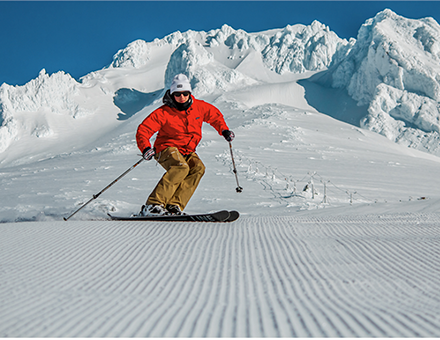 Timberline, Ore.
Rockies
To encourage midweek visitation, Mountain Capital Partners-owned Arizona Snowbowl has launched a $199 My Weekday pass, with Saturday, Sunday and some holiday blackout dates. The ski area is targeting a Nov. 20 winter opening and has rolled out a number of new protocols that will be implemented across the Mountain Capital Partners / Power Pass portfolio, which includes Brian Head, Utah, Purgatory, Colo., and Sipapu, N.M.
Indoor spaces at Snowbowl will be restricted, so guests are being asked to wear masks and use their cars to warm up and eat. Skiers and riders are also encouraged to buy tickets online in advance. And, in the event the resort needs to limit access during peak and holiday periods, guests are advised that the mountain will be open on a first-come, first-served basis.
Snowbird, Utah, will drop ropes a bit later than usual—on Nov. 30, after the Thanksgiving holiday weekend. The goal is to open with an increased number of open trails and lifts to allow guests to spread out. To control volume, the resort will also implement a parking reservation system, limit daily ticket sales, and pause other sales channels. Additionally, Snowbird has developed other new COVID protocols in line with NSAA's "Ski Well, Be Well" best practices.
Snowbasin, Utah, is not planning to implement a reservation system for season passholders this season. Daily tickets, rentals, and lessons will require advance purchase online. And, the resort may implement overall volume restrictions during peak periods, first by limiting day ticket sales and then by capacity caps if necessary. To keep guests on snow, Snowbasin has added new ski-up outdoor dining options and remote warming yurts. Face coverings will also be required in all public areas.
Powder Mountain, Utah, has created three separate operating plans. One anticipates business as usual, with heightened sanitization protocols, while the most stringent plan suspends all access to indoor facilities and requires online-only transactions. The resort will continue to cap daily visitors at 1,500. At the start of the season all purchases will be processed online, and access to the lodges will be limited. Powder has also modified its guest-serving snowcats with open air seating, so that guests can still access sidecountry terrain.
Monarch Mountain, Colo., is eyeing a Nov. 20 opening, but is prepared to drop ropes earlier should snow allow. Season passholders will not need reservations. While day ticket holders are encouraged to make date-specific purchases online, day-of walk ups will still be available midweek.
Like many places, Monarch is encouraging guests who can to avoid sliding on weekends and peak periods. The resort is installing signage to educate guests on new safety measures and has made several changes to its product lineup, including only offering half-day lessons and suspending childcare services.
Pacific Northwest
Brundage Mountain, Idaho, is not planning to limit access or require reservations this winter. All ticket products will still be available on-site, although Select Card holders will have direct-to-lift access. The resort will make face covering mandatory in areas where physical distancing is not possible—shuttles, lodges, lift lines, and loading areas—and its food and beverage outlets will only offer grab-and-go and quick-dine options, with limited seating. There are also changes to Brundage's ski and ride school services. The ski area will run private lessons only and will not offer childcare services.
Alpine touring saw a boom last spring after all the early closures, and resorts are anticipating similar enthusiasm this winter. Whitefish, Mont., rolled out changes to its uphill policy for 2020-21. Anyone looking to skin up the resort this winter now must hold an Uphill season pass. An Uphill season pass is complimentary for regular season-passholders, who will still have to opt in to the program and sign a waiver. Non season-passholders can pay $12 a day or $100 for the season to tour at Whitefish. The policy change was approved by the USFS, which typically mandates free access to public lands but deemed the pass and fee necessary to protect uphill users, downhill users, and Whitefish employees.
Timberline, Ore., anticipates that, outside of peak periods, most downhillers will be able to ski whichever days they want, but guests will need to make online reservations in advance. Reservation inventory will be divided between passholders and day lift ticket purchases. All customers will need to fill out an online registration, which will include a mandatory COVID questionnaire. There will also be a check point on Timberline Road to provide guests with information.
Timberline is offering its season passes in two groups this winter. Returning passholders will be able to buy passes and apply their credit from last year between Oct. 5 and Oct. 18. Inventory will open up to new prospective passholders from Oct. 19 to Nov. 8.
Mt. Hood Meadows, Ore., has crafted a detailed, data-driven plan to manage capacity. Based on historical visitation, it will sell lift tickets online by day of the week and time of day, using dynamic pricing to drive visitation toward traditionally less busy days and times. The system will offer date-specific tickets, with start times at 9 a.m., noon, 2 p.m., or 5 p.m. The later the start time, the less expensive the ticket will be. The target for the number of people actually riding chairlifts at any given hour is 3,000, which is 60 percent of peak ridership over the past three seasons.
Passholders won't need to make reservations in advance. Beyond that, though, all rentals and lessons must be reserved in advance online, and only date-specific ticket products will be offered.
SilverStar, B.C., is set to open its Nordic trails Nov. 28, with the downhill operation following on Dec. 4. As at Snowbird, the late start is intended to allow the resort to open with more coverage and lifts so that guests can better disperse. SilverStar is limiting the quantity of season passes available. Further, once the mountain opens, a parking reservation system will be implemented for all guests, passholders included, and guests will be asked to self-group in lift lines and ride with their travelling party.
CMH Heli, B.C., has revised its refund and payment policies to account for changing international travel restrictions. At four weeks out, guests unable to enter Canada will have three options: move funds to a 2021-22 trip, place funds into an account balance to be used within two years, or receive a full refund. Trips start Dec. 6. Masks will be mandatory in the helicopters, and guests will be expected to dine and socialize in the lodge with their travelling bubble. CMH began to prepare for this winter back in August, when it ran a full simulation with 30 "guests" and 20 staff.
East
Sugarbush, Vt., an Alterra Mountain Company resort, is planning to start spinning lifts on the Lincoln Peak side Nov. 21, and Mt. Ellen Dec. 18. The resort is implementing the same ticketing policies as other Alterra Resorts, including date-specific tickets and priority for season passholders.
Sugarbush has decided not to run group lessons or seasonal programs this winter but will continue to offer private lessons. Rentals will still be available but will have specific pick-up times and must be purchased online in advance. Lodges, food and beverage venues, and retail outlets will all have reduced capacities, but the resort has invested in new furniture and heaters to increase outdoor seating.
Magic Mountain, Vt., is aiming to start making snow in early November for a planned Dec. 5 opening, conditions permitting. Once Magic drops ropes, guests will need to reserve their ticket in advance online and check in upon arrival. They will also need to reserve a table inside the lodge. Guests without indoor seating reserved will have access to expanded outdoor food and beverage areas instead.
Passholders will get the first chance to make reservations each week. A limited number of day tickets will be available weeks in advance, with more inventory opening up to day-ticket buyers for same-week and same-day purchasers as inventory allows. Skier visits will be capped at 50 percent of the mountain's hourly lift capacity—1,700 skiers total. The ski area will not be raising ticket or season pass prices, though.
Report by Katie Brinton