SAM Magazine—Lakewood, Colo., Sept. 29, 2020—The National Ski Areas Association (NSAA) has released the results of the 2019-20 Climate Challenge. This was the ninth year of the program, in which more than 40 ski areas of varying sizes participated.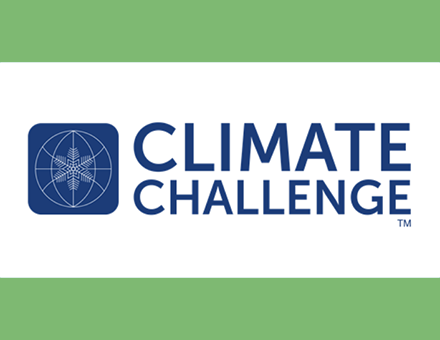 "To date," said NSAA, "these resorts have reduced more than 110,000 metric tons of carbon dioxide equivalent (MTCO2e) in greenhouse gas emissions through on-site projects, and have purchased more than 220,000 MTCO2e in renewable energy credits (RECs)."
Seven new Challengers joined the program this past season: Crystal Mountain, Wash., Mount Washington Alpine Resort, B.C., Powderhorn, Colo., Ragged Mountain, N.H., Sugarloaf, Maine, Wintergreen, Va., and Wisp Resort, Md.
Challengers commit to a five-step process: 1) inventory GHG emissions; 2) define a target for reducing emissions; 3) take one measurable step to reduce GHG emissions; 4) advocate on climate issues; and 5) report the results to the Climate Challenge and the public.
Furloughs and early closures related to COVID-19 meant that more than 20 of the participating resorts were unable to complete their greenhouse gas (GHG) emission inventories this spring. NSAA is giving impacted resorts the opportunity to combine reporting for last season and 2020-21 into next year's report.
From the 20 Challengers that were able to complete inventories, NSAA reported a diversity of GHG reduction projects. These included popular measures like lighting and solid waste reduction, as well as a variety of other steps, including on and off-site renewable energy installations, snowmaking and grooming efficiency improvements, facilities systems upgrades, and heating equipment improvements. Resorts have also continued to install electrical vehicle charging stations and make efforts to reduce transportation emissions from guests and staff.
Challengers also engaged in a variety of climate advocacy actions, such as corresponding with Congressional delegates, endorsing environmental legislation, and educating resort visitors on the risks of climate change. A number of participating resorts also joined NSAA in the Ceres Virtual LEAD on Advocacy Day in May of 2020.
The program continues to grow each year. In addition to the existing roster, four new resorts have already committed to the challenge for the 2020-21 season: Boyne Highlands, Mich., Brighton Resort, Utah, Schweitzer Mountain Resort, Idaho, and Sunday River, Maine.