SAM Magazine—Bartlett, N.H., Oct. 29, 2020—Tennessee native Greg Gavrilets is the new general manager of Attitash in New Hampshire. He succeeds longtime Attitash leader John Lowell, who is retiring from his role as vice president and general manager of Attitash and nearby Wildcat effective Nov. 1. Gavrilets' first day on the job was Oct. 26.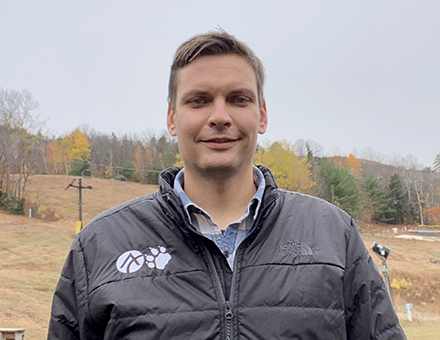 This is the third general manager position Gavrilets has held in his relatively young career, which began in 2005 as a ski patroller at Ober Gatlinburg, Tenn. In 2012, he was promoted to the role of terrain park and snowsports development manager there. He was featured as a SAM "10 Under 30" in 2015 before he took on his first GM role at Paoli Peaks, Ind., in 2016.
He took over as GM of Hidden Valley, Mo., in 2017, where he oversaw the installation of a $2.5 million ZipTour attraction that opened last year.
Gavrilets, who holds an MBA from the University of Tennessee, said he arrived in New Hampshire last week. "I am grateful for the opportunity to lead the team at Attitash and continue elevating the guest experience at our resort," he said. "The White Mountains of New Hampshire are a special place and I look forward to building on the legacy at Attitash and supporting our employees, guests, and local community."
Lowell has been in the mountain resort industry for 27 years, first working as director of hospitality at Waterville Valley, N.H., from 1993 to 2003 before he became general manager of the Attitash Grand Summit Hotel. In 2006 he was named GM of the resort. After Peak Resorts acquired Attitash and Mount Snow, Vt., from American Skiing Company in 2007, Lowell served as Mount Snow's director of lodging. He returned to Attitash as its general manager in 2011, and was promoted to the role of president, overseeing both Attitash and Wildcat, in 2013.