SAM Magazine—Bradenton, Fla., Nov. 18, 2020—Western mountain resorts enjoyed a slight 1.3 percent bump up in year-over-year occupancy in October compared to October 2019, and a rise in average daily rate (ADR) of 20.1 percent pushed total revenues up a healthy 21.7 percent for the month, according to the DestiMetrics Market Briefing from Inntopia. This is the first month since the pandemic was declared that monthly lodging showed a year-over-year increase in either occupancy or revenue.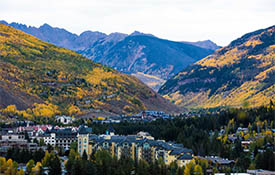 The Briefing is based on data from 18 mountain destinations in seven Western states encompassing more than 30,000 rooms through Oct. 31.
For the full summer season, occupancy was down 31.6 percent while ADR rose a solid 7.6 percent. Revenues finished down 26.7 percent as a result.
"We're continuing to see that consumers are more comfortable with short-lead bookings, and that willingness for visitors to book on short notice has allowed lodging properties to fill openings and improve their occupancy figures," explained Tom Foley, senior vice president for business operations and analytics for Inntopia. "It was heartening to see that during October, mountain properties reported their largest year-over-year revenue gain since May of 2016."
All Eyes on Winter
The booking pace during October for arrivals in the months from October through March reflect the continued cautiousness of mountain visitors to make long-lead travel plans. October bookings for arrival in the same month were up 36.6 percent; for November arrivals, up 10.1 percent. October bookings for the remaining four months were down, though, and for the six-month winter season were down 12.2 percent.
For the winter as a whole, arrivals in November through April are down a sharp 33.1 percent with decreases in all six months. ADR is down a moderate 1.9 percent compared to this time last year with increases in four of the six months.
"Beginning in December we are seeing a gradual downshift in occupancy and room rate that steepens as we move into January and beyond," Foley said.
Until winter guests see "abundant snowfall, meaningful progress in the fight against COVID-19, a stabilized political climate, and a recovering economy, we're going to need a healthy dose of good luck and good faith efforts to tackle this season's challenges," Foley concluded.