SAM Magazine—Paris, France, Nov. 30, 2020—With the pandemic spiking across many regions in the European Union, France has declared that ski lifts won't run this December, while fellow EU members Germany and Italy are threatening to keep ski areas from operating through the month as well. But with other nations vowing to keep resorts open, it remains unclear if the other nations will stick to their plans and keep the lifts from turning.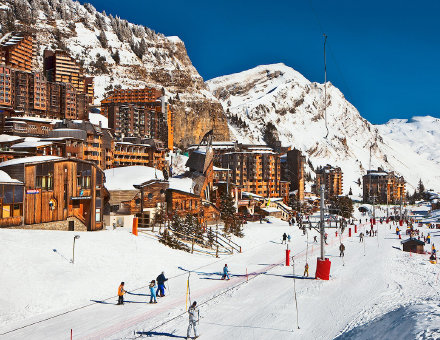 France's Avoriaz Ski Resort
French President Emmanuel Macron, German Chancellor Angela Merkel, and Italian Prime Minister Giuseppe Conte are reportedly seeking a pan-EU approach to keep ski resorts closed until at least Jan. 10 to help limit the spread of COVID-19. But the Austrian government plans to allow ski areas to open through the holiday period, as does non-EU member Switzerland.
The decisions reflect the different priorities of the various countries. Although virus infection rates in France have dropped dramatically in recent weeks, health authorities in the country's ski regions have warned that they would quickly be overwhelmed if virus cases surged when holiday crowds arrive, reports in French media say.
In Austria and Switzerland, winter tourism is considered too vital to shut down. Resorts in Switzerland are currently open; Switzerland's health minister has said that will remain the case so long as there were strict safety measures in place to stop and virus spread. Austrian resorts are shut down at present, but the closures are scheduled to end on Dec. 7.
In Italy, the prime minister has not specifically said that Italian resorts would stay closed when the country's November lockdown ends, but said Italians should not take a Christmas ski holiday.
In Germany, the primary concern was about German skiers heading into Austria to ski. Austria is considered "high risk" for the virus in Germany, and Germans currently have to self-quarantine for 10 days upon their return if they travel there.
The absence of a unified response to the pandemic is particularly awkward for the Portes du Soleil, which comprise one of the world's largest interconnected ski regions and straddle the French-Swiss border. Lifts in the Portes' Swiss resort towns will be operating, while those in France will not.
To add to the confusion, resort towns in France, Germany, and Italy will remain open to guests, even if the lifts are not allowed to run. The resorts are touting fresh air and a change of scenery, even as governments are advising citizens to avoid travel.
—This article is based on reporting by Patrick Thorne, The Snow Hunter