SAM Magazine—Ludlow, Vt., Dec. 2, 2020—While holiday openings were still plentiful this Thanksgiving, the model for opening seems to have shifted in parts of the country, with many resorts opting to slow roll their winter operations with post-holiday, midweek first-day targets. A handful of resorts had record setting holiday periods though, and plenty more saw themselves fully booked through new reservations systems. Weather, of course, was another huge factor, particularly on the East Coast.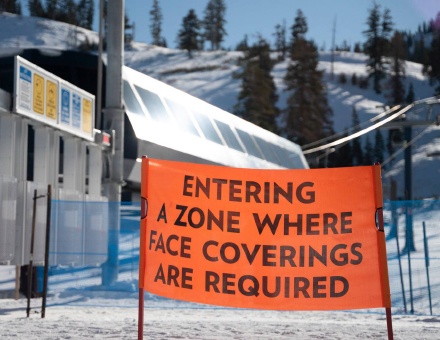 Signage at Sugar Bowl, Calif.
West
After a dry autumn, marked by extreme wildfires, California has fully transitioned to winter. More than 30" of snow fell in the Tahoe area during November, setting resorts up well for a slew of Thanksgiving openings.
Sugar Bowl, Calif., dropped ropes on top-to-bottom skiing off Mt. Lincoln Nov. 27, the Friday after Thanksgiving. Lift tickets were sold out in advance for the first two days of operations, although the ski area held back a reserve of lift tickets for guests purchasing rentals or private lessons up to three days in advance.
Sierra-at-Tahoe, Calif., opened Wednesday, Nov. 25, for season passholders only. Operations hit the pause button briefly on Thanksgiving Day due to high winds, but the resort re-opened Nov. 27, with 23 trails and eight lifts. On Monday, Nov. 30, access was expanded to include day ticket holders.
Squaw Valley Alpine Meadows, Calif., opened Tuesday, Nov. 24., with nine lifts across its two mountains servicing beginner and intermediate terrain as well as two terrain parks. The resort is using a reservation system and was limiting early season dining to grab-and-go options.
Heavenly, Calif., started spinning lifts even earlier, on Friday, Nov. 20. By Saturday morning, reservations for the opening weekend were completely full. The resort opened with 9 percent of its terrain and 11 trails, and capacity was based on those limitations.
Neighboring Northstar California opened the same day as Heavenly with seven trails and five lifts and is continuing to add terrain. By the Sunday of its opening weekend, Northstar had announced over social media that reservations for the Thanksgiving weekend were fully booked.
Mt. Hood Meadows, Ore., opened for daily operations Nov. 30, the Monday after the holiday weekend. Initially, the mountain will only be open to passholders, who do not need to make reservations. Daily tickets are currently only on sale for Dec. 21 and onward. Meadows made use of early season snow and its snow harvesting capabilities to open with a 41" base depth, four lifts, and three terrain parks.
Mission Ridge, Wash., had a limited opening on Nov. 27, for the holiday weekend. The resort kicked things off with a chair and a rope tow, quickly adding a second chair on Saturday. It's closed from Nov. 30 to Dec. 3, but is scheduled to reopen for the coming weekend.
Pomerelle Mountain Resort, Idaho, had a record setting opening over Thanksgiving weekend. Turnout was "definitely 15 to 20 percent higher than last year," manager Zack Alexander told local news outlets. The ski area saw close to 900 people on opening day, Friday, Nov. 27.
Pomerelle has COVID policies in place but is not limiting tickets sales at the moment. After opening for the holiday weekend, the resort has closed again and is scheduled to begin daily operations Dec. 18.
Colorado resorts were able to stay open through the holiday despite many ski-resort-dense counties like Summit County moving to a Level Red in the state's COVID tiering system on Friday, Nov. 20. Monarch Mountain opened Nov. 27, with 4 lifts and 50 percent of its trails. The ski area is implementing capacity restrictions, but only requiring tickets to be pre-purchased for weekends from Dec. 12 to Jan. 1.
A few Colorado resorts are opening post-holiday. Copper Mountain, Colo., opened Monday, Nov. 30, with 13 trails and 164 acres. Steamboat, which had originally been eyeing a Thanksgiving week opening, pushed back to Dec. 1 due to a lack of natural snow and limited snowmaking. Today it's reporting 6" of new snow with three lifts serving 12 trails. Winter Park Resort plans to open Dec. 3.
Snowbird, Utah, began its season Nov. 30. The resort opened with five lifts, including the tram, which served advanced terrain and top-to-bottom skiing and riding. A parking reservation system and touchless ticket kiosks are some of Snowbird's new COVID-management measures. The resort anticipates additional parking inventory to open up as more terrain becomes available.
Arizona Snowbowl, Ariz., opened Friday, Nov. 20., with good early season conditions. Three-inches of fresh over Thanksgiving and snowmaking-friendly weather helped draw a high turnout over the holiday weekend, with the mountain reaching COVID capacity before noon on Sunday.
Midwest
Several midwestern resorts started spinning lifts over the holiday period. Granite Peak, Wis., began its season Wednesday, Nov. 25. The resort had been making snow since October and was able to open with two lifts and roughly 25 percent of its terrain—typical for this time of year.
In a tweet, GM Greg Fisher summed up the first week of operations, noting that there were some lessons to be learned but that guests were following mask protocols and inside ops were running smoothly.
Mont Du Lac, Wis., got started the weekend before the holiday on Saturday, Nov. 21. The ski area opened with a chairlift and a surface lift and also offered tubing. Post-holiday weekend, the resort is running a Tuesday-Sunday schedule, with tubing on offer Friday-Sunday.
The season at Mont Du Lac is off to a strong start, said sales and marketing manager Bridgette Duffy, noting that attendance for the week was up more than 100 percent. Season pass sales are also up more than 100 percent. Mont Du Lac is adding a large outdoor tent this week, and Duffy said that the feedback from guests has been positive so far.
Lutsen Mountains, Minn., also had a banner opening weekend beginning Nov. 21. Director of marketing and sales Jim Vick told local news outlets that crowds were 50 percent larger than last year. The resort will be operating a weekend only schedule until Dec. 11.
Afton Alps, Minn., opened for night skiing Nov. 20, the Friday before Thanksgiving, with daytime operations beginning Saturday, Nov. 21. The ski area had three chairlifts, two surface lifts, and a rope tow running, but limited terrain meant limited reservations. As a result, opening weekend was fully booked by that Friday.
Spirit Mountain, Minn., opened Friday, Nov. 27, after a long summer closure that had been necessitated in part by financial woes. Funding from the city of Duluth allowed Spirit to get the lifts spinning once more. The ski area was open exclusively to passholders over the holiday weekend, with day tickets opening up for purchase this week.
East
A warm and wet November has put a damper on snowmaking for many resorts on the East Coast. While a number of resorts met holiday weekend opening targets, just as many or more have opted to push back their opening dates in favor of increasing the amount of available terrain to help with physical distancing.
New Hampshire resorts in particular have been slow to open this year. The vast majority of New Hampshire's ski areas remained closed through the holiday period, with several eyeing this coming week or weekend for low-key openings. Bretton Woods did open for the season Nov. 25, with two trails and two lifts. It's closed now from Nov. 30 to Dec. 2 due to mild weather.
In Vermont, the season is underway. Killington opened the weekend before Thanksgiving to season passholders, with the general public gaining access to trails Monday, Nov. 23. The resort added additional parking inventory in advance of the holiday weekend and was offering advanced skiing and riding on 18 trails. Heavy rains early this week saw Killington making some adjustments to operations to preserve snow.
Mount Snow, Okemo, and Stowe in Vermont all opened Nov. 25, with top-to-bottom sliding. Southernmost Mount Snow began the season with three lifts and seven trails. Okemo was operating with three lifts and nine trails over the weekend. Stowe opened two lifts and seven trails and continued adding terrain across its two peaks in the lead up to the holiday weekend. Stowe suspended operations for the day on Dec. 1 after heavy rains, and reopened today with four lifts serving eight trails.
Jay Peak, Vt., started spinning lifts Nov. 27 for the holiday weekend but closed Nov. 30, with plans to reopen Dec. 4. The resort ran The Jet triple and had two trails for advanced skiing and riding.
Stratton, Vt., had been making snow in advance of the holiday, but opted not to open as scheduled on Wednesday, Nov. 25, due to suboptimal weather in the forecast. An official opening date is still TBD.
Sunday River, Maine, opened Monday, Nov. 23. Access is for passholders only until Dec. 14. The resort has three lifts, 16 trails, and 110 acres currently open. The buttery corduroy of the holiday weekend gave way to rain Monday, but snowmaking temps are forecasted to return later in the week.
Sugarloaf, Maine, opened in the rain on Nov. 23, also to passholders only. The resort is operating with six trails and 52 acres open. Once Sugarloaf is able to expand terrain, it anticipates opening access to daily ticket buyers.
Down in Massachusetts, Jiminy Peak opened for the Nov. 21-22 weekend and the Thanksgiving weekend. The same weather that is plaguing the rest of the East Coast led the resort to decide not to reopen this coming weekend (Dec. 5-6), with an eye toward reopening Dec. 12.
Wachusett, Mass., opened on a similar schedule, kicking things off Nov. 20 and then again on Nov. 27. The resort is still scheduled to operate this coming weekend.
Hunter Mountain, N.Y., started the season Nov. 25, but closed after the holiday in anticipation of rain. The resort is looking to reopen this Friday, Dec. 4.
Neighboring Windham Mountain, N.Y., opened with a passholder weekend over the holiday. Six trails with spring conditions were served by one lift.
In North Carolina, Sugar Mountain opened Nov. 19, with two lifts serving five trails, and Cataloochee got started Nov. 20, with three lifts and five trails thanks to aggressive snowmaking. Both resorts suspended operations Nov. 25, ahead of the holiday weekend, because of unseasonably warm weather, but have since reopened as of today thanks to snowmaking and a shot of natural snow—Cataloochee is reporting 6" of new snow, and Sugar is reporting 5".