SAM Magazine—Natick, Mass., Dec. 9, 2020—Ski area operators worked hard for months to develop operating plans and protocols for this strange winter, knowing all along their original plans would likely change several times after opening day depending on several variables: the severity of the pandemic, guidance and restrictions from government, guest behavior, and snow conditions.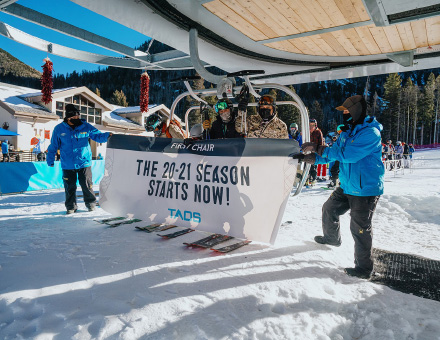 Taos enjoyed opening day on December 9, 2020.So, the recent changes and challenges many resorts have encountered—and the possibility of further changes—weren't entirely unexpected. Among them:
Vermont Gov. Phil Scott's executive order effective Nov. 14 suspended recreational sports, and delayed the start of school winter sports in the state. It has since been clarified that the order includes programs that organize weekly interaction between members of different households, such as seasonal ski/snowboard programs, recreational/race clubs, and local school programs at ski areas, according to Ski Vermont president Molly Mahar. The governor hopes to be able to allow recreational sports by the end of December or early January, but it's contingent on case numbers. Some Vermont ski areas have already cancelled their seasonal programs and refunded participants' fees.
The state of California issued guidance for ski area operations in early December, which didn't necessitate any major changes to existing plans the state's ski areas already had in place, according to Ski California president Michael Reitzell.
Shortly thereafter, Gov. Gavin Newsom issued a stay-at-home order that goes into effect when a county's ICU availability drops below 15 percent. However, outdoor operations at ski areas can remain open even if their county reaches that threshold, but additional restrictions to food and beverage and indoor operations will likely be in place.
"All of our resorts have been diligently working since March to ensure their operations can adhere to ever changing public health and safety requirements," said Reitzell. "We also know that based on what happened during the last statewide stay-at-home order, people will still come to the mountain communities where our resorts operate. We're doing our very best to enforce new rules and policies, but we need skiers and riders to follow them. Mask up, physically distance, and respect everyone. That's how we'll stay open all season."
The state of New Mexico issued a two-week statewide shutdown Nov. 13, which prevented ski areas from opening. Ski areas were able to submit operating plans to the state for approval starting Nov. 30. Taos Ski Valley, for example, had its plan approved and opened Dec. 9. Taos will operate with limited indoor and outdoor capacity, no parking shuttles, cashless transactions, required advance reservations, and mask and social distancing protocols.
Pitkin County, Colo., home to Aspen Snowmass, will require overnight visitors coming from outside Pitkin, Eagle, or Garfield counties to complete an affidavit confirming they had a negative Covid-19 test result 72 hours prior to arrival, or will quarantine, either for 14 days upon arrival or until they obtain a negative test result in Pitkin County. The requirement goes into effect Dec. 14.
Pitkin is the only county in Colorado with these requirements. According to The Aspen Times, one of the biggest challenges for a community like Aspen is the need communicate the requirements to visitors in advance, which will require a collaborative effort.
The parking reservations system instituted at most Powdr-owned resorts appears to be working well so far, with one exception—no-shows. In a video update, Killington/Pico, Vt., president and GM Mike Solimano said the resort has seen upwards of 30 percent no-shows for parking reservations on some days. Other Powdr resorts appear to be having a similar issue. Guests can cancel their reservations up to the morning of, but many haven't been.
As a result, Powdr instituted a no-show parking reservation policy, "Cancel for Karma." After the first no-show, guests will receive a courtesy reminder email; after a second no-show, they'll lose their next booked reservation; after any subsequent no-shows, they'll lose all future booked reservations. Resorts will also have staff scanning for parking reservations throughout the day, to avoid penalizing late arrivals.
Guest behavior around the politicized issue of mask wearing in northern Idaho prompted Schweitzer president and CEO Tom Chasse to publish a pointed letter to address the situation. Schweitzer requires guests to wear masks while in lift lines and indoors, an industry-wide standard.
However, not all guests have been adhering to the rules. Despite having staff in key places to remind people to mask up, they can't be everywhere. If guests don't comply, he's willing to take extreme measures.
"It's unrealistic to staff every bathroom, every lift line and every indoor space to remind guests to mask up," Chasse wrote. "If we cannot get this under control, I'm willing to shut down the entire operation until we're able to open additional lifts and terrain."
Chasse also offered an extension on the resort's offer for passholders to roll their pass over to next season. "Bottom line—if you're uncomfortable with our current process, procedures, and expectations relative to Covid, I would be more than happy to roll your season pass to next year as long as you do so by Friday, Dec. 11, 2020. The decision is yours."
Read his entire letter HERE.
Statements like Chasse's may become more common from resort leaders if guests put others at risk by not following safety rules while on property. Resorts want to stay open all winter, and they don't want the misbehavior of a small minority to ruin it for the rest. The message can be distilled to simply say, "If you don't like it, don't come here."
Meanwhile, overseas ... The situation in Europe, as we have previously reported, has been more confused than North America. And more contentious. Winter resorts in France are suing the government to keep lifts running during the upcoming holidays. However, the resorts are unlikely to prevail, as the French courts have already rejected a similar challenge to the government's closure of bars and restaurants. See Bloomberg's full report here.