SAM Magazine—United Kingdom, Dec. 18, 2020—Here we present a roundup of ski industry news from across the pond, based on Patrick Thorne's "Snow Hunter's World Weekly Snow Resort News" for the week ending Dec. 19, 2020.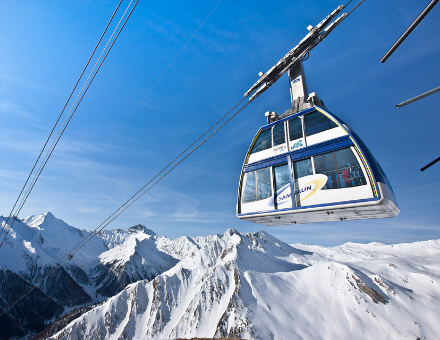 Samnaun in Switzerland
Most Swiss Ski Areas Now Open for 2020-21 Season
More than 100 Swiss ski areas are now open with reportedly excellent conditions, strict operating restrictions due to the pandemic, and few international visitors. Switzerland is an outlier, surrounded by countries whose governments have either closed ski resorts until after the holidays, or are only allowing locals to ride lifts. The country has high virus infection rates and individual cantons have closed down many facilities but, despite pressure from its neighbors, Swiss ski slopes have so far stayed open.
Among the ski areas now open are Samnaun, which usually shares a cross-border ski area with neighboring Ischgl in Austria. Lifts are closed on the Austrian side until Christmas Eve, when locals can ski, but hotels are closed. The same cross-boarder situation is happening in the Cervinia-Zermatt ski area with the Italian slopes closed, and in the Portes du Soleil that links France and Switzerland.
The French government has said French skiers who head in to Switzerland to ski over Christmas and New Year may be fined.
There have been social media images at various times over the past month of long and apparently not socially-distanced queues of skiers waiting to board lifts in Engelberg, Verbier, and Zermatt, and in each case the resort has then gone on a PR offensive to stress their strong efforts to operate according to pandemic safety requirements.
All areas are stressing the need for skiers and boarders to stick to the rules in order for resorts to be able to stay open. Verbier has hired "Covid Angels" to help ensure rules are followed. The resort says the Covid Angels have police support.
In many cases, there are also restrictions being placed on the number of skiers allowed on the mountain and riding enclosed lifts, following the North American model.
French Ski Resorts Offer a Lot—Just no Lifts
French ski resorts are opening for Christmas, just without the ski lifts running.
But the resorts are offering pretty much everything else, including cross-country skiing and tobogganing on ski slopes. Ski touring is a questionable area that some resorts are encouraging; others are warning that normally groomed and patrolled trails are not being patrolled and may not be avalanche safe.
Without ski patrol on the mountain and no avalanche mitigation, ski touring is a more dangerous activity, and a concern in areas with already overwhelmed medical facilities due to Covid.
"As of now, none of the slopes will be 'closed,' per se, unless the government places restrictions on activities that, if an injury happened, would add extra-avoidable stress on the maxed-out hospital staff and beds—this over capacity is a big danger for the region as a whole," said Henry Schniewind of Henry's Avalanche Talk (HAT). "This lack of capacity is the main reason the resorts in France are closed in the first place."
Les 2 Alpes is undeterred. It is grooming two intermediate trails over Christmas and New Year's, one covering 750 meters (2,460 feet) of vertical back down to the resort, for ski tourers to use.
The resorts are hoping to get Christmas and New Year's visitors from across France, reflecting the bumper business many did with their domestic market over the summer.
It is a different approach than the other countries that are keeping their ski lifts closed over the holidays. Germany is in full lockdown, and Italy has advised against Christmas trips to the mountains. Austria will open its ski lifts starting Christmas Eve, but only wants locals out on the slopes, and has ordered hotels closed.
Most ski resorts in most other European countries except Andorra have now opened for the season, or will do this coming weekend. Bulgaria and the Czech Republic are among the latest to announce their season starts this Friday or Saturday.
At present, it appears that France, Austria, and Italy all plan to open lifts and welcome outside visitors beginning Jan. 7.
Scotland's Ski Season Starts on Saturday
Scotland's 2020-21 ski season starts on Saturday, Dec. 19, but there's a questionable amount of snow at the four ski areas planning to open, and strict travel restrictions to contend with.
It's currently illegal for the vast majority of skiers in the United Kingdom to travel to the Scottish Highlands where the ski areas are located. The four ski areas opening, with probably very limited terrain initially, are Cairngorm, Glencoe, Glenshee, and The Lecht.
Scottish skiing, often largely ignored, has received a lot of attention from English-based publications that have run stories about Scottish ski areas being the place for Brits to head to in a pandemic, with the added danger of Brexit making it doubly hard to get to the Alps, Dolomites, Pyrenees, or Scandinavia. The current travel restrictions, though, may force Brits to wait a bit longer to sample Scotland's snow.