SAM Magazine—Lakewood, Colo., Feb. 10, 2021—The National Ski Areas Association (NSAA) 2021 winter conference and trade show was held virtually, Feb. 1-5. Attendees participated in educational sessions, networking events, and trade show hours from wherever they happened to be. The event was, of course, different than the traditional winter gatherings, but NSAA made the best of it with various efforts to increase engagement and participation through the Whova platform used to host the online experience.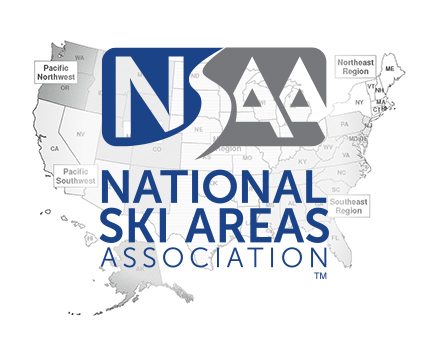 There were a total of 478 attendees, 234 from 106 ski areas/associations/organizations and 235 supplier representatives, 60 of whom did virtual booths.
A sensibly consolidated schedule of educational sessions was held Tuesday, Wednesday, and Thursday. None of the sessions overlapped, so attendees did not need to choose which to attend during each time slot. If they missed a session, most were recorded and are available for attendees to watch and listen on the Whova platform through the end of July.
The kickoff keynote attracted the most viewers. The speaker was Afdhel Aziz, founder and chief purpose officer of Conspiracy of Love, a global social impact marketing agency that consults Fortune 500 companies on leading with purpose. He spoke about how businesses can be a force for change. He concluded by telling ski areas that, to be successful, you need three things: a great product, a great story, and you need to share what you do to make the workplace better. These are the things Millennials and Gen Zs are looking for to make sure you are walking the walk not just talking the talk.
Among the other topics covered were lift maintenance, supporting employee mental health, introducing technology, government affairs, and the intersection of race and climate change.
The "Lift Maintenance Imperative" session gathered a stellar panel of lift experts and resort leaders to discuss the ins and outs of maintaining ski area lift infrastructure. Deferred maintenance and succession planning were two of the primary topics discussed. NSAA director of technical services Mike Lane reminded attendees of the benefits of using the Lift Maintenance Resource Guide to its fullest potential, and hopes to bring more attention to the guide.
Wednesday's "Tech Transition" session featured resort operators that made significant changes to their systems—ticketing, e-commerce, fulfillment, etc.—ahead of this season. While many of the changes helped operators adjust for Covid operations by moving to advance purchase online and contactless pickup, for example, all operators reported the changes were made with a long-term view.
Loon Mountain, N.H., VP of marketing Kevin Bell summarized that view by pointing out that if we're looking at this season as a detour to just get by this situation (i.e., the pandemic), "we're looking at it all wrong," and resorts need to use it as an opportunity to change for the better moving forward.
Arapahoe Basin's Peggy Hiller said there certainly were initial bumps in the road in transitioning to full RFID, installing ticket pick-up kiosks, and other tech changes—but the benefits are well worth it. Between streamlining the number of products A-Basin offers, advance bookings helping ski school plan for staffing, and reducing—or eliminating—lines altogether, the experience is better for both staff and guests.
On Thursday, there was a roundtable with NSAA board members moderated by Alan Henceroth of A-Basin. The panel included Solitude GM Kim Mayhew, Killington GM Mike Solimano, Schweitzer Mountain CEO Tom Chasse, Lutsen Mountains president Charles Skinner. Together the panel shared their challenges and wins from this season. No surprise that the biggest challenge for all was education and compliance of Covid safety rules. Another challenge they all shared was physical and mental Covid fatigue of their staffs.
Some of the wins were advancements in technology making for a better customer experience, extended drive-to markets, expanded outdoor F&B with wind protected heated decks, and more control of peak days with capacity management.
The trade show and "supplier direct connect" opportunities allowed operators to engage with participating suppliers. Many suppliers included videos, images, and links to more information in their online "booth."
SAM and North Pole Design's Senan Gorman held a live chainsaw carving of a ski tiki on Zoom during Wednesday afternoon's supplier direct connect. More than 30 people tuned in for the event, and interacted with lumberjack jokes and guesses for which of four potential tiki designs Gorman was carving. Schweitzer Mountain's Dani Demmons won the drawing for the tiki.
NSAA will hold its national conference as a virtual event, June 7-11, 2021.