SAM Magazine—Neihart, Mont., Feb. 10, 2021—George Willett has sold Showdown Montana to his daughter, Katie Boedecker, after nearly 48 years of running the resort.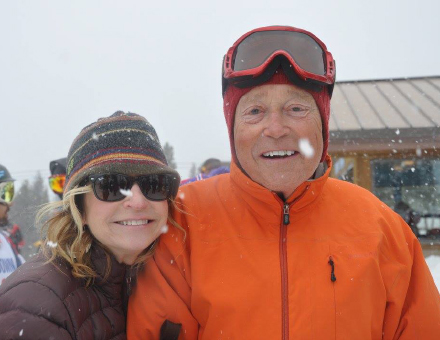 Katie Boedecker and George Willett
Boedecker, who grew up at Showdown, has worked many positions at the ski area, including general manager for the last three years. She joins a very small list of women worldwide that own and operate a ski area.
Boedecker's daughter Avery Patrick, Showdown's marketing director, and her husband Shawn Patrick are also investing in the business and will become shareholders in the next few months.
"My dad and his wife Margie developed a place that is special for so many people," said Boedecker. "Continuing this legacy is a big responsibility, but I've been taught by the best. I'm super proud of what they've created and excited to build upon it with my daughter, son in-law, sons, and our entire team. Showdown truly is a family-run business and we take great pride in serving the families and people of Central Montana."
"I'm so grateful for the time I've had over these past 10 years working with my Grandpa George," Avery Patrick said. "Shawn and I are incredibly proud of my mom, and are excited to be involved in the business and where we're headed. ... We look forward to sharing this with our son and keeping Showdown in our family for generations to come."
Other family members retain their roles at Showdown. Boedecker's oldest son, William Gold, is working in a variety of roles this winter including resort development & planning. George Gold, William's twin brother, provides marketing assistance from Minneapolis. And Bridger Boedecker, Katie's youngest, developed a new computer program to manage Showdown's online rental reservations this past fall.
Last but not least, Willett will retain his title as "chief product tester" and his upstairs office, where he continues to consult on a daily basis. "Kate tells me what to do, and I get to stick around. I've got a pretty good deal," Willett said.