SAM Magazine—Rome, Italy, Feb. 16, 2021—Many of Italy's ski resorts were ramping up to open this week, some starting Monday, Feb. 15, when the government's ban on recreational skiing at resorts was set to expire—making snow, grooming, preparing facilities, staffing up, etc. However, resorts were informed at 7 p.m. on Sunday that health minister Roberto Speranza had signed a measure extending the ban in Italy until March 5, due to concerns over the spread of coronavirus variants in the country.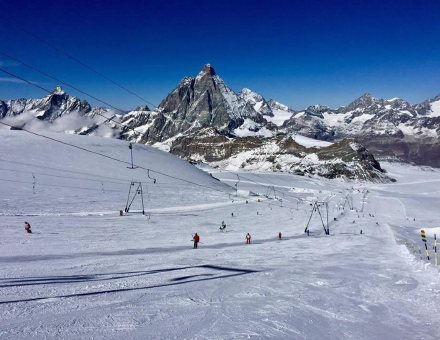 Cervinia, Italy
The postponement comes as several European ski nations continue to battle the coronavirus via closures, which have caused many resorts across the continent to remain shuttered all season.
In a statement, the Italian health ministry said that a variant first found in Britain is sickening 17.8 percent of recently infected people by Covid in Italy.
The ski season in Italy has yet to begin. The ban that was to expire would have allowed resorts in "yellow" zones to reopen starting Monday. Resorts in "red" and "orange" zones would not have been allowed to reopen under Italy's tiered system of coronavirus restrictions.
Resort operators and mountain-town officials didn't take the news well.
The resort of Bormio in the Lombardy region of the Alps said in a statement, "We are speechless because of the timing with which this communication came."
Aosta Valley president Erik Lavévaz agreed. "A closure communicated at 7 p.m. on the eve of the opening, planned for weeks, after months of work on protocols, hiring and preparation, is sincerely inconceivable," he said. "While understanding the health reasons, the procedure is not genuinely explainable."
The brand-new government of Premier Mario Draghi promised to quickly compensate the ski sector for economic losses. According to the association for ski lift operators, ANEF, the Italian ski industry generates 1.2 billion euros ($1.5 billion) in annual revenues and employs 5,000 permanent and 10,000 seasonal workers.
Some are calling for the government to not only compensate lift operators for losses, but also denizens of mountain communities hurt by the closures.
"One thing is certain at this point—we should not only talk about help from the government but also about a fair demand for damages caused by an unholy and utter disregard for those who live and work in the mountains," said the mayor of Sestriere, Gianni Poncet.
Tyrol a Hot Spot Again
The Tyrol region of Austria—home to what is believed to be Europe's first "super spreader" event back in March 2020, and where ski areas have been open for locals this winter—is once again a leader, in an unfortunate way. It is home to the European Union's largest known outbreak of the coronavirus variant first detected in South Africa. A reported 293 cases of the more contagious variant have been confirmed in Tyrol, 120 of which are currently active, according to the Associated Press. They are concentrated in the Schwaz district, east of Innsbruck.
Tyrol officials on Monday created a list of measures to combat virus spread. The list includes more police checks on mask-wearing and social distancing, and a requirement for negative antigen tests before people can use aerial lifts at ski areas.
Further, Austrian Chancellor Sebastian Kurz said Tuesday that for 10 days starting Friday, Feb. 19, people will have to produce a negative coronavirus test from within the last 48 hours to leave the Tyrol province.
This is all happening in Tyrol, even as Monday marked the end of a roughly six-week lockdown in Austria, allowing schools and businesses to reopen across the country.
Elsewhere in Europe, French ski resorts are closed at least through February. Germany and Scotland have extended lockdowns until Mar. 7; several German resorts, including Garmisch Partenkirchen, Germany's largest, has said they will not open even if allowed after Mar. 7, due to the logistical challenges and cost. Swiss resorts are open, but with many restrictions on travel and quarantining.