SAM Magazine—Boulder, Colorado, Feb. 23, 2021—Pocket Outdoor Media (POM), which has been accumulating active lifestyle content and services, significantly expanded its reach by acquiring Outside Magazine and the entire Outside Integrated Media, including Outside Studio, Outside TV, and the Outside GO travel business.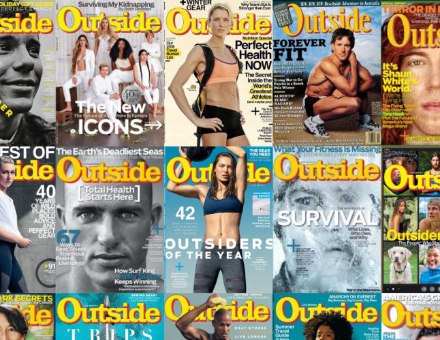 Separately, it also corralled Gaia GPS, a mobile mapping and navigation app; athleteReg, an event registration platform serving runners, triathletes, cyclists, and skiers; and Peloton magazine.
Not surprisingly, POM has changed its name to Outside. POM expects the acquisition to close in the second quarter.
The deals create a platform that spans television, mobile, desktop, and print. The new additions join existing brands such as SKI, Yoga Journal, Women's Running, Triathlete, Backpacker, Climbing, Clean Eating, VeloNews, Trail Runner, FinisherPix, Warren Miller Entertainment, and more.
The latest additions bolster the company's position as the source for a broad swath of active lifestyle consumers. Outside Magazine has 675,000+ monthly subscribers and an estimated 3.75 million readers, while Outside Online sees 4.1 million unique monthly visitors. This broadens the scope of Pocket's existing 30 million monthly reach.
"Adding these businesses to our portfolio and rebranding Pocket is a transformative moment for us," said Robin Thurston, CEO of the all-new Outside. "Together with our other category-leading properties ... these brands make our new company the world's leading creator of active living content, experiences, travel, and services. We now deliver content to almost every home in America across every platform, screen, and device."
Importantly, the acquisitions bring new benefits to the company's Active Pass membership, a $99 per year offering that gives consumers access to premium digital content, print subscriptions, event entries and photography, books, gear discounts, a personalized feed, and interactive experiences with editors, pro athletes, coaches, and other experts.
Several investment partners made the acquisitions possible, including Sequoia Heritage, JAZZ Ventures, Zone 5 Ventures, and NEXT Ventures. The financing and acquisition transactions will enable the company to invest in audience, technology, and product development. Cooley LLP and Progress Partners advised the company with respect to the transactions.
Said Michael Moritz, the Welsh billionaire and partner in Sequoia Heritage who will be joining the Outside board of directors: "We're investing in Outside because the management team has warmly embraced the future of information and entertainment on the internet. Just like Netflix and Amazon Prime, Outside will create and distribute distinctive content to a worldwide audience on any connected device.
"Better still, Outside will turbocharge the online programming of many of the most-loved fitness and health brands. As a longtime journalist and former ink-stained wretch, I'm now being granted the opportunity to start a new chapter—as a digital-stained wretch," Moritz said.
The new businesses will continue operating out of their existing locations and will immediately begin working on a range of synergies that the company's technology platform makes possible.
POM is based in Boulder, Colo., with offices in Denver, Carbondale, Easthampton (Mass.), Frankfurt, New York City, Ojai, San Diego, San Francisco, Santa Fe, and Toronto. Outside is based in Santa Fe, with offices in Denver, Boulder, Chicago, and New York City. Outside TV has offices in Connecticut and New York City.