SAM Magazine—Broomfield, Colo., April 13, 2021—Vail Resorts (VR) is undergoing a leadership shuffle at its headquarters in Broomfield, with some top executives moving to different positions, and some leaving or stepping down.
Mountain division president Patricia Campbell is stepping down from her position to assume a new role as senior advisor to Vail Resorts mountain division.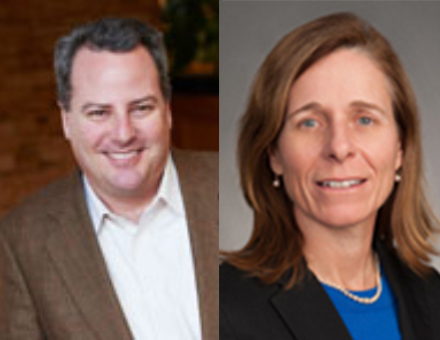 James O'Donnell and Patricia Campbell
Hospitality, retail, and real-estate executive vice president James O'Donnell will succeed Campbell as president of the mountain division, leading operations for VR's 37 mountain resorts as well as its real estate business. He has been in his current role since 2016, and with VR since 2002.
As senior advisor, Campbell will work on strategic projects and also mentor and develop the next generation of mountain leaders, including "building broader gender and racial diversity within mountain operations," according to a company statement.
Campbell has been with VR since 1999 when she was ski school director at Breckenridge. She was appointed mountain division president in 2015. Her ski industry career began in 1985 as a ski instructor at Jackson Hole Mountain Resort, Wyo. Campbell is a 2015 SAMMY Award honoree.
Greg Sullivan, chief operating officer of Vail Resorts retail, will succeed O'Donnell as senior vice president overseeing both retail and hospitality operations. Sullivan joined VR in 2016. He previously held leadership roles at Crocs and Walmart.
Mountain division senior vice president Bill Rock has been promoted to executive vice president of mountain operations. Rock will retain his direct leadership accountability for the Rocky Mountain region and have expanded responsibilities for mountain operations across the division. He joined Vail Resorts in 2010 as chief operating officer of Northstar California Resort. In 2005, Rock was recognized with a SAMMY Award. He began his career in the mountain resort industry in 1996. 
These leadership changes will go into effect June 7, 2021. VR plans to backfill Sullivan's role, and any other role that opens as a part of these changes, with internal talent, the company said.
Other significant recent moves include the April 5 internal announcement that Western Region senior vice president and COO Pete Sonntag will be leaving Vail Resorts effective May 1, 2021. Sonntag was previously COO of Heavenly, Calif., and then of Whistler Blackcomb. Sonntag has been in his current role since October 2019.
An April 9 internal announcement delivered the news that Eastern Region COO Doug Pierini has been appointed Western Region senior vice president and COO, effective May 19, 2021. Pierini moved East in 2018 from California, where he was general manager of Kirkwood.