SAM Magazine—Huntsville, Utah, April 13, 2021—Snowbasin Resort and Salomon are partnering in a program in which Salomon will provide Snowbasin with equipment for rentals and lessons. The partnership between the two northern Utah-based companies will add a community access point for Snowbasin guests and bolster offerings of Snowbasin's "Learn & Earn" program, providing a more accessible and affordable learning experience for first-time skiers and snowboarders.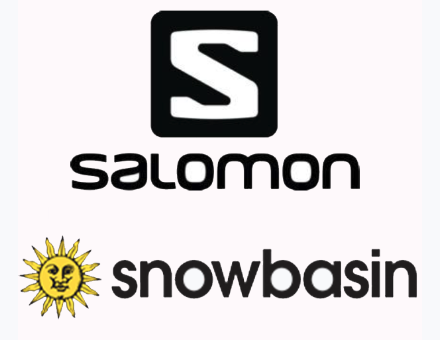 Through the partnership, Snowbasin will offer an entirely new demo fleet of Salomon skis and snowboards for rentals and lessons. Salomon will also offer season pass pickup at its Amer Sports Factory Outlet in Ogden, Utah, for Snowbasin passholders starting August 15, 2021, as well as gear fittings for participants in the Learn & Earn program. Salomon will also provide an assortment of discounts to Learn & Earn participants on apparel and gear, including: 
 20 percent one-time discount on any in-stock Salomon products at the Amer Sports Factory Outlet store when picking up or fitting gear 
 10 percent discount on any in-stock Salomon products at the AMER Sports Factory Outlet store 
 30 percent one-time use discount code for Learn & Earn program graduates on Salomon.com 
The Learn & Earn program won the NSAA Conversion Cup in 2018 for its success in introducing newcomers to skiing and snowboarding. The three-year program provides lessons, equipment, and season passes at a great value. Since the program's inception, it has introduced thousands of new skiers and snowboarders to the sport. 
"Through our Learn & Earn program, we look to welcome and encourage first-time skiers and snowboarders to the sport by setting them up for success in order to become lifelong enthusiasts of the sport," said Davy Ratchford, general manager of Snowbasin Resort. "We are thrilled to partner with Salomon in working to make winter sports more accessible and more affordable for all people within our local community."
"We are thrilled to partner with a world-class ski resort right in our own backyard," said Jenny Taylor, VP of marketing for Salomon Americas. "Our goal as a company is to help enable people to play, progress, and connect with nature. Whether you're just starting out in Snowbasin's Learn & Earn program, or tackling their expert terrain, we are here to provide you with the best equipment."