SAM Magazine—May 6, 2021, Ludlow, Vt.—With Memorial Day on the horizon, resorts are sharing summer start dates and deals. Many East Coast and Midwest areas are targeting May openings, while lots of the western operations are eyeing mid to late June. A handful of operators with snowpack and inclination plan to continue offering skiing and riding through the month.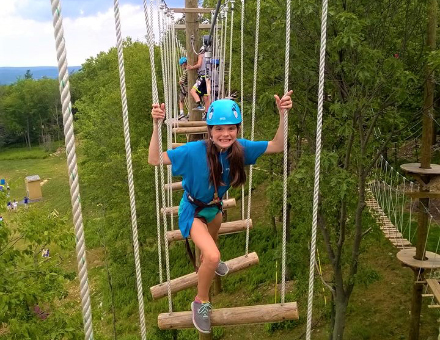 Blue Mountain, Pa. opened their ropes course on May 1
One question is whether a shifting Covid landscape will shift summer ops. Many operators continue to highlight their increased sanitation practices and are requiring face-coverings in areas where physical distancing isn't possible. These practices are aimed at keeping recreation safe for guests and staff amid continued virus spread, even as some states ease mask mandates. 
Other Covid-induced procedures have resulted in operational efficiency. Ski NH executive director Jessyca Keeler observed, "that most of the New Hampshire areas are definitely continuing to use the advanced ticket purchase and reservation-type systems that they put in place last summer because they found those systems really helped them manage guest flow, staffing, etc." That seems to be a trend across the board—advisements to book in advance and "reservation required" banners are prominent on resort websites.
Whether summer services have been expanded or reduced seems to vary more substantially from operation to operation. Keeler noted that many New Hampshire operators were expanding offerings but reducing schedules. "A lot of areas are looking at only being open from Thursday or Friday through Monday and actually closing 2-3 days per week," she said, with staffing challenges rather than Covid concerns the likely key driver of those changes. 
Here is a sample of the openings and offerings we are seeing so far. 
EAST
The Adventure Park at Gunstock, N.H., will be open weekends from May 29 through June 21, before moving to a four-day-a-week, Friday-Monday schedule, beginning June 25 and running until Sept. 6. Guests can expect to book tickets for activities, like scenic lift rides, the mountain coaster, the zip tour, the aerial treetop adventure, e-bike tours, and off-road Segway tours, in advance online. Daily capacity restrictions and frequent sanitization will still be in place. 
New this summer, The Patio @ Gunstock will offer "brews and views"—a full-service outdoor dining experience at the base area.
Cranmore, N.H., launched the next phase of its base area redevelopment project a few weeks ago. The resort is still planning to open for summer operations. It will operate weekends May 29 to mid-June, and then kick off daily operations on Father's Day. 

For early season, it will operate with its bike park, which was new for summer 2020, its Mountain Adventure Park (mountain coaster, Soaring Eagle zip line, and giant swing) and scenic chairlift. The ski area will sell tickets for the Mountain Adventure Park in 2-hour time blocks, with a limited number of tickets available for each block of time, to reduce overcrowding in lines. Bike Park access will be sold in half-day or full-day tickets.  
Vail Resorts locked in a fair amount of its summer line up. In the Northeast, Stowe and Okemo in Vermont, and Attitash, Sunapee, and Wildcat in New Hampshire, will open in mid-June, some with reduced summer ops, like Attitash, and some resuming a more typical slate like Okemo. 
VR owned Mount Snow, Vt., is teeing-off summer ops earlier—its golf club will open May 21, followed by the Mount Snow Bike Park May 29. The Bluebird bubble chair will also open for scenic rides May 29.
Both the golf course and bike park at Killington, Vt., will be open daily May 29-31 for the holiday weekend. Guests may still have the opportunity to ski and ride off one of the resort's other lifts. Right now, the Superstar "glacier" is open on weekends until the base melts. The bike park offerings will expand and switch to daily ops June 18. 
In celebration of Vermont's newly relaxed travel restrictions, Killington also launched a 25-percent-off summer lodging deal. 
Bromley, Vt., is set to reopen its Mountain Adventure and Aerial Adventure Parks May 29. Summer ops will begin on a weekend-only schedule and shift to daily operations June 19.
Jiminy Peak, Mass., is jumping into summer ops Memorial Day weekend. Its attractions and aerial adventure park will begin weekend hours on May 29, with daily summer operations starting June 26. It won't open gravity mountain biking until it starts spinning lifts for scenic chair rides July 3. 
The Summit Adventure Park at Blue Mountain, Pa., opened May 1, with its high ropes course, rock climbing wall, and laser tag. Camping at the resort also kicked off last weekend. Its mountain bike park will open May 8 to season pass holders and May 15 to the general public.
Mountain Creek, N.J., opened its lift served mountain biking and zip tours last weekend (May 1). The bike park will operate on a limited schedule until full summer hours begin June 19, and, in an extension of last summer's Covid policies, advanced ticket and rental reservations are still required.
Ober Gatlinburg, Tenn., will open its Mountain Top Park May 13. Its signature aerial tramway will be closed until May 28 for $4.5 million in maintenance, including the replacement of its 50-year-old track ropes and a switch to an AC drive with a variable frequency motor. While the tramway is out of commission, visitors will need to shuttle or drive to the resort's attractions and facilities. Guests will be required to mask up in the shuttle and on the tramway.
Beech Mountain, N.C., will be open for mountain biking and scenic chairlift rides from May 29 – Oct. 2. 
MIDWEST
Little Switzerland, Wis., is scheduled to open its bike park May 23. The area typically operates a limited calendar of monthly ride days and weekends. Right now, there are 16 days on the schedule between May and October.  
Boyne Highlands, Mich., will open its Adventure Center May 21, with scenic chairlift rides beginning May 28. The resort's chairlift accessible bike trails will also open May 28. Highlands ran a promotion on bike season passes this spring, encouraging riders to buy at a $20 discount before May 1. The bike park will operate on a weekend-only schedule until June 16, when it will offer Wednesday-Sunday hours. 
Crystal Mountain, Mich., is opening with a weekend-only schedule May 29. The resort will begin daily operations June 11. The resort is in the process of revamping its lift served mountain biking and has yet to set an opening date for its on-hill trails. Crystal also added e-bikes to its rental fleet this summer—those will be available starting Memorial Day weekend.
Lutsen Mountains, Minn., opened its gondola, with access to the Superior hiking trail, for scenic rides on a limited schedule May 1. It will add its alpine slide for weekend operations starting May 22, and then the resort will begin a daily schedule June 9. 
WEST
Arapahoe Basin, Colo., which expects to offer skiing into June, will open its aerial adventure park for weekend operations starting Memorial Day weekend. Daily summer ops will resume June 25. The ski area plans to open its new East Wall via ferrata, the highest via ferrata in North America, in late June as well. 
Aspen Snowmass, Colo., will open Buttermilk mountain Memorial Day weekend—this is the first time that Buttermilk will be open to the public in summer. From May 29 to June 20, visitors will have weekend access to the resort's sightseeing, hiking, disc golf, and Cliffhouse restaurant at the top of the Summit Express chair. 
Snowmass mountain will then open for daily operations June 21 through Sept. 6, with sightseeing and gondola rides on the Elk Camp Gondola and Elk Camp Chairlift, the Snowmass Bike Park, the Lost Forest, hiking, Camp Aspen Snowmass, and food and beverage options at the Elk Camp restaurant.
Summer operations at Aspen Mountain will start late this season, July 2, due to the installation of a new haul rope on the Silver Queen Gondola and the renovation of the Aspen Mountain Club. 
Vail Resorts will kick off summer operations in Colorado when Crested Butte opens June 12. Breckenridge, Vail, Beaver Creek, and Keystone will all follow later that month. After reducing operations last summer, VR is increasing its slate of summer offerings for 2021. Notably, Keystone's bike park is returning June 24. The resort's River Course and Ranch Course are set to open for golfing May 14 and May 21, respectively. 
Park City Mountain Resort, Utah, will open for daily summer ops May 28. Down in the village, the Adventure Park will be open with activities such as the alpine slide, mountain coaster, mini golf, gem panning and some additions still to be finalized. Bike haul, hiking, and scenic lift rides will be available on mountain. And Canyons Golf is scheduled to open at May 21. 
The Utah Olympic Park, Utah, will also open May 28, with activities including the Summer Bobsled Experience, extreme tubing, a zip line tour, and an alpine slide. The park is requiring advanced reservations and many of the activities will be sold in sessions, with an aim toward limiting capacities and improving the guest experience. A Gold Pass product will bundle several activities together and allow guests a 3.5-hour morning or afternoon session.
Snowbird, Utah, plans to offer skiing through May 31 on a limited weekend schedule beginning May 14. Due to limited tram capacity, the resort does not plan to offer mountain biking for summer 2021. 
Mt. Bachelor, Ore., which is also still running a spring skiing schedule through May 30, is eyeing a June 12 summer open. The downhill bike park, ZipTour zip line, hiking, disc golf, and scenic lift rides will all open for daily operations. 
Schweitzer, Idaho, which is opening for summer ops June 18, has already sold out all of its weekly adventure camp dates. Mountain biking, hiking, huckleberry picking, climbing, zip lining, e-bike riding and a slew of other activities will all still be available to eager summer recreators. 
Will you be open Memorial Day weekend? Email katie@saminfo.com to let us know how it goes.