SAM Magazine—McLean, Va., May 25, 2021—Virginia-based developer Alpine-X plans to build a new indoor snowsports resort in the Washington, D.C., area. The resort, Fairfax Peak, is the first of 20 such sites planned for North America.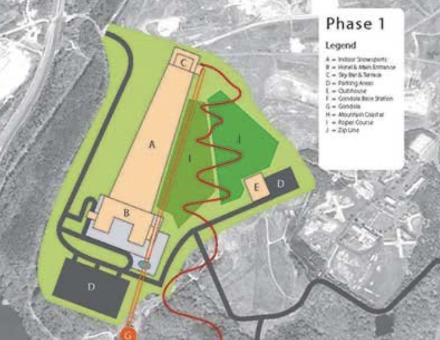 Envisaged as a destination resort, Fairfax Peak will feature an indoor snowsports venue, upscale hotel, gravity-powered mountain coaster, zip lines, multiple food and beverage outlets, and additional amenities. Guests will have year-round access to skiing, snowboarding, snow tubing, and snow play, as well as a host of other no-skill and low-skill activities. 
Alpine-X imagines its indoor resort model will complement rather than compete with traditional mountain resorts. "Today, there are an estimated 9.2 million active skiers and snowboarders here in the U.S., a market that would be much larger if the sport were more accessible," said Alpine-X CEO John Emery. "We're on a mission to address this market gap by bringing snowsports closer to home and providing access year-round, thereby eliminating the traditional challenges of cost, geography and seasonality, and introducing the opportunity and family-centric experience to a much wider audience." 
The Fairfax Peak project was put into motion four years ago when Alpine-X approached Fairfax County about building atop a capped, inactive landfill the county had been seeking to repurpose. The inherent slope of the landfill makes it attractive from a construction standpoint, and its proximity to Washington will allow Alpine-X to court a broad market.
CEO Emery and Alpine-X CFO Jim Calder both cut their teeth in the indoor entertainment industry at Great Wolf Resorts, Inc., where they previously served as CEO and CFO, respectively. Great Wolf owns and operates a chain of 19 family resorts, all anchored around indoor waterparks.