SAM Magazine—Woodstock, Vt., June 30, 2021—Despite a reputation as spandex-clad uber athletes, cross country skiing participants are, in their own words,  a more low-key sporting type: active year-round in the outdoors in a variety of casual, human-powered pursuits. This and other insights stem from "Cross Country Ski Consumer Sentiment," a report based on a recent survey of nearly 1,400 skiers conducted by Snow Sports Insights (SSI) and the Cross Country Ski Areas Association (CCSAA).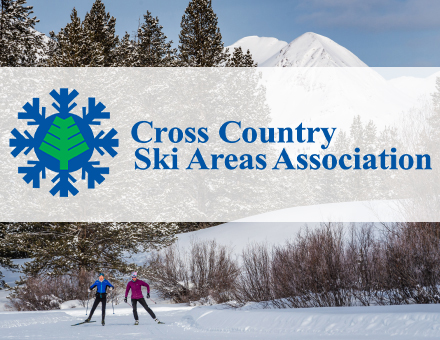 This past winter, due in part to COVID, more people looked to outdoor activities as a way to change routines, get some exercise, and spend time with friends. SSI and CCSAA wanted to better understand cross country participants' off season activities and thoughts about their favorite ski areas and brands. "Knowing what the consumer enjoys when they aren't on snow can help find and engage them year round," says the report. Here's what the survey found:
Summer Activities. Cross country skiers enjoy being mobile in a human-powered way. Hiking and walking are the most popular non-snow activities for cross country skiers (see graph), with road biking, camping, and wildlife viewing close behind. Road biking aside, they also prefer to go off road and be in natural settings. They favor trail running over road running.
Many of their favorite activities are individual pursuits that can also be enjoyed as part of a group or family outing. They enjoy paddle sports, from kayaking and canoeing to paddleboarding. They are more inclined to take part in roller skiing than golf or tennis.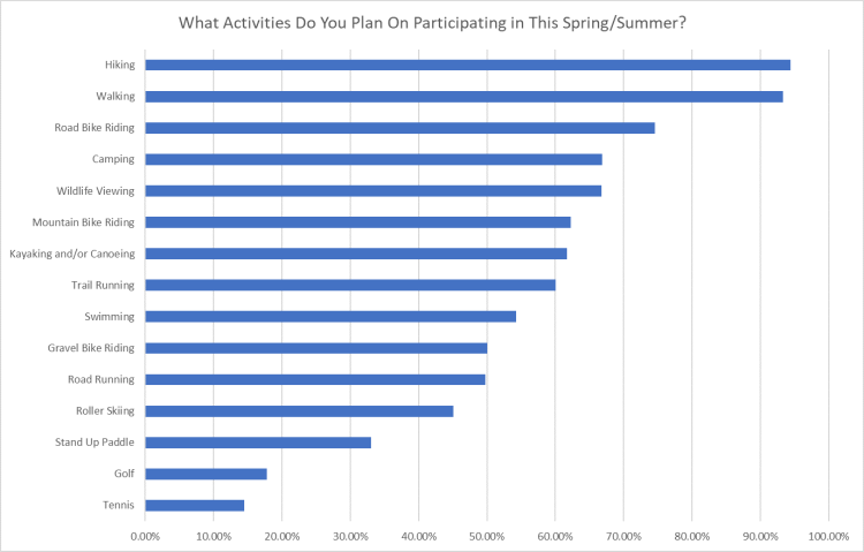 The XC mindset. Cross country skiers may be active in a lot of summer activities and at high frequency, but they participate in a relaxed or casual way. Most cross country skiers just love being outdoors. They are "intellectual nature lovers who like to collect experiences," according to the report. 
The survey results also suggest that cross country ski areas could provide summer experiences, including backcountry education or activities like plant and wildlife identification, in a casual outdoor environment instead of simply shutting down for the season. Trail running and cross country cycling might also prove suitable activities.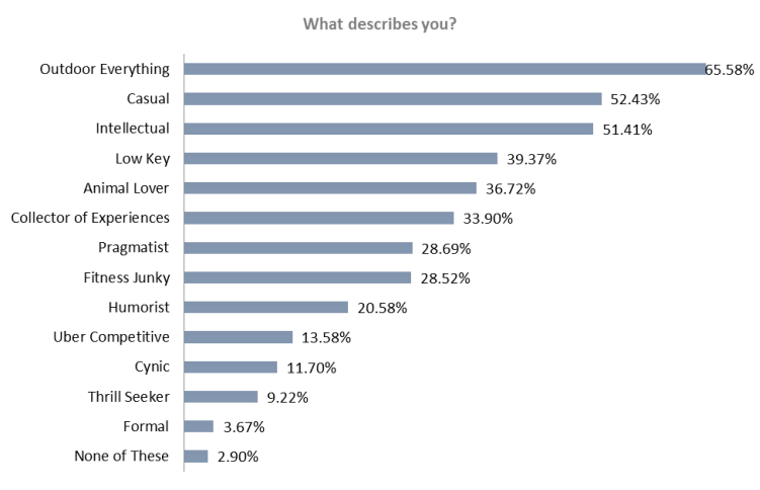 Popular misconceptions. Contrary to popular belief, cross country skiers are not especially competitive or aggro. In the past years, when measuring perceptions about cross country skiing, CCSAA found that many potential participants shied away because they thought the sport was all about intense aerobic activity and spandex. The latest survey shows how off base that perception was.
Asked to describe what they like most about cross country ski areas, participants singled out trail grooming most of all. Other comments related to the beauty of the environment and a love of the outdoors. That, too, goes against the popular misconception that cross country skiing is a difficult, intense activity. While it can be a physical workout—and that appeals to a portion of the cross country community—cross country skiing can also be a casual and spiritually rewarding experience, according to surveyed participants.
The full report contains additional information on apparel preferences and brief video analyses by SSI's Kelly Davis and CCSAA executive director Reese Brown on the survey's main questions. View it here.