SAM Magazine—Fabius, N.Y., Aug. 4, 2021—Toggenburg Mountain in upstate New York was acquired by Peter Harris, president of Intermountain Management, which owns nearby Song Mountain and Labrador Mountain.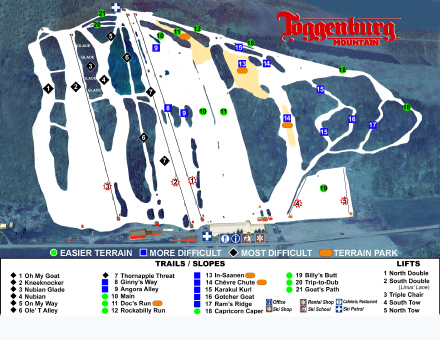 Harris, who purchased the ski area from John and Christine Meier, owners of Greek Peak Mountain Resort, also in upstate New York, plans to close Toggenburg permanently and sell off the property and chairlifts separately. The ski area had operated continuously since it opened in 1953.
Toggenburg, Song, and Labrador are located within a 12-mile radius of each other, all drawing guests from the Syracuse market and surrounding towns. "The idea here is primarily to purchase market share without the associated expenses of opening another ski hill," Harris told SAM. By closing Toggenburg, "we're trying to drive the same guests to two mountains instead of three." 
Harris cites the current labor shortage as another reason for closing the ski area. When asked if there are plans to actively reach out to now former Toggenburg staff and offer them positions at Song or Labrador, Harris said "we're encouraging them, in the press, to apply." According to reports, Toggenburg employed 75 to 90 people during the winter. Song and Labrador have about 300 winter staff combined.
The roughly 160-acre Toggenburg property is for sale. Its three chairlifts—two Hall doubles and a Borvig triple—are also on offer for purchase, said Harris. "New lifts are expensive, which drives the price up for used ones," he added. Other equipment, primarily snowmaking, will be useful for Song or Labrador, said Harris. 
Harris will not entertain offers from potential buyers who want to reopen the mountain as a ski area, and there would be a covenant on the property preventing that. 
The Meiers and partner Marc Stemerman acquired Toggenburg in 2015 from Jim Hickey, whose family had owned the ski area since 1953. The Meiers took sole ownership of Greek Peak and Toggenburg in 2019. At the time he sold it, Hickey said Toggenburg was profitable. Sources said the ski area has remained profitable, but Harris declined to comment on its recent financial performance.
According to a report on Syracuse.com, John Meier said he originally bought Toggenburg with the hope that it would drive more business from the Syracuse area to Greek Peak. It did that, he said, but not to the degree he had hoped. Now, he said he sold the ski area so he can focus on building the business at Greek Peak. 
Guests who purchased Toggenburg season passes during the spring sale will receive refund checks from Togg Holdings LLC, of which the Meiers are the sole members. Those guests will be offered the chance to buy a Song/Labrador pass for the same rate. "We are honoring the early spring rate for the Toggenburg spring pass purchasers through August 31," said Harris.