SAM Magazine—Oliver, B.C., August 5, 2021—An above average fire season continues to ravage parts of North America, in some cases causing significant disruptions at ski resorts. Baldy Mountain Resort in British Columbia is the latest area to be impacted.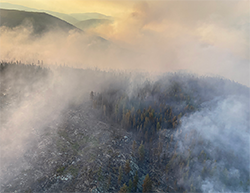 Land scorched by flames during the 2021 wildfire season in B.C. (Courtesy BC Wildfire Service)Evacuation orders were issued for the Baldy Mountain community July 24 as the Nk'Mip fire raged nearby. The fire is still not fully contained, and on Aug. 4, the ski area made the decision to suspend summer operations for the remainder of the season due to the ongoing situation.
Baldy Mountain had never operated in summer before this year. The closure marks an early end to a season that operations manager Randy Murphy said was "trending in the right direction," business-wise. The resort was offering lift-accessed hiking and sightseeing, retail, Baldy BBQ, and the Baldy Beach featuring volleyball, horseshoes, and disc golf. Staff had to be laid off as a result of the closure.
SAM talked to some of the other ski areas impacted by wildfires this season, including Showdown, Mont., and Arizona Snowbowl, in a special report detailing the various fire mitigation strategies in place at resorts across the West.
With 100 large fires currently burning in the U.S. and parts of the country still heavily impacted by drought, the National Interagency Fire Center (NIFC) anticipates above normal significant wildfire potential for much of California, the Pacific Northwest, and the Northern Rockies for the month of August. 
To help resorts with their wildfire plan, Jason Sawin of CHS Snowmakers sent SAM a Fire Pre-Plan designed specifically for the ski industry. Among other things, it includes a list of equipment to adapt your snowmaking system into fire hoses. 
Sawin has more than 20 years of experience fighting wildland and structure fires, having served as both a volunteer firefighter for Steamboat Springs, Colo., and a firefighter paramedic for West Metro Fire in Lakewood, Colo.