SAM Magazine—Portland, Ore., August 10, 2021—Indy Pass is expanding beyond North America with the addition of four Japanese resort partners: Geto Kogan, Tazawako, Okunakayama Kogen, and Shimokura/Panorama.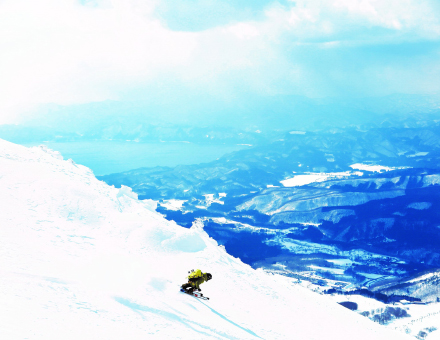 Tazawako, JapanIndy Pass holders will now have up to eight days of skiing and riding in the Tohoku region of Japan's main island, Honshu. 
True to Indy's brand, the Tohoku region is a bit off the beaten path. Tohoku resorts still receive between 40-60 feet of snow each winter but are less well known to international skiers than Japan's famous north island, Hakkadio, so it seems Indy Pass holders able to take advantage of the offering won't be competing for freshies. 
"Powder skiing in Japan is not for everyone but by adding these beautiful, independent resorts and culturally rich region to the Indy Pass, we give people something to dream about," said Indy Pass founder Doug Fish.
Plus, said Fish, 25 percent of Indy Pass holders have another season pass. "They are pretty avid skiers, and we see a lot of those folks using this as a travel pass."
The expansion into Japan came together through a partnership with Japan Ski Tours. "If Japan Ski Tours hadn't come along and made it easier to do, we wouldn't have done it," said Fish, noting that the move "didn't make sense until we had a cluster of resorts, so once we had that we went for it."
"We don't have any grand designs about going to South America or Europe," said Fish. "We wouldn't turn down opportunities to expand beyond North America, but that's not on our radar right now."
To kick off the new partnership, Indy Pass and Japan Ski Tours are giving away a seven-day, all-expense-paid trip for two to Japan, including round trip airfare, transportation, lodging, meals, two pairs of Atomic Bent Chetler skis, and two Indy Passes. 
"Not everyone can afford a trip to Japan," said Fish, "but everyone can enter to win one; and it's a pretty sweet giveaway." Anyone 18 years or older can enter to win.
Passholders organizing their own trip can tap local experts from Japan Ski Tours, which is offering optional guide and concierge services in an exclusive partnership with Indy Pass.