SAM Magazine—Twin Bridges, Calif., Aug. 20, 2021—California's Sierra-at-Tahoe and Kirkwood Mountain Resort were forced to close earlier this week after the U.S. Forest Service closed the Eldorado National Forest—in which both resorts operate—in response to the growing Caldor fire, burning to the west of both resorts.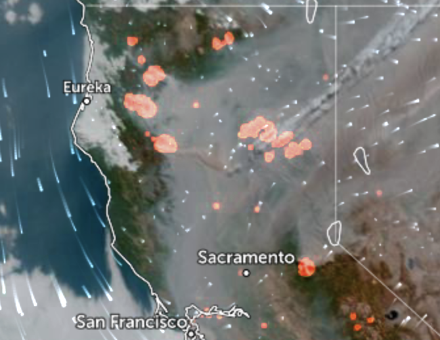 Screenshot of the California fires from Zoom.EarthThe wildfire sparked on Saturday and grew from nearly 2,300 acres on Monday evening to 62,586 acres 48-hours later, according to Cal Fire reports. As of Friday morning, the fire was 73,415 acres and zero percent contained.
The closure is effective Aug. 17 – Sept. 30. It prohibits anyone from going into or being on Eldorado National Forest land, roads, or trails to maintain public safety and so fire crews can do their work uninterrupted. The impacted resorts are not currently under mandatory evacuation orders.
In addition, nine other National Forest System lands within the Pacific Southwest Region will be closed Aug. 22 - Sept. 6, including Tahoe National Forest and Lake Tahoe Basin Management Unit. Ski California president Michael Reitzell said, in addition to Seirra-at-Tahoe and Kirkwood, Heavenly, Sugar Bowl, and Alpine Meadows will be impacted by the closures. He said these resorts may continue with winter preparations and maintenance, but will need to close all recreation and events for the duration of the Forest Service land closures.
Sierra-at-Tahoe general manager John Rice generously shared Sierra's Wildfire Prevention Plan, which is an excellent resource for other operators to reference. He also sent links to resources that he and his team use to stay current on the Caldor Fire: 
https://eldoradocounty.maps.arcgis.com/apps/webappviewer/index.html?id=c995bf3816964e948d7d831d3ba938ff&fbclid=IwAR2QnoQERlW4-68JiT44LPm-_0YUqmB4Fyby-sMdOrvrMB1HeOEGUY6wuFg
https://www.facebook.com/groups/caldorfireupdates/
https:/https://zoom.earth/#view=38.99775,-120.48542,9z/date=2021-08-17,11:30,-4/layers=wind,fires
Also, earlier in the month on Aug. 9, Mt. Shasta Ski Park, located in northern California, decided to close for the remainder of the summer due to extreme fire danger and staffing challenges.