SAM Magazine—Twin Bridges, Calif., Aug. 30, 2021—The two-week-old Caldor Fire spread rapidly over the weekend, advancing northeast toward the Lake Tahoe Basin.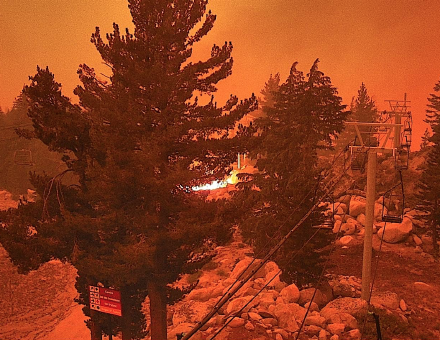 USFS webcam image from Aug. 29, 2021The fire pushed into Sierra-at-Tahoe's West Bowl first, with long-range spot fires arriving at the resort summit Sunday night. 
Forest Service webcam footage showed flames burning under lift infrastructure. According to reports and video of the scene at the resort on Monday, there is significant burn damage to trees on the property, but all buildings remain relatively unscathed. However, Liftblog reports that at least one "garage-type structure" burned within the ski area, which was identified as an equipment storage building. That report is yet to be confirmed.
Sierra became a staging ground for Cal Fire and U.S. Forest Service crews battling the flames. According to a report from The Mercury News, dozens of bulldozers, vegetation masticators, water tenders, and trucks were staged in the resort's parking lot Sunday morning, ready to be deployed to broaden containment lines. Snow guns were also mobilized to protect base area structures.
The resort shared photos of the scene on Facebook Sunday afternoon before the fire reached the resort, saying, "We are prepared to fight the good fight with fire crews + apparatus on-site. No fire as of this morning but as the #Caldorfire creeps closer to Sierra, please send your prayers for protection for all fire personnel as they continue the battle to protect our playground."
On Monday morning, ABC10­–Sacramento journalist Luke Cleary tweeted a video report that showed the base area buildings and other infrastructure remained intact.
#caldorfire #SierraAtTahoe structures look good. US Forest Service firefighters said spot fires broke out on slopes, some torching trees but they were able to respond to them. This is unofficial -- but video shows what we were able to see. pic.twitter.com/IAbo69o3xi

— Luke Cleary (@LukeCleary) August 30, 2021
More than 100 Cal Fire, Forest Service and hotshot crews worked east of the resort on Highway 50 in the Echo Summit area to scratch lines in the fire before it became a direct threat to South Lake Tahoe. 
Despite efforts, the fire had grown to 177,260 acres by Monday morning, up nearly 21,000 acres in about 24 hours, and went from 19 percent contained to 14 percent. Much of the growth was on the fire's eastern edge, and mandatory evacuation orders have now been extended to Alpine County, where Kirkwood Resort is located.  
Cal Fire Operations section chief Erich Schwab told local news outlets that 25 strike teams had been rushed to the Kirkwood area in anticipation of the fire's spread. 
Sunday, in a statement on Twitter, Kirkwood Resort said, "We are working closely with Cal Fire, the United States Forest Service fire team, the Kirkwood fire department and other local organizations who have been assisting us with structure preparation and protection.
"Thank you for your words of support, and thank you to the firefighters and others on the front lines working tirelessly to keep us all safe," the statement continued. 
We will continue to monitor the situation and provide updates as more news comes in.