SAM Magazine—Kirkwood, Calif., Sept. 2, 2021—Firefighters are making progress preventing the Caldor Fire's eastern spread toward Kirkwood and Heavenly.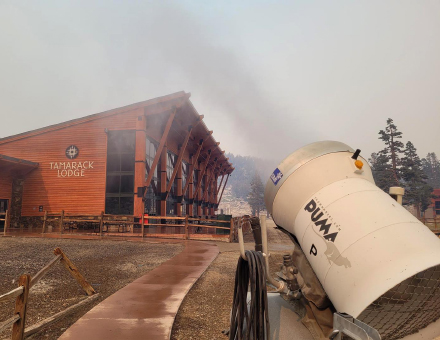 Heavenly snowmaking systems working hard to protect the resort and the surrounding areas.
"We are aiming to stop the fire before it reaches those locations," Cal Fire public information officer Kevin Brown told SAM about the efforts underway at Kirkwood and Heavenly.
While there is still significant open (uncontained) fire line in the southeastern corner of the blaze moving toward Kirkwood, crews have been successful cutting dozer line and hand line ahead of the fire's current location. 
Brown spent most of yesterday working in the Kirkwood area and said that crews are working today to reinforce the lines and remove fuels. 
Although the fire has jumped Highway 88, it has yet to advance into Kirkwood proper. Spot fires have reached the resort and are being met by firefighters. 
The same strategy is in play at Heavenly. Fire lines have been cut even further ahead of the conflagration's northeastern arm. Aircraft are also being deployed in the area to suppress the flames.
As a contingency, Brown said four separate structure protection groups were actively removing fuels and preparing to protect property around and at Heavenly resort. 
Both ski areas have opened their facilities to emergency personnel and have mobilized their snowmaking infrastructure to dampen fuels and fight potential flames.
The Caldor Fire is currently 210,259 acres and 25 percent contained, with most of the containment still happening on the fire's western edge.