SAM Magazine—Broomfield, Colo., Sept. 24, 2021—Vail Resorts' (VR) Q4 earnings, released yesterday, show season pass sales for the 2021-22 North American season were up 42 percent in units and 17 percent in sales dollars as of Sept. 17. The earnings news was coupled with the unveiling of a $320 million capital plan that includes 19 new chairlifts across 14 resorts for 2022-23—the company's largest ever single-year investment into the mountain experience.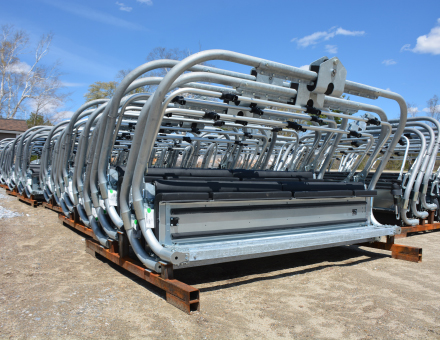 Chairs for the new Quantum Six Lift at Okemo
The new lifts are part of the "Epic Lift Upgrade" initiative, aimed at reducing wait times and increasing uphill capacity. Of the 19 new lifts—12 high-speeds, one high-speed gondola, and six new fixed-grips—planned for 2022-23, not one is smaller than a quad.
According to CEO Rob Katz, at some of VR's mountains, the new high-speed lifts "will double how fast we can move people out of the base areas, and at others, the projects are all about making it easier for people to explore different sections of the mountain."
In addition, the company is adding 550 acres of new terrain at Keystone Resort and expanding a restaurant at one of its properties.
Insights on the Upgrades
Liftblog.com's Peter Landsman called the size and scope of the lift upgrade "unprecedented," noting that the last order in recent history to come close was when American Skiing Company built 15 lifts at 7 resorts in 1997.
Most of the new lifts will replace '70s fixed-grips and early generation detachables, said Landsman, a reflection of the aging infrastructure challenges facing resorts across North America. "You look at a lot of these [upcoming VR] projects and they are replacing these orphaned lifts from manufacturers that no longer exist," said Landsman.
VR has not yet indicated what will become of the older lifts that are being removed, but Landsman speculated, "There are probably some small ski areas thinking about making a bid on some of these."
While the old lifts may represent a significant opportunity for operators in the market for refurbished lifts, the order for 19 new lifts is likely to drive up cost and demand, said Landsman. An order of this size also has the potential to impact ongoing supply chain issues.
While VR has not shared which manufacturer or manufacturers it has contracted for fabrication and installation, "anytime you have a lot of demand, price may go up," observed Landsman. "I'm guessing this year you are going to have to order early or you're not going to get a lift in 2022," he added.  
The lift announcement arrived early this year; VR typically shares its capital plans in December. 
Fiscal 2021 and Q4 Results
In the Q4 report, Katz said, "Our strongest unit growth was from our destination markets, including the Northeast, and we also had very strong growth across our local markets."
These visitation trends seem to be reflected in the 14 resorts receiving new chairlifts, which are primarily concentrated in the Rockies and the Northeast and include: Whistler Blackcomb, B.C.; Park City Mountain, Utah; Vail Mountain, Keystone Resort, and Breckenridge Resort, Colo.; Stowe Mountain Resort and Mount Snow, Vt.; Heavenly and Northstar California, Calif.; Attitash, N.H.; Jack Frost and Big Boulder, Pa.; and Boston Mills and Brandywine, Ohio.
Regarding pass sales, Katz also noted: "We saw strong unit growth from renewing pass holders and significantly stronger unit growth from new pass holders, which include guests in our database who previously purchased lift tickets or passes but did not buy a pass in the previous season and guests who are completely new to our database."
For fiscal 2021, VR's net income was up 29.4 percent year-over-year. Resort net revenue—mountain and lodging segments combined—decreased 2.6 percent. Resort reported EBITDA was up 8.2 percent, to $544.7 million. Covid-19 related closures at Whistler Blackcomb and VR's Australian resorts, though, impacted earnings.
"Given the continued challenges associated with Covid-19, we are pleased with our operating results for the year," said Katz. 
Total lift revenue increased 17.9 percent to roughly $1.077 billion for fiscal 2021, driven by pass sales growth. However, ski school revenue was down 23.7 percent, dining revenue was down 43.8 percent, and retail/rental revenue was down 15.7 percent, primarily as a result of Covid-related capacity limitations and restrictions, according to the report. Operating expenses decreased 5.4 percent. Mountain reported EBITDA was up 10.1 percent.
Lodging segment net revenue (excluding payroll cost reimbursements) decreased 11.1 percent for the same reasons. Lodging reported EBITDA was down $9 million year-over-year.