SAM Magazine—Newry, Maine, Oct. 8, 2021—Sunday River, Maine, will install a new Doppelmayr D-Line eight-passenger bubble lift for the 2022-23 winter season.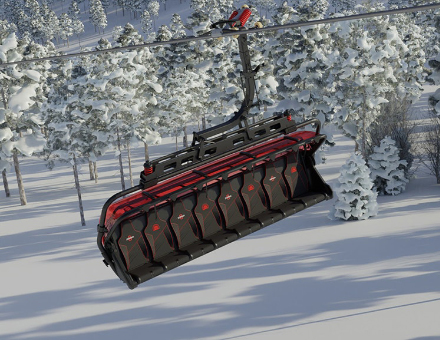 It will be the third lift of its kind in North America, all of which are at Boyne Resorts-owned properties—Big Sky Resort, Mont., installed the Ramcharger 8 in 2018, and Loon Mountain, N.H., debuts the Kanc 8 this winter. 
The Jordan 8, as it will be called, will replace an existing high-speed quad on Jordan Bowl, the western-most terrain of Sunday River's eight peaks. The quad will be relocated to Sunday River's Barker Mountain for the 2023-24 season. 
The new lift's carriers will be equipped with "Sunday River red" bubbles, heated seats, and restraint bars that lock in place at the start of the ride and automatically unlock at the upper terminal. It will follow the same alignment as the current lift, but the line will be cut wider to accommodate the larger carriers. The upper terminal will be built about 15 feet lower than the current lift to increase wind protection and accommodate an eight-person unload area. 
It will travel at a maximum speed of 6 meters per second (nearly 1,200 feet per minute). Ride time will be 4.5 minutes, a bit faster than the existing quad's 4.7-minute ride. Initial uphill capacity will increase to 3,200 passengers per hour from the current 3,000, and will eventually go up to 3,600. 
The new lift will play a key role in Sunday River's future expansion plans. It serves existing terrain on Sunday River's Oz and Jordan Bowl peaks, but this part of the resort will come to be known as the Western Reserve as the resort develops some of the several thousand acres it owns beyond Jordan Bowl. 
"The Jordan 8 is a significant jumping off point for the Western Reserve, creating a portal that could double our skiable terrain in the coming decades," said Sunday River president Dana Bullen. "This lift also acts as an immediate catalyst for upcoming renovations to the Jordan Hotel, new activities and amenities, and more."