SAM Magazine—Twin Bridges, Calif., Oct. 14, 2021—Significant damage sustained from the Caldor Fire—a 221,000-acre conflagration that tore through the Tahoe Basin in late August and September—will impact operations at Sierra-at-Tahoe for the coming season, according to the latest from the resort.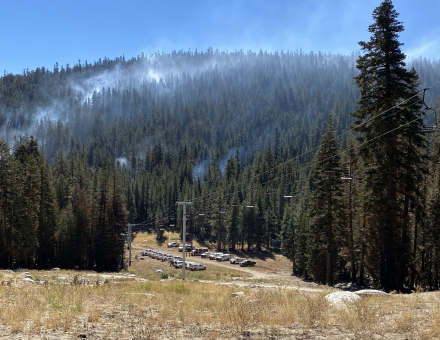 In an update posted to the resort's social channels, Sierra said, "Despite making progress every day and working together with our partners at the United States Forest Service, and with arborists, engineers and inspectors, we have big challenges ahead. Detailed inspections of the entire resort have revealed that we will not be able to offer you the same ski experience you have come to expect from Sierra." 
Several challenges complicate Sierra's recovery efforts. First, the damage is far greater in scope than initially estimated. Fire mitigation efforts, including the use of the ski area's own snow guns, saved almost all the resort's structures except one maintenance building and the equipment contained inside. But damage to the ski area's trees and infrastructure has proved significant upon further assessment.
Fire-weakened trees throughout the property's entire 2,000 acres will need to be evaluated and potentially removed, particularly in areas around lift lines and ski trails. Sierra is also in the midst of repairs to several of its chairlifts—a task that global supply chain and shipping issues has made more difficult. 
Other California operators appear to be extending a helping hand to Sierra. According to LiftBlog's Peter Landsman, posts on social media suggest crews from Mammoth Mountain and Palisades Tahoe are assisting with the lift repairs. The broader ski community has also shown its support for Sierra with donations to a GoFundMe aiming to raise funds for employees that lost personal tools and items when the maintenance shop burned down. 
The resort still intends to open this season but has told current passholders to look for an email regarding options related to their 2020-21 season pass. 
"We realize that it's incredibly frustrating not to have all the answers, or to have a clearer picture of what the season may look like. Like you, we wish we did," said the resort, promising that it will continue to push forward.
While the Caldor Fire is 98 percent contained now, flare ups are still being fought in the Tahoe Basin area.