SAM Magazine—Pagosa Springs, Colo., Oct. 14, 2021—Wolf Creek will open this Saturday and Sunday, Oct. 16 and 17, with its Nova and Lynx lifts operating 9:00 a.m. - 4:00 p.m.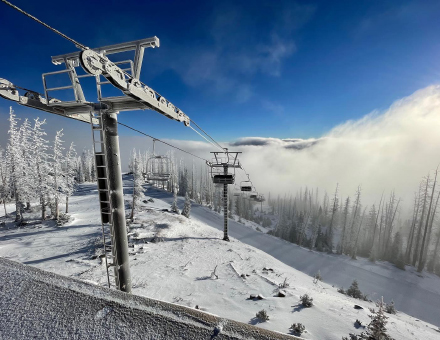 The resort received 14 in. of fresh snow from a recent storm, allowing it to at least be the first ski area in North America to announce its intentions to kickoff of the 2021-22 ski season. 
Arapahoe Basin, Colo., will start spinning its Black Mountain Express at 8.30 a.m. Sunday, Oct. 17, one day after Wolf Creek's planned opening. With many other western resorts making snow, including Keystone and Loveland in Colorado, Snowbird in Utah, and Mammoth Mountain in California—all in conjunction with recent snowfalls totaling as much as 17 inches—the race to drop ropes is on.
Recall in 2019, Keystone announced early Friday morning, Oct. 11, that it would open the following day, which would have made it the first in North America. But Arapahoe Basin wound up opening that Friday afternoon at 3:30, winning the race to open.
Regardless of which resort is first, several western resorts may open in the near future thanks to recent investments in snowmaking systems coupled with cold and snowy weather. Minnesota's Wild Mountain will not be in the running this year after earning gold medal status in last year's race. And Eastern resorts patiently await the departure of the seldom-welcomed fall heat wave.
Covid protocols remain in place at many resorts this year, and are outlined on most resort websites. Wolf Creek, for example, will not be requiring face coverings outdoors or in lift lines, however they will be required in all indoor spaces. Employees there are also required to be vaccinated or perform weekly testing.