SAM Magazine—Mt. Hood, Ore., Oct. 28, 2021—Mt. Hood Meadows aims to make working at the resort more attractive with higher wages, benefits, and increased housing opportunities as the winter season approaches.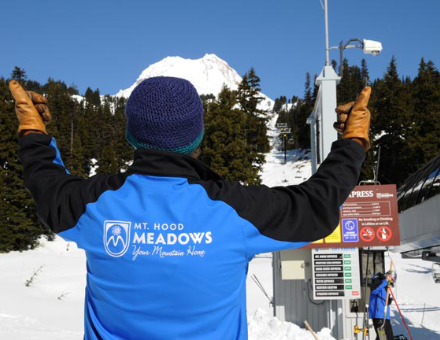 Meadows is raising its base pay to $15 per hour and will increase wages for all team members by $1.25 per hour. The entry-level wage is now $2.25 higher than the Oregon state required minimum. The resort is also providing a $200 vaccination incentive to all team members and is reinstituting Covid sick leave to allow staff to stay home when feeling ill so as not to risk infecting other employees and guests.
"Our added Covid sick leave, vaccine incentive, and wage increases [combined] represents the largest single investment we will make for this season," said general manager Greg Pack. "The investment we continue to make in our workforce will help us accommodate the growing demand this season and beyond."
"We have long provided meaningful work, a chance to learn new skills, and a fun team atmosphere," said Matt Troskey, VP of people and learning. "With this increase in wages, along with other improvements to our compensation program, we hope to continue to assist our team to afford to live in the area."
Staff living in nearby Sandy and Hood River can take free shuttle transportation to work, provided by the resort. Meadows also provides staff with a 70 percent discount at resort restaurants and childcare for $25 a day. 
In addition, Meadows is aiming to expand employee housing opportunities by offering lift ticket and season pass incentives to local landlords who provide affordable housing for staff. The resort has hired a housing programs supervisor to manage team-member housing opportunities.