SAM Magazine—Calgary, Alberta, Nov. 2, 2021—Resorts of the Canadian Rockies (RCR) will require guests to show proof of vaccination to access lifts and indoor services this winter at all of its ski areas, including Fernie Alpine Resort, Kicking Horse, and Kimberley Alpine Resort in British Columbia, Nakiska in Alberta, and Mont Sainte-Anne and Stoneham in Quebec.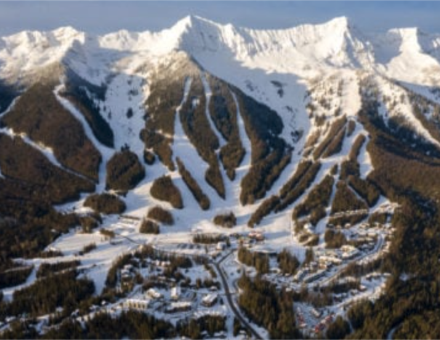 "Following the advice provided by the Provincial Government Health Authorities, RCR has decided to require proof of COVID-19 immunization record to access all chair lifts and indoor facilities at our resorts this winter," Fernie posted on social media.  
Canadian guests will need to provide their immunization record and government-issued identification at the time of ticket or season pass purchase, which RCR will then cross reference. International guests will be required show the vaccine verification that they used to enter the country and a passport. 
"Our priority is protecting the health and safety of our team, community and guests–in order to do this in today's environment we need everyone to be fully vaccinated if they would like to ski and ride with us this winter. Since day one of this pandemic, we've rigorously upheld federal and provincial public health orders, and closely followed all guidelines and worked collaboratively with Canada West Ski Area Association to develop industry best practices" said Matt Mosteller, RCR spokesperson.
RCR will not be accepting negative Covid tests in lieu of immunization records "in order to ensure efficiency at our ticket offices," it explains via its resort FAQ pages. RCR is providing refund options for passholders who are uncomfortable complying with the policy, though. Refund requests must be submitted before Dec. 15.
Covid restrictions vary from province to province in Canada. Quebec's government just rolled out new guidelines requiring guests to demonstrate proof of vaccination to access lifts and indoor services at ski areas in the region. [Read more.]
Alberta has a Restrictions Exemption Program in place allowing businesses that require proof of vaccination and indoor masking to forego Covid capacity limitations and essentially operate as normal. Canada West Ski Areas Association CEO Christopher Nicolson said that western resorts are still awaiting clarification from Alberta's Public Health Authority as to where chairlift access falls within the restrictions. 
In British Columbia, some events, services, and businesses are required to check a person's proof of vaccination for access to their venue or space. Chairlift access is not included on that list at this time, but other ski areas in B.C., like Grouse Mountain, have voluntarily implemented a vaccine passport requirement.