SAM Magazine—Vienna, Austria, Nov. 9, 2021—As of Nov. 8, skiers and riders looking to hit the slopes in Austria will need to demonstrate proof of vaccination or recovery from past infection to travel into the country, access ski lifts, stay in any type of accommodation (including chalets, holiday apartments, mountain huts, etc.) or visit bars and restaurants.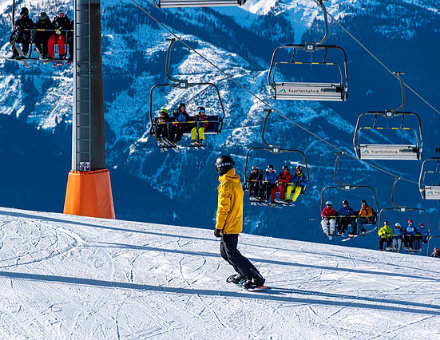 Steinplatte Winklmoosalm Ski Area in Austria Previously, people were allowed to produce a negative Covid test in lieu of proof of vaccination, but that is no longer a valid "entry test." 
The new rules are part of an effort to safely revive Austria's winter tourism industry amid high infection rates. The winter sports industry accounts for roughly five percent of the country's GDP and Austrian ski resorts were all but closed last season to better flatten the curve. 
Back in September, the tourism minister Elisabeth Koestinger promised: "This year there will definitely be winter holidays in Austria." At the time, the government had outlined a set of initial measures that included mandatory masking on lifts and negative Covid tests as valid entry documents, but with Covid infections surging and vaccination rates stagnating at around 64 percent, more stringent rules have been implemented.  
The "2G rule," as the Austrian government is calling it, stipulates that those seeking to enter the country or access any of the restricted services provide proof that they have received two doses of Covid vaccine. The one-dose Johnson & Johnson vaccine will be valid only until Jan. 3, 2022, after which a booster will be required. Furthermore, proof of vaccination will only be valid for up to nine months from the second dose (previously 12 months). Persons that have contracted Covid-19 will have valid immunity for 180 days after recovery. 
The new measures classify ski lifts and après ski bars (often open air), as well as all forms of accommodation, as restricted spaces subject to the 2G rule. Additionally, FFP2 masks are required for everyone on enclosed lifts, in cable cars, or on other forms of public transport. 
Children under 12 are currently exempt from proof of vaccination or recovery requirements, and the government is actively working on a solution for children over 12. 
A four-week transition period is underway in which a first vaccination plus a PCR test will grant admission to restricted places (which also include hair salons, cinemas, gyms, and traditional Christmas Markets). After that, the 2G rule will come into full effect.
Other European ski destinations are adopting different approaches. France is not currently requiring a vaccine passport to access ski areas, but a "pass sanitaire" is required for access to certain spaces such as bars. Italy will require unvaccinated visitors to quarantine for five days, and everyone must provide a "green pass" demonstrating compliance to access ski areas. Unvaccinated arrivals to Switzerland will need to provide a negative test and retest several days after entry. Lift access won't be restricted at Swiss ski areas, but masks and proof of vaccination, recovery, or a negative test will be required for indoor access and in public spaces. And, of course, as Austria demonstrated, all of these provisions are subject to change.