SAM Magazine—McCall, Idaho, Nov. 11, 2021—Brundage Mountain's new ownership group, which acquired the ski area in November 2020, has a 10-year plan to transform the mountain into a multi-season destination resort.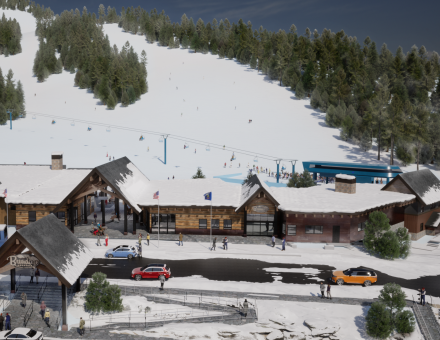 Upgrades include new ski-in/ski-out accommodations, a revitalized base village, expanded lifts and terrain, and an array of new recreation and mountain amenities.
"For years, we've been listening to feedback and suggestions from our guests," said Brundage Mountain president and CEO Bob Looper. "Three common themes always rise to the surface: add more lifts and terrain, improve the lodge facilities, and offer overnight accommodations. Our plan is to deliver on all three of those requests so we can continue to grow strategically and sustainably while preserving the classic Brundage vibe and family atmosphere."
Brundage will break ground next year on a new base area facility to be finished for winter 2023-24. The new 20,000-square-foot "mountain modern" lodge will be located next to the existing day lodge. It will include a new Mountain Adventure Center and three new food and beverage outlets, including an open-concept food court, a casual sit-down restaurant with full bar, and a coffee shop breakfast/lunch stop. 
In 2009, Brundage was granted approval to develop 388 acres of private base-area land. The first phase of residential development will start in summer 2022 on a 37-acre site. The site will have 21 single-family homesites, 22 cottages, and 45 townhomes (all ski in/ski out). These units will be the first overnight accommodations the resort has had at the base of the mountain.
Additionally, ownership has updated the resort's master development plan, which includes proposals for lift and terrain expansion, expanded snowmaking capabilities, and new on-mountain lodge amenities. Brundage Mountain operates under a special use permit within the Payette National Forest, and is working with the United States Forest Service on timelines for each aspect of the plan, which it expects to execute over the next 10 years.
"People can see that things are happening here at Brundage Mountain," said general manager Ken Rider. "It's exciting to be able to create a home-grown vision and make concrete plans to bring that to life in the not-so-distant future."