SAM Magazine—Steamboat Springs, Colo., Nov. 12, 2021—Steamboat Ski Resort & Corporation (SSRC) president and chief operating officer Rob Perlman has been promoted to Alterra Mountain Company as regional chief operating officer of its central region, which includes Deer Valley and Solitude, Utah, and Steamboat and Winter Park, Colo.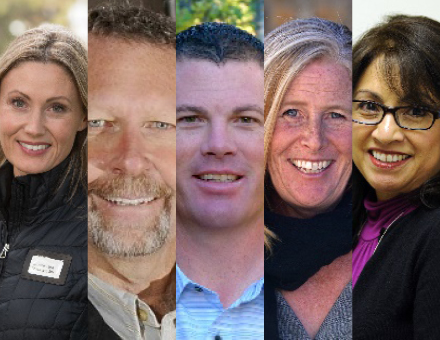 Shea, Schneider, Hunter, Brown, SullivanPerlman will remain as SSRC president and COO in addition to his new responsibilities. 
In light of this promotion, there have been several other senior leadership changes at the resort. 
Jennifer Shea has been promoted to the newly established role of vice president of business development. In this role, Shea will oversee resort and hotel group sales, the ticket office, and rental/retail outlets. Shea began at SSRC in 2016 as the director of sales. She will begin in her new role effective immediately and report to Perlman.
As the resort moves forward on its "Full Steam Ahead" redevelopment, the largest in its history, Jim Schneider will transition to vice president of planning to focus on project approval, planning, management, and development. Previously vice president of skier services since 2002, Schneider's new team will include resort facilities and onsite project management, as well as coordinating with development partners on Steamboat's master development plan.
Dave Hunter's role is expanding. He is now the vice president of resort operations, which encompasses current on-mountain operational departments as well as the addition of the mountain coaster, snowsports school, and Happy Camp children's programming.
2021 SAMMY honoree Katie Brown will move from vice president of sales and marketing to vice president of brand and strategy for all departments of the resort. She will work closely with the other vice presidents on the senior leadership team to ensure Steamboat's brand pillars are the foundation for decision-making and resort strategies are at the forefront of operations. She will also continue to lead the marketing, advertising, communications, air program, resort transformation, and sustainability departments.
Trish Sullivan has been named vice president of human resources. She has led the HR team at SSRC for nearly 30 years and will continue to do so, while adding the new Childcare Center to her department. SSRC recently set a goal to open an employer-based childcare facility for staff by fall of 2022. When the resort hires a director of childcare to oversee the development of the facility, that new director will report to Sullivan.
"The leadership team at Steamboat is a solid group that has guided the resort through good times and tough times," said Perlman. "My new role presents an opportunity for the leadership team to refocus their efforts to better align with our current resort needs and steer us into the future. I am thrilled to give our leaders new challenges to innovate the way Steamboat operates."