SAM Magazine—Sandpoint, Idaho, Dec. 14, 2021—Schweitzer has converted a former assisted living facility in nearby Sandpoint into employee housing for winter and summer seasonal staff.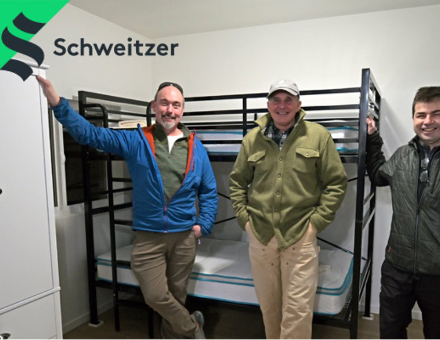 Schweitzer HR director Scot Auld, Schweitzer CEO and president Tom Chasse, and Schweitzer chief development officer Lance Badger in a room at Schweitzer's Hemlock House.The resort bought the property last summer and completed significant renovations that readied the housing for this winter season.
The property, Hemlock House, includes 8 bedrooms, each with its own half-bath, plus a communal kitchen, large living room, rec room, four shower rooms, and laundry facilities.
"This is a great first step in providing a housing option for some of our employees," said Schweitzer CEO and president Tom Chasse. "In an incredibly challenging real estate market, we were glad we could acquire this property and help ease some of the burden facing our employees."
"We believe this house, with its in-town location, will play a crucial role in helping our employees remain a vibrant part of the Sandpoint community," he added.  
Residents will be interviewed and screened by Schweitzer's human resources team. Residents must sign agreements to abide by house rules and will be expected to remain in good standing with their housemates, employer, and neighbors. Schweitzer will have an on-site contact to help with maintenance tasks and troubleshooting. 
This is the first project in a long-term strategy to provide affordable housing for Schweitzer employees; the resorts plans to announce more projects soon.