SAM Magazine—Norden, Calif., Dec. 29, 2021—"WE ARE BURIED—it feels like March," said Sugar Bowl general manager Greg Dallas on Tuesday as the resort was preparing to reopen after a historic, multi-day winter storm dropped more than 10 feet of snow since Christmas Eve, closing highways and forcing Sugar Bowl and several other California resorts to shut down for days.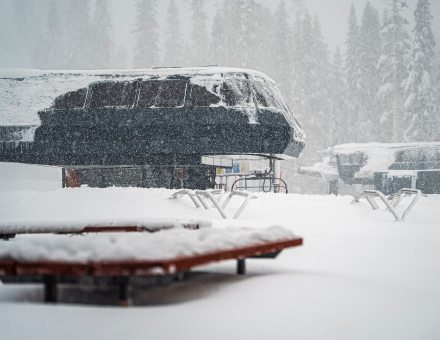 Sugar Bowl Resort on Dec. 26Snowfall records for the month of December were broken, with more than 220 inches falling since the beginning of the month.
Many areas were able to get open Christmas Day, but closed early as the storm intensified. Sugar Bowl lost power Christmas afternoon. It remained closed through Monday due in part to I-80 being closed, which prevented staff from getting to work. Dallas said the interstate was closed for four days, with hard closures even for essential personnel. 
Homewood has gotten 131 inches since last week. High winds prevented it from spinning lifts on Dec. 26, and it didn't open on Dec. 27 due to multiple hazards and safety concerns. 
"Hardest part was most employees were stuck in their houses for a couple days," said Homewood GM Kevin Mitchell on Tuesday. "Crews were out cleaning up neighborhoods early this morning, so we were able to get to work clearing our lifts. We opened 11 minutes later than scheduled this morning which I think is a huge success given the amount of snow we received!"
An avalanche that fell on highway 89 near Palisades Tahoe Monday morning was a contributing factor to the resort remaining closed after lifts didn't operate Sunday due to 100 mph winds and heavy snow.  
Other Tahoe area resorts, including Northstar-at-Tahoe, Heavenly, Boreal, and Kirkwood all closed down at points over the weekend due to the storm. All have dug out and reopened as of Tuesday.
Mammoth Mountain has received about 90 inches of snow since Dec. 23. Highway 395, the main road to reach the resort, was closed Dec. 26. 
This massive December snowfall is a welcome shot of moisture for drought-stricken California. While SoCal resorts such as Mountain High and Bear Mountain didn't get walloped like Tahoe did, it's their turn now—a winter storm is forecasted to dump 1-4 feet of snow in the Los Angeles County Mountains, San Bernardino County Mountains, and Riverside County Mountains through Friday.