SAM Magazine—Superior, Colo., Jan. 3, 2022—In response to the wildfire disaster that struck Boulder County just before the new year, local Powdr-owned resorts Copper Mountain and Eldora Mountain are launching an initiative to provide financial relief for those impacted.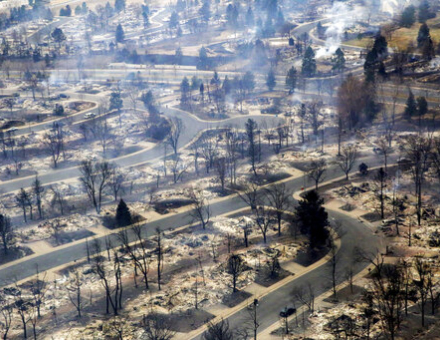 A view of a Boulder County neighborhood that was destroyed by a wildfire is seen from a Colorado National Guard helicopter during a flyover by Gov. Jared Polis on Friday, Dec. 31, 2021.  (Hart Van Denburg/Colorado Public Radio via AP, Pool)
In a statement shared on Twitter, Powdr said, "On Friday, January 7, Copper Mountain and Eldora will be raising money through discounted $99 lift tickets and the Play Forever Fund." For every lift ticket sold, the resorts will donate a portion of the proceeds to the Boulder County Wildfire Fund. Additionally, Copper and Eldora will match each lift ticket donation with a Play Forever donation.
"Our thoughts and hearts are with those affected by this devastating and historic tragedy, including those within our Powdr family," said the company. 
The two wildfires sprung up suddenly in urban Boulder County on Thursday, Dec. 30. Exacerbated by hurricane-force wind gusts exceeding 100 mph, the blazes spread with astonishing speed through the Colorado grasslands, forcing the evacuation of more than 30,000 residents from the towns of Louisville and Superior. 
While overnight snow Friday, Dec. 31, helped extinguish the fires, the impact on the community is significant. Nearly 1,000 homes have been destroyed, and lingering power and gas outages, compounded by the winter weather, are expected to affect thousands. 
Vail Resorts, which is headquartered in Broomfield, one of the impacted areas, said in its own online statement, "We are watching the Boulder County fires and are devastated by the impact, so close to our headquarters and home to many of our employees. Our team—and all families affected—are in our thoughts."
Impacted employees can apply for emergency relief grants through the Vail Resorts EpicPromise Employee Foundation.