SAM Magazine—Hancock, Mass., Jan. 6, 2022— Jiminy Peak, Mass., snowmaker Kimberlee Francoeur, 30, of Lanesborough, Mass., died after a snow groomer operator reportedly backed into the snowmobile she was operating during the day on Tuesday, Jan. 4. The Berkshire District Attorney's office and Massachusetts State Police are investigating the incident. The DA's office called it "an apparent accidental death."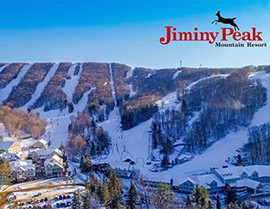 "We are heartbroken to share with you that a tragedy occurred on the mountain on Tuesday of this week," the resort said in a statement. "One of our snowmakers, and a beloved member of our Jiminy family, Kimberlee Francoeur, died as the result of a snowmobile collision with a snow groomer. Our first concern is for the family and friends of our colleague, and all that worked with this staff member."
A news release from the DA's office said, "According to witness statements, Francoeur was working as a snowmaker and the snowmobile she was operating was stopped on the mountain when the snow groomer operator backed into the vehicle."
Jiminy Peak ski patrol and Northern Berkshire EMS personnel attempted to save Francoeur's life, but she ultimately succumbed to injuries suffered in the collision. A Northern Berkshire EMS paramedic pronounced her deceased at approximately 11:20 a.m.
Massachusetts State Police Cheshire barracks, Massachusetts State Police Crime Scene Services Section, and the Occupational Safety and Health Administration also responded to the scene. The Berkshire State Police Detective Unit's investigation is ongoing.
Francoeur joined Jiminy 10 years ago and was one of the first women to work in snowmaking at the resort, according to Tyler Fairbank, president of Fairbank Group, which owns and operates Jiminy.
"Kimber was cherished by our entire family and team," Fairbank told The Berkshire Eagle. "What a terrible, terrible accident. We are all heartbroken to say the least."