SAM Magazine—Natick, Mass., Jan. 10, 2022—Online voting for the 2022 HKD and SAM "I AM a Snowmaker" contest is now open through midnight (EST) on Friday, Jan. 21.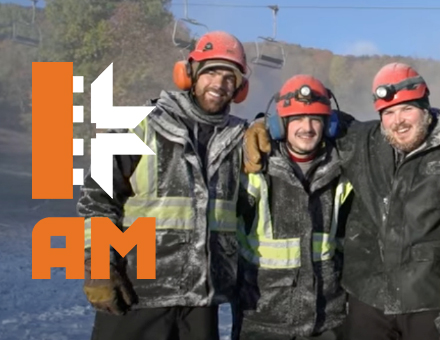 Since it debuted the winter of 2013-14, the annual I AM contest—sponsored by HKD Snowmakers—has highlighted the hard work, determination, and camaraderie of snowmakers, recognizing how critical they are to the success of the mountain resort industry.
This season, seven resorts vie for the I AM a Snowmaker title with videos showcasing the strengths, expertise, and passion of their teams. Each video is unique, and all are great testaments to the grit and dedication of snowmaking crews across North America.
The seven finalists competing in this season's I AM a Snowmaker contest are:
Boler Mountain, Ont.
Camelback Resort, Pa.
Crystal Mountain, Mich.
Mountain High, Calif.
Sugarbush, Vt.
Sugarloaf, Maine
Vail Mountain, Colo.
"I AM a Snowmaker is always a highlight for us at HKD. From its inception in 2013, the purpose of I AM has always been to highlight the inspiring hard work, enthusiasm, and dedication of snowmaking crews across the industry," said HKD president Charles Santry. "The diversity we have seen in terms of snowmaking crews, system size, geography, and the various snowmaking technology utilized has been extraordinary. This year has been no exception.
"Facing the continued challenges encountered by the resort community and beyond, snowmakers remain committed to their jobs, passionately taking care of the slopes day and night in the most challenging conditions," continued Santry. "It's awesome to see! This year's videos provide an uplifting and educational window into the wonderful, behind-the-scenes world of snowmaking. Enjoy watching and vote early and often!"
"We are excited to continue this annual tradition celebrating the skill, spirit, and sense of humor snowmakers bring to one of the hardest jobs on the mountain," said SAM Magazine publisher Olivia Rowan. "The start of this season has been marked by difficult weather and a surging pandemic. Through it all, snowmakers continue to step up and perform. SAM is proud to share these inspirational videos with you and be a part of this important recognition."
Each finalist submitted a profile and short video for the contest. To view the profiles, videos—and most importantly, vote—visit: www.saminfo.com/i-am-a-snowmaker.