SAM Magazine—Beech Mountain, N.C., Jan. 11, 2022—A snowmaking pipe under a chairlift at Beech Mountain ruptured on Friday, Jan. 7, blasting guests passing over it with water. Several people were caught in the high-pressure spray as the lift kept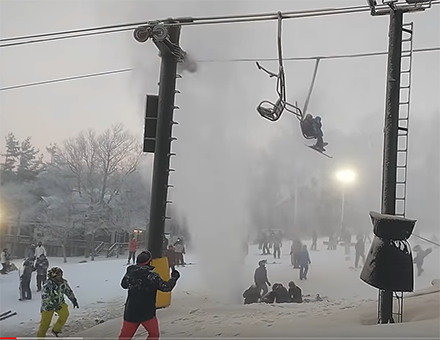 spinning, while others jumped 25 feet from the chair to avoid the water. Two guests were transported to a local hospital with non-life-threatening injuries.

The incident occurred after a guest skied into a hydrant under the lift, a fixed-grip double, while snowmaking operations were underway, according to the resort. That guest was uninjured.

In a statement, resort management said, "As soon as we became aware of the problem, our operations and safety team took action as quickly as possible to drain the system safely and assist the remaining skiers in disembarking at the top of the lift."

Resort staff did not instruct skiers to jump from the lift, said management.

Videos of the incident made the rounds quickly on social media and news outlets.

"Avery EMS transported two patrons to a local hospital with non-life-threatening injuries. We believe everyone is okay outside of the unfortunate situation, and operations are on a regular schedule," resort management told local news outlets.

The North Carolina Department of Labor is investigating the incident. SAM will update this story as more information becomes available.