Two-color (process red, blue or yellow) $350 plus space charge
| | | | |
| --- | --- | --- | --- |
| | 1-time | 3-time | 6-time |
| Page | $3,025 | $2,580 | $2,295 |
| 2/3 | $2,225 | $1,910 | $1,675 |
| 1/2 | $1,750 | $1,495 | $1,330 |
| 1/3 | $1,270 | $1,075 | $955 |
| 1/4 | $1,025 | $865 | $765 |
| 1/6 | $710 | $615 | $540 |
| 1/8 (Business card)* | $380 | $315 | $255 |
*Business Card available to advertisers of professional services (engineering, consultancy, etc.) Product advertising not permitted. Non-commissionable.
Multiple page rate: Two or more pages of run-of-book advertising in one issue earns 8% discount on earned rate.
Covers
Covers 2 and 3 Earned rate plus 15%
Cover 4 Earned rate plus 25%
Color
Two-color (process red, blue or yellow) $350 plus space charge
Two-color (PMS/matched colors) $575 plus space charge
Four-color (process) $1,030 plus space charge
Bleed — no charge.
SAMINFO.COM WEB AD RATES
Premium Leaderboard: 728 pixels W x 90 pixels H
Skyscraper A: 160 pixels W x 600 pixels H
Skyscraper B: 160 pixels W x 160 pixels H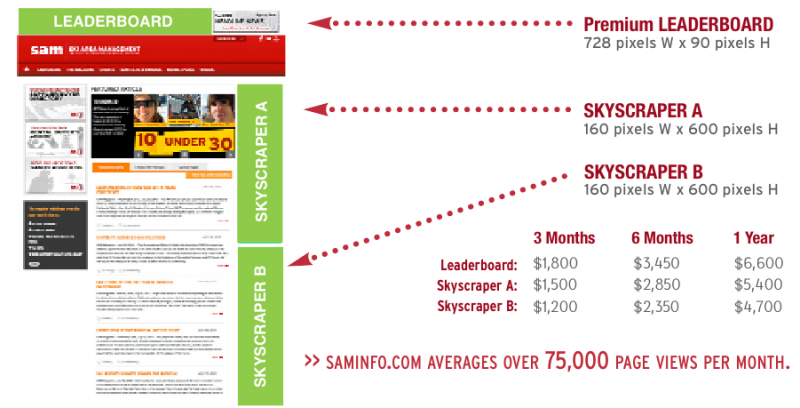 General Rate Policy
Publisher reserves the right to increase rates upon 90 days notice, such notification superseding existing contracts.
Cancellations: Advertising cancellations will not be accepted after the published closing date for the issue booked. The publisher can print an advertisement and collect the full amount due as shown on the insertion order.
Short Rate Information: Advertisers will be short rated if, within a 12-month period from the date of first insertion, they do not use the amount of space on which their billings have been based. If more space is used than contracted, adjustment to a lower rate will be made.
Finance charges on any unpaid balance over 30 days is 1.5% per month and 18% APR.
Special Positions
Preferred positions cannot be guaranteed except for contracted cover positions. However, requests for special positions will be honored, without charge, if no prior commitment for the requested position has been made and if the mechanics and physical layout of the magazine permit.
Inserts
Furnished insert rates
2-page (both sides 1 sheet) $3,350
4-page (both sides 2 sheets) $5,600
Rates presuppose standard size inserts suitable for machine inserting. Advertiser will be charged mechanical costs incurred on non-conforming inserts.
Untrimmed size: 8-3/4" wide x 11-1/4" deep.
Allow for trim to: 8-1/2" wide x 11" deep
Insert paper weight should not exceed 100-lb text.
Keep live matter a minimum of 3/8" from gutter edge.
Sample of insert should be sent in advance to publisher for approval.
Inserts are commissionable and count as one insertion toward r.o.b. frequency.
Classifieds
Rates net. Non-commissionable.
Classified advertising is $2.75 per word and includes both the magazine and on-line version. Payment must accompany the order. Logo placement, print and online, add $100.
Border (print only): add $20.
Use of SAM box number: add $25.
Commissions, Cash Discounts
Agency commission: 15% of gross billing allowed recognized advertising agencies provided account is paid within 30 days of invoice date. Billing includes costs of space, color, bleed and position. Commission is not paid on Business Card (1/8 page) advertising, Classified advertising or Web sponsorships.
Cash Discount: 2% Cash discount on net (after agency commission). Discount allowed if invoice is paid in full within 10 days of invoice date.
Supplier/Buyer Directory
SAM's all-new Industry Marketplace, is chock full of new features that will enhance the overall user experience.
For starters, your directory listing is controlled entirely by you through a simple log-in system.
Second, it's never been easier to enhance your listing. For example, our Power Listing option includes:
• web and e-mail link
• logo
• video
• photo gallery
• map
• ability to upload sales materials
Third, SAM will promote this year-round reference tool through the magazine, on-line, and through our e-mail blasts.
Fourth, the SAM Industry Marketplace will reach decision-makers in North America, Europe, Asia Pacific and South America.
SAM Magazine is the Number One resource for the mountain resort professional.
To explore the many options go to, http://marketplace.saminfo.com/advertise.php or contact Sarah Ebbott, sarah@saminfo.com
SIGN UP NOW!