The SAM Terrain Park Contest is all about showcasing the creativity and hard work of park crew from around the world–and it has helped inspire the growth and progression of this now vital aspect of mountain resort operations.

Get your submissions together for the 15th annual SAM Terrain Park Contest. The three categories are: Features, Events, and Bread & Butter. Entries will be in the November issue of SAM. Submissions are due September 27, 2019.
Details and criteria for each category submission are below. Email your entry to sarah@saminfo.com
REMEMBER: The visuals (images/video) are important, we need high-resolution photos to highlight your work. What does high-resolution mean? A minimum of 3"x3" at 300dpi. (Email your photos to Sarah if you're not sure.) But it's not just the photos that are important, it's also the stories behind each entry that makes this contest useful, inspiring, and interesting. All entries need to be from the 2018-2019 winter season (2019 season in the southern hemisphere).
We also want to get to know the team behind the build, so be sure to send us a photo of your crew, along with their names, for a chance for your team to be highlighted in SAM.
Terrain Park Feature
Your most unique, creative, and/or interesting feature of any size made from any material, including all snow. It doesn't need to be the biggest and most complicated feature. If it has a great story behind it, it's worth submitting.Info to include in the description (if available/applicable): location (large, medium, small park), dimensions, amount of time it took to fabricate/build and install, tools used to fabricate/build and install (including cats), who fabricated/built it, inspiration for it, why it was built, and any anecdotes about the feature that other park builders and resort operators would be interested in. Don't forget a high-resolution photo or two and a video link if you've got one!

Bread and Butter

The focus has shifted from building huge parks and features that only a handful of skiers and riders have the ability to hit, to building small and medium features just about anyone can have fun on. The goal is get more people enjoying the parks, and enjoying them responsibly. What: The most popular feature in your terrain park that gets hit by just about everyone—from core park rats to park newbies. Info to include in the description (if available/applicable): Why is it so popular? (this is the most important part) These features aren't usually the sexiest elements in your park, but they get the most use. Also include: dimensions, amount of time it took to fabricate/build and install, tools used to fabricate/build and install (including cats), who fabricated/built it, inspiration for it, why it was built, and any other interesting anecdotes. Don't forget a high-resolution photo or two and a video link if you've got one!

Terrain Park Event

Anything that needs to be prepared for and attracts people to your park to specifically participate in it. Do special photo shoots count? Sure, because they often require a similar amount of preparation as a competition event and also attract people, i.e., talented skiers and riders. The event doesn't need to be huge. Info to include in the description (if available/applicable): purpose of the event, amount of time it took to build for it, tools used to build it, amount of park crew that worked on it, any other interesting anecdotes. Don't forget a high-resolution photo or two and a video link if you've got one!

The winners of the 2018 SAM Terrain Park Contest are:
Bread and Butter: Tranny Fest (Thredbo, Australia)
Event: Sun's Out Guns Out (WinSport, Alberta, Canada)
Feature: Bonfire Axe (Big Boulder, Pa., USA)
Category winners receive a prize pack provided by: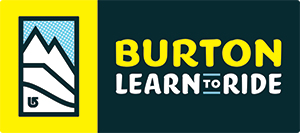 ---
Explore all of the fantastic submissions from last year by selecting a category below.



BREAD & BUTTER

1. TRANNY FEST SPRING PARK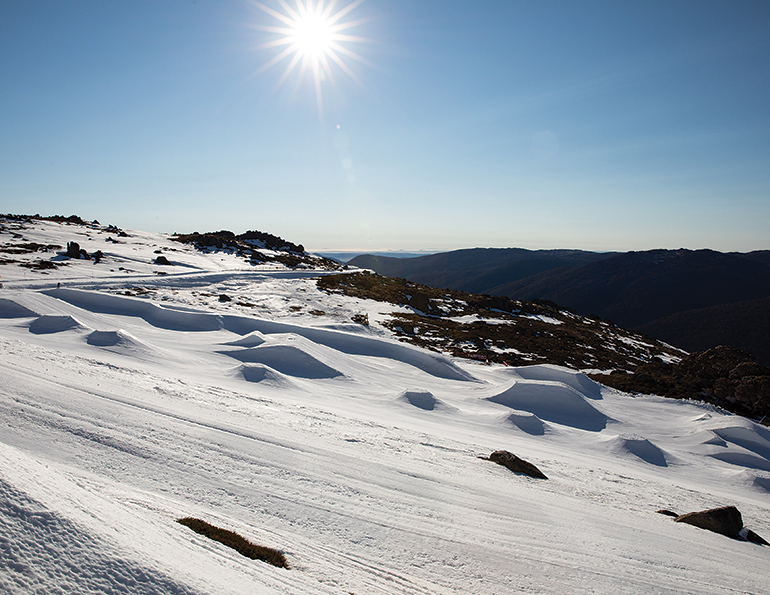 The Tranny Fest Spring Park at Thredbo, Australia, was originally built for a snowboarding event. Once the event concluded, everyone from "grommets to grandpas," skiers and snowboarders, dove in to ride it, so the resort kept the park up for the last three weeks of the season. The setup consisted of three transition zones: a main bowl and transition area, a boob/nipple/volcano zone, and a roller/side hit zone. For the main bowl, four cats spent a day farming snow. Two park-cat operators then worked for five days shaping and building the other two zones, and an excavator spent four of those days shaping the course. Six hand-shapers spent five days polishing all of the transitions. The unique setup allowed terrain park newbies to learn how to ride transition and generally feel comfortable in a terrain park. Core park rats and elite snowboarders and skiers loved it too, taking on different lines, gapping and going huge.
2. BOX OF MAPS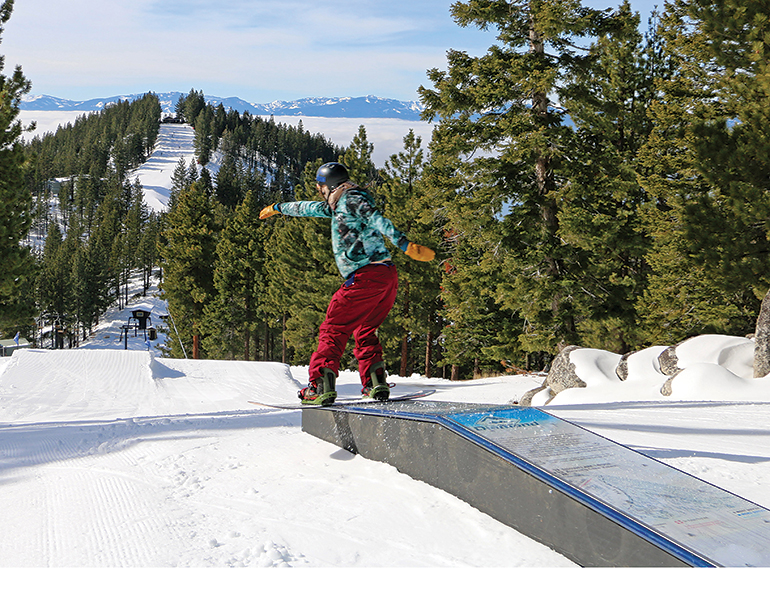 Diamond Peak, Calif., debuted its Lakeview Park on Jan. 30 last season with all-new features built by the resort's slope maintenance team. Matt Melilli crafted this 15-foot flat-down box, using recycled trail map boards underneath the clear Lexan slide surface. This reduced waste and gave the feature a one-of-a-kind look. It was one of the most popular features for all abilities. Use of repurposed materials was one of many practices that helped Diamond Peak become STOKE Certified for outstanding sustainability initiatives, and one of the two U.S. resorts to achieve this certification. Rider: Ryan Petrocco Photo: Jaclyn Ream
3. HAND-SHAPED MINI PIPE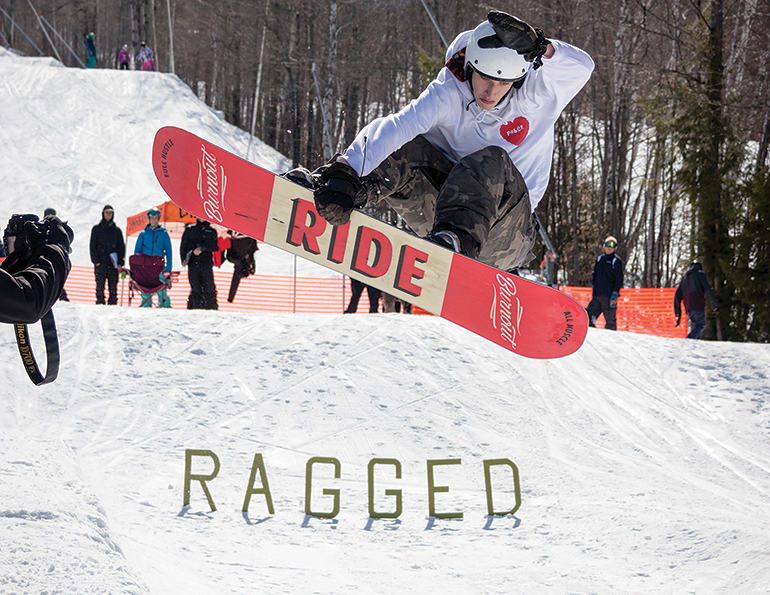 Ragged Mountain, N.H., built a hand-shaped mini pipe for its throwback Back In The Day halfpipe snowboarding event. It quickly became the most popular feature in the park thanks to its approachability for novice park-goers and fun factor for core park rats. The best part, says Ragged's Ben Hall, "has been watching the progression of local kids over the past few seasons as they've made their way from the very first drop-in to sending it above the lip." The pipe is roughly 7 feet tall, 200 feet long, and 35 feet wide from lip to lip. The build takes the park groomers and staff about four days. During the first two days a Prinoth Bison X shapes the decks and flat bottom. Then a rope line set along each lip guides a chainsaw cut with relief cuts every foot or so. Finally park staff with flat shovels, rakes, and transition shovels works the snow from the lip to the flat bottom where it's cleaned up with the cat.
4. ROLLER SNAKE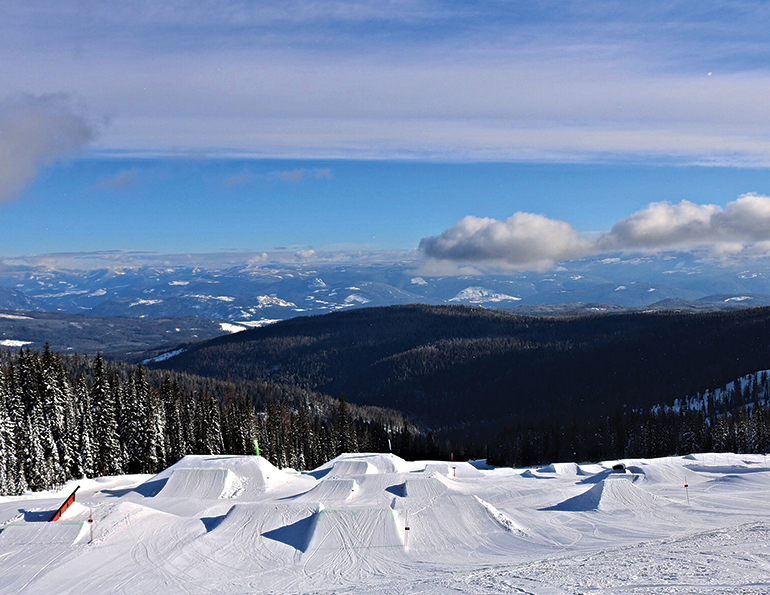 In a typical winter, the crew at SilverStar, B.C., farms snow from an area between its large park and its Peanut Park for beginners. With last season's record snowfall, this area was ripe for building., too. So, along the fence line between the two parks, the crew built mirrored roller/snake lines—with the bigger line in the big park. Terrain park manager Paul Kenward says this allowed friends and family of different abilities to ride side by side on suitable features, and people who normally avoided the park lined up to enjoy it. "This gave me and the crew a new perspective on park building, and a greater desire to build more features that will bring newcomers to the park," says Kenward.
5. THE PINBALL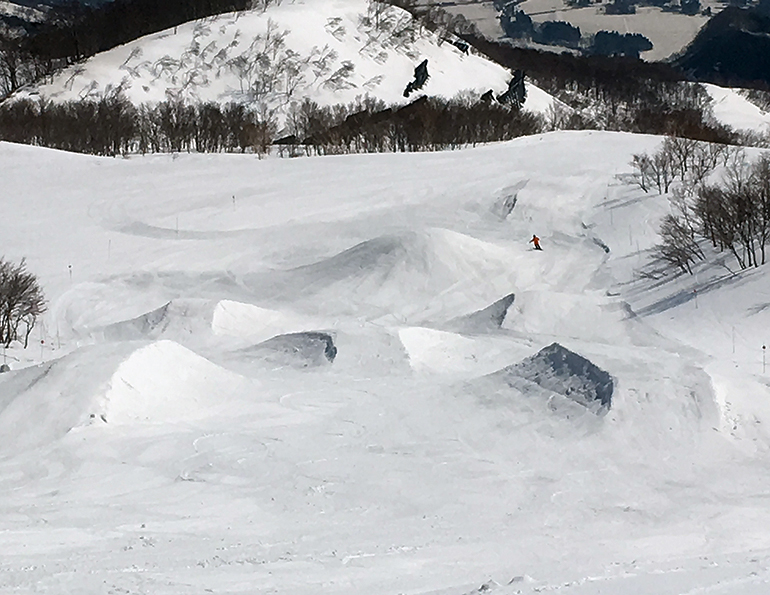 The Pinball at Area51s in Japan's Mitsumata area is built annually to cater to all levels of skiers and riders—from "alpine skier father to freestyle snowboarder children," says builder Katsuhiko Yabe. The park flows down what Yabe calls a "liberal line in snowball Pinball." It has four banks, a 36-foot kicker, mini-pipe, four hips, tabletop jump, butter table, volcano, wave, mini tabletop jump, deformation bank jump, and sidewalls. The build took Yabe three days in one cat, a total of 15 cat hours, to complete. Pinball was open for 64 days last winter, and thanks to its flow and consistent maintenance, Yabe reports not one guest was injured using the park.
6. KIDS PLAY PARK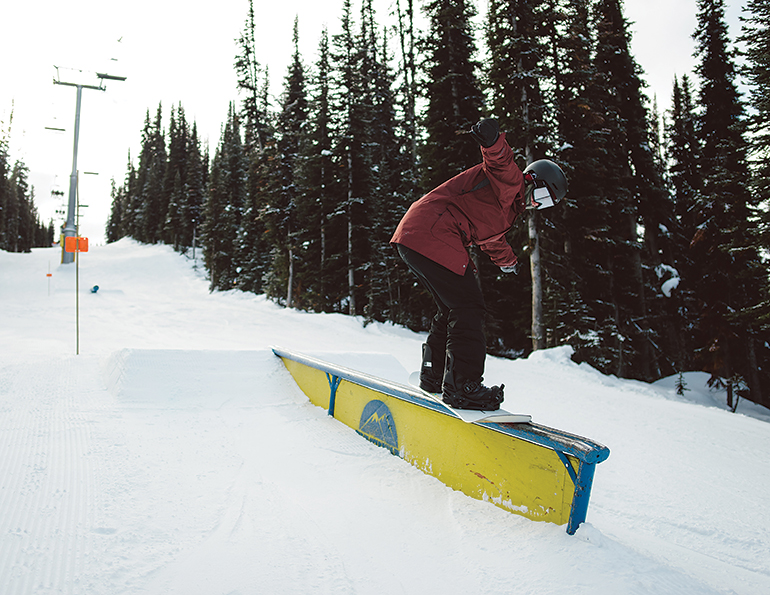 Sunshine, Alberta, was inspired a few seasons ago by the Terrain Based Learning discussion at Cutter's Camp to build its Kids Play Terrain Park—and it was a good decision. Located in Sunshine's Kids Play area, the park starts off with a few butter boxes and progresses into some small rails by the bottom of the run. It's sheltered from the elements, which makes it great for young skiers and riders, but even advanced riders like mini jibs. Sunshine also hosted the Nikita X Rude Girls ride day at the beginning of the 2017-18 season there. "Hands down the Kids Play Park has been one of the best additions to our terrain park system!" says park designer and builder Ben Suurallik. Photo: Jessika Hunter
7. ENCINO MAN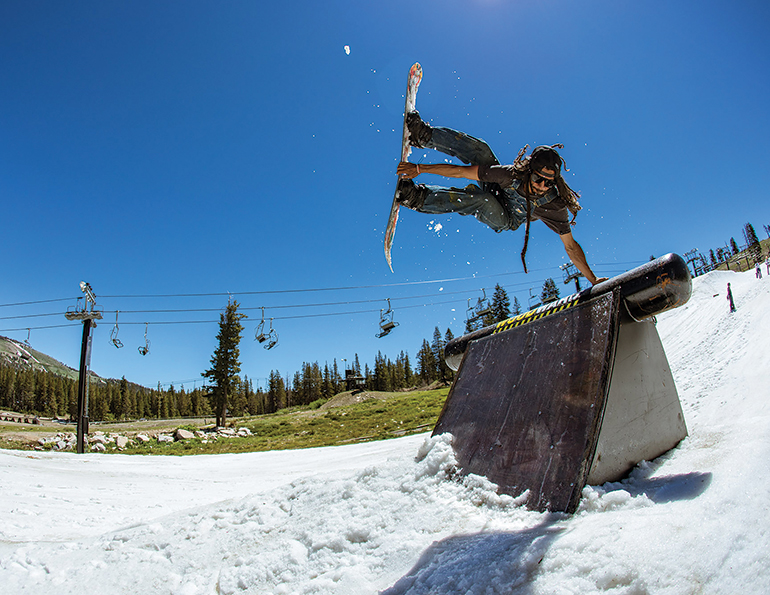 Encino Man was Boreal's (Calif.) most popular feature during the 2017-18 season. Any ability level can ride it with the same level of enjoyment. Encino Man is versatile, and used year-round—it's used for Woodward Tahoe summer camps, photo shoots, and was up all winter in the terrain park. The feature is a 4' L x 4' W x 4' H A-frame wall ride with a 10-inch round snowmaking tube on top as the coping. It took three days for Woodward fabricators to build it, and just 30 minutes to install. Photo: Mary Walsh
8. THE WHOLE PARK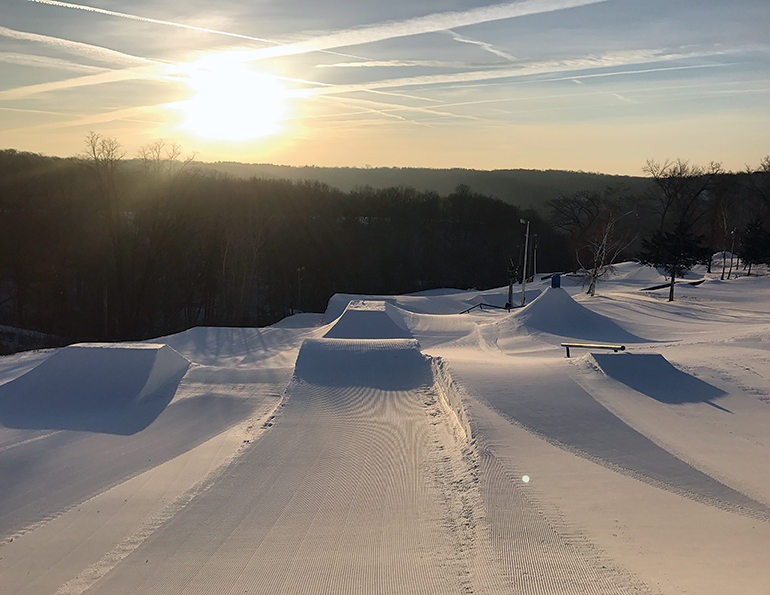 "I would have to say the new category was made for our park as a whole, it is pretty much the basis of our park layout as you make your way through it," says Dave Geary of Chestnut Mountain, Ill. One line is packed with straight intermediate/beginner boxes, rails, and jumps. Start just a little further over one way or the other, and riders can weave around the park that is full of side hits, bonks, and hips for the more advanced set. The hip at the bottom of the run gets the most use out of everything, because everyone can hit—beginners can take it up a couple feet, and advanced riders can send it over it. Geary says it's a fairly high maintenance feature, "but if you spend a half hour every night tuning it up with the cat, it is good to go."
9. DOG HOUSE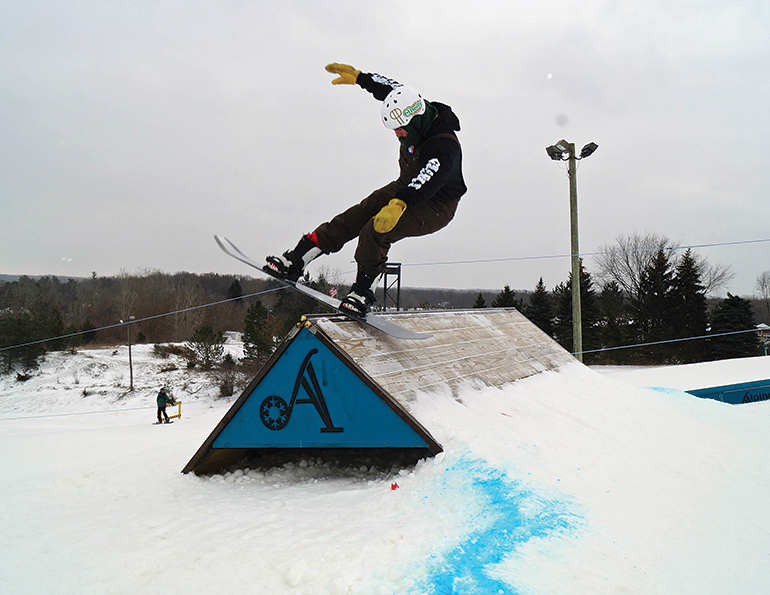 The Midwest park scene is legit, thanks largely to easily accessed parks with a variety of features that all can hit. At Alpine Valley, Mich., marketing and freestyle terrain director Brian Snabes took 8-10 hours to build this doghouse out of 1.5-inch square tubing and angle iron for the frame, and treated wood decking for the sides. The result was a 12' W X 3' H feature that would make Snoopy howl for more laps. Snabes says it was by far one of the park's most popular features, drawing everyone from Midwest pros to park newbies. Rider: Eric Finn Photo: Brian Snabes
10. BURN RUBBER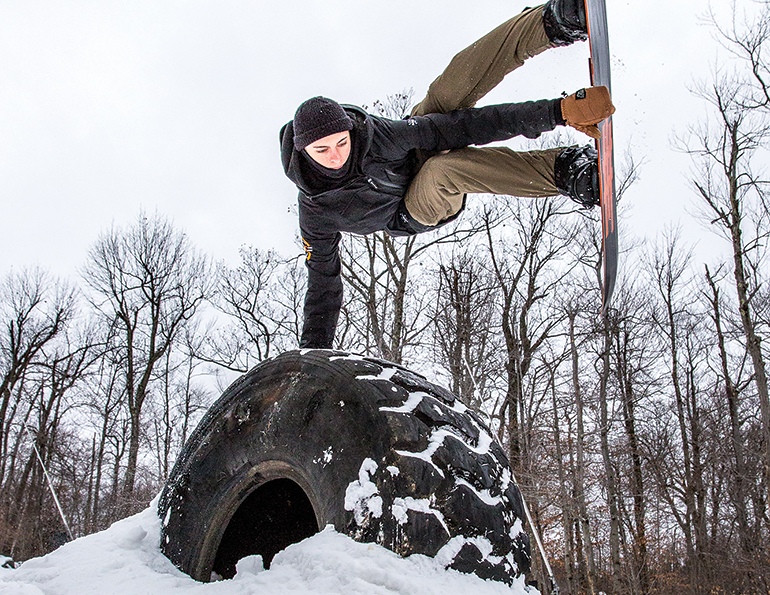 Most ski areas have a few worn-out loader tires lying around from seasons past. Most folks see it as trash, but the Wachusett Mountain, Mass., parks crew saw treasure, and turned some weathered rubber into a fun new park feature. Build costs were virtually zero, other than time to install a 33" x 12" tire on the mountain, which was done with one cat and a few members of park staff. The tire bonk has become a crowd favorite because it stands out, can be set up a variety of ways, and is approachable for all levels of skiers and riders.
11. MEGA RAINBOW BOX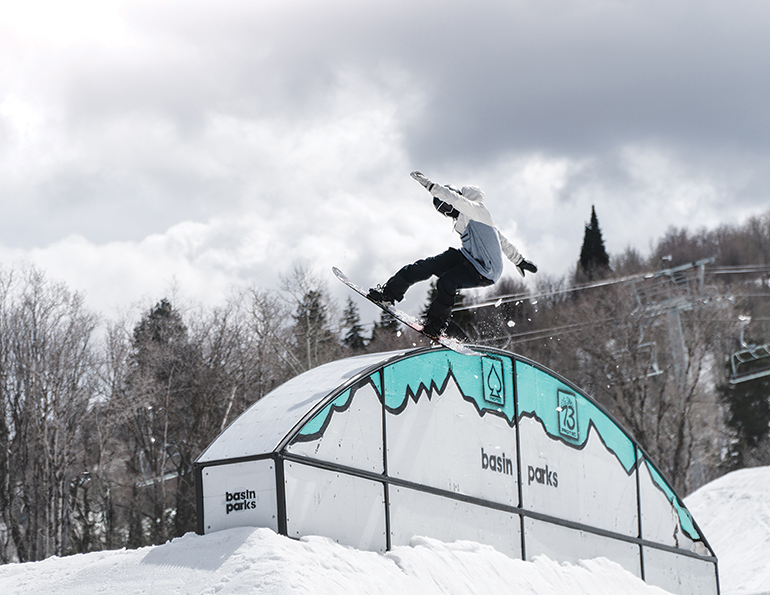 The most popular feature in the terrain parks at Snowbasin, Utah, is the medium-sized Mega Rainbow Box, which delights kids as young as five and adults up to 65 years old. It is 30 feet long, 2.5 feet wide and 7 feet tall at the peak. That may sound big, but according to Snowbasin's Megan Collins, the wide travel path makes it less intimidating, and novice park riders can easily go straight over it. It took the staff three days to build and has been included in the Basin Parks setup for the last four seasons. Inspiration came from the "double rainbow" viral Youtube video, and also witnessing a double rainbow over the mountains at Snowbasin.
12. PIPE FOR ALL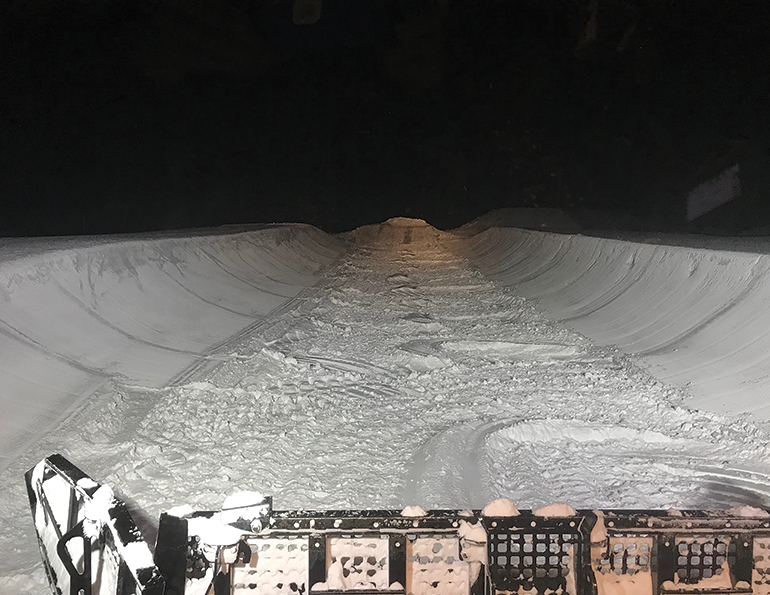 Big Sky, Mont., no longer has a pipe cutter, but that didn't stop the park crew from building a 110-foot-long, five-foot-tall mini pipe. Two long chainsaw cuts at 75 degrees and 12 hours time in a PistenBully Park Pro was all they needed to bring this one-size-fits-all creation to life. Terrain park manager Adam West says, "This mini pipe has been a huge addition to our mountain." Located in a medium park in the base area, the pipe has quickly grown in popularity, overtaking the small jump-line as a favorite among families and park regulars, whether they are "keen to pop and press, or just looking to make turns on the steep walls," says West. West did the cat work, and credits park supervisor Zach Johnson for holding the angle steady on the backbreaking saw cuts.
13. BREADS AND BUTTERS
"A full terrain park may seem like a strange submission [for "Bread and Butter" feature], but this one should make the cut," Jon Regenold of Spirit Mountain, Minn., told us. Like many parks in the Midwest, the Lone Oak terrain park is loaded with features that are all incredibly popular, are hit by park goers of all abilities, and drive progression. Lone Oak is roughly three feature pads long by four features wide at each pad, and includes a medium jump. Plus, it overlooks Lake Superior, and the Main Chalet sits right at the bottom, so mom and dad can chill with a toddy while watching the kids shred.
14. TANKED DOWN UNDER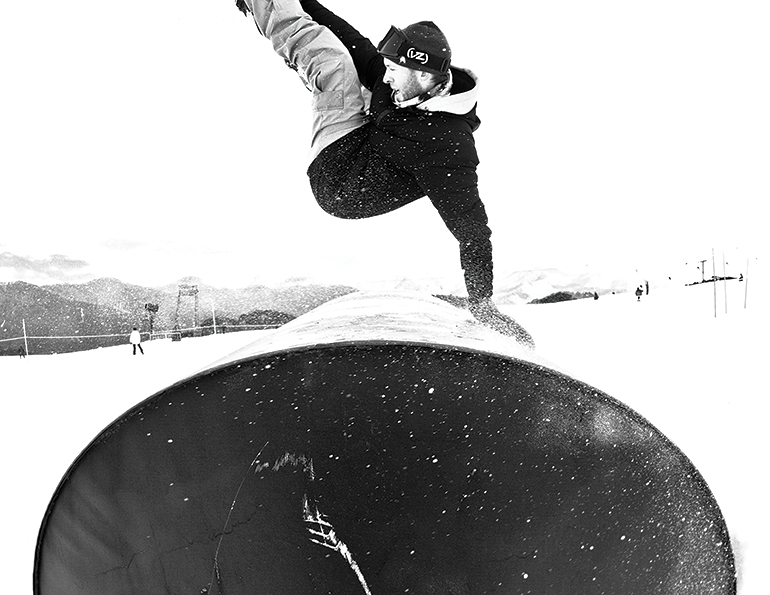 Mt. Buller, Australia, acquired an old underground fuel tank from a local service station, and it now sees more action than 7-Eleven on a holiday weekend. The park crew installed steel skids, so the tank can be easily towed to different locations around the park. It takes a mere 90 minutes to build a pad with a cat, drag the tank into place, push show around it to set, and for final handwork done by the park crew to smooth the transitions. Beginners love it because of its low intimidation factor, and experts can flex some technical skills on it all day. Rider: Tyson Pollard Photo: Markus Deutinger
15. SNOWCANOS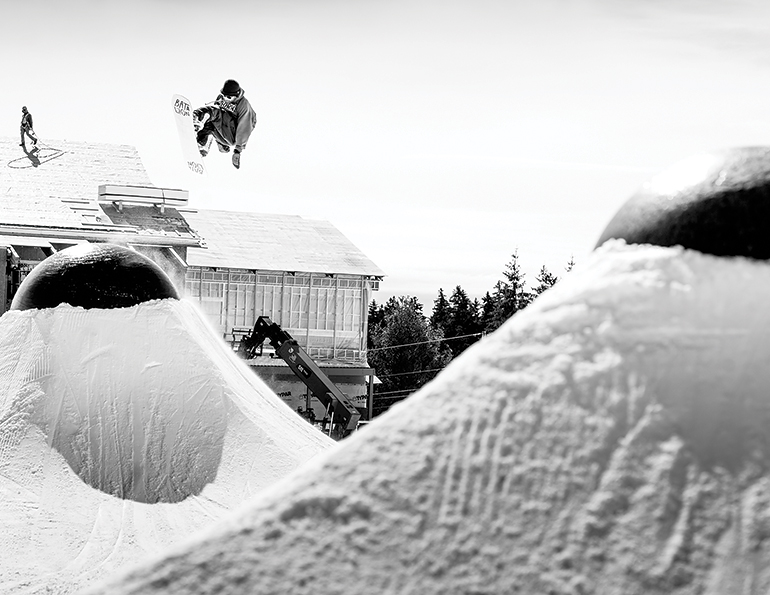 At the base area of the Carinthia Parks at Mount Snow are four snowcanos, cone-shaped features that are relatively accessible to all ability levels. Two are smaller sized, with propane tanks buried vertically in the mounds with only a round end exposed. Two are medium-sized, one with a 10-foot round fiberglass tank half-buried on top, the other with a flat top snow surface. All have 360 degrees of transitions, and were set in a cross-type layout. It took five cat hours for park manager Benny McGinnis to build and shape the snowcanos, and the Carinthia crowd erupted with joy when he finished. Rider: Shaun Murphy Photo: Mike Dawson
FEATURES

1. HARVESTED JUMPS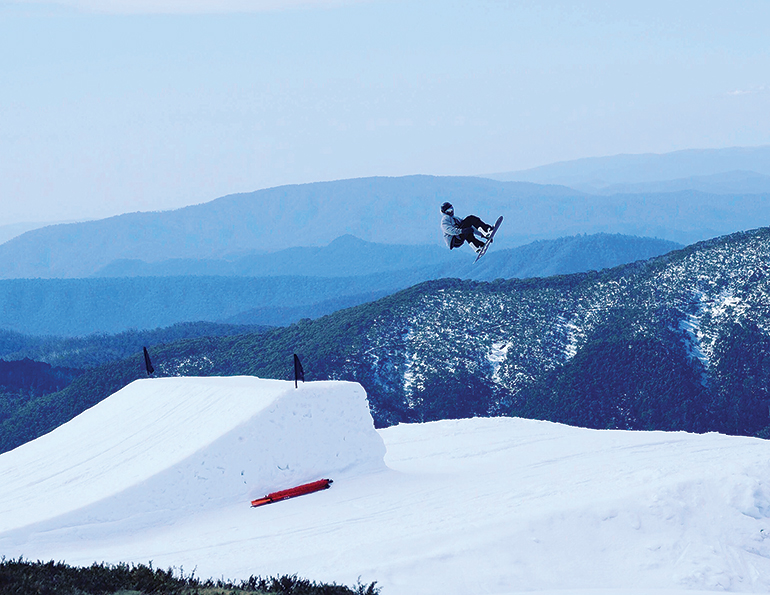 "This feature is nothing out of the ordinary, but the story behind it is," said Tyson Pollard, terrain park supervisor for Mt. Buller, Australia. This jump set, each about 14 meters, was built this year in what Pollard calls a previously abandoned but "picture perfect" location. Australia's north-facing slopes lose snow quicker than other aspects, and due to recent low-snow years and limited cat time, the resort hadn't built a park in this area since 2011. This year, a new grooming manager—a former park builder—had the team build windrows to collect snow early in the season. And the resort invested in SNOWsat snow depth measurement technology, which allowed operators to farm previously hidden pockets of snow. Adaptive management style and new technology combined to do what was previously thought not possible. Rider: David Wosey Photo: Jeremy Abbot
2. TRASH CANS, NOT TREE WELLS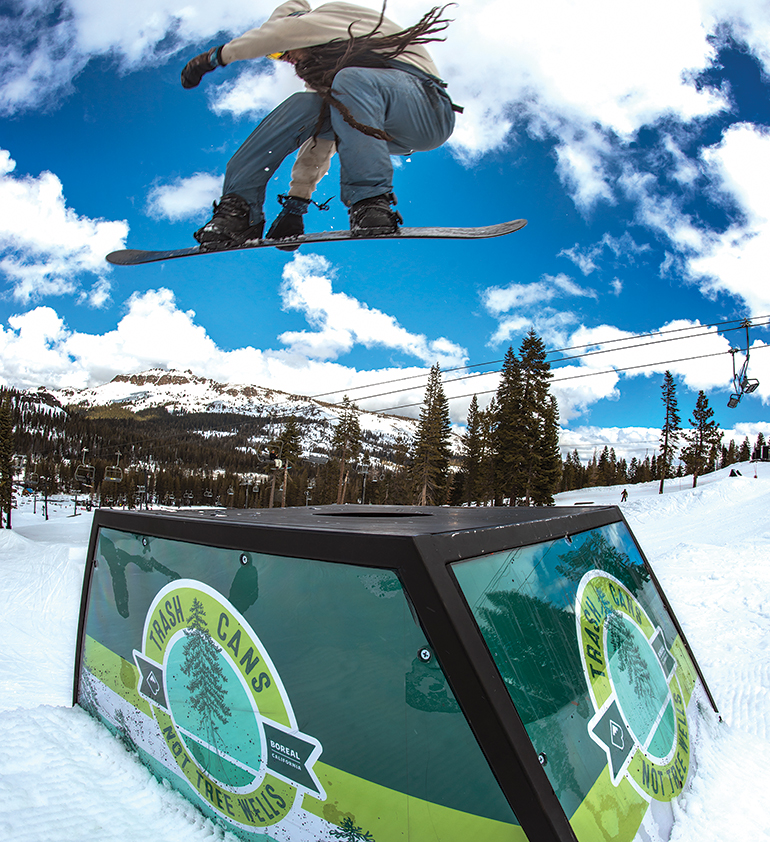 Environmental stewardship was the inspiration for a terrain park feature and campaign called "Trash Cans, Not Tree Wells" at Boreal, Calif. The trapezoid-shaped feature measuring 6.5' L x 3' W x 3.5' H took builders at Woodward three days to fabricate. Its size made it super mobile and install time was only about 30 minutes, so the crew relocated it several times throughout the season to help spread the word. There is an actual trashcan inside the feature, and guests used it regularly. When the receptacle filled up, the park crew would empty it on their nightly grooming run. Photo: Jake Pollock
3. LODGEPOLE PINE RAIL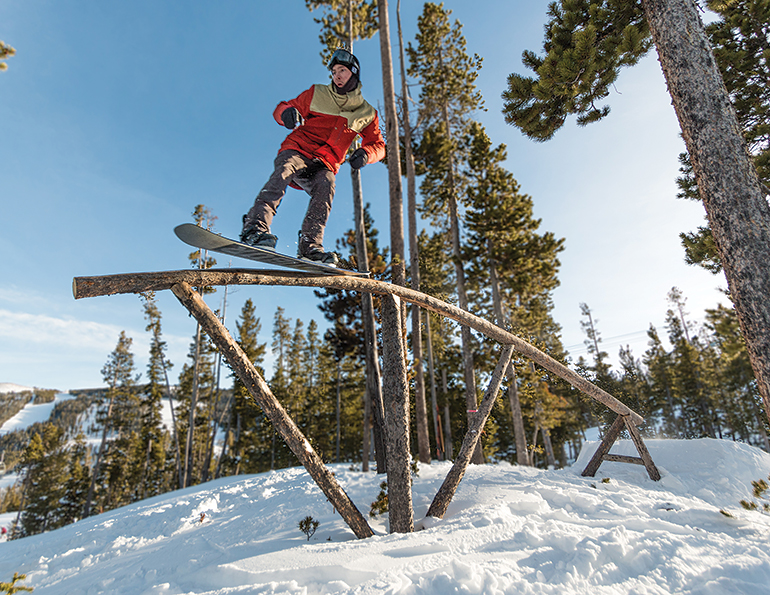 The Big Sky, Mont., park crew had been on the hunt for the perfect jib, one formed by Mother Nature. And two summers ago, they spotted this bent lodgepole pine from a cat road. The crew relocated it to The Cache park, where the crew cut and peeled the 30-foot-long pole with a chainsaw and drawknife so it was rideable. They secured the jib to the chopped trunk of another tree using countersunk lag bolts, so the feature is, in a way, rooted to the mountain. Nine feet high at the midpoint, the jib is located on a natural roller with a long powder landing. Total build time was about four hours.
4. PUT A COAT ON IT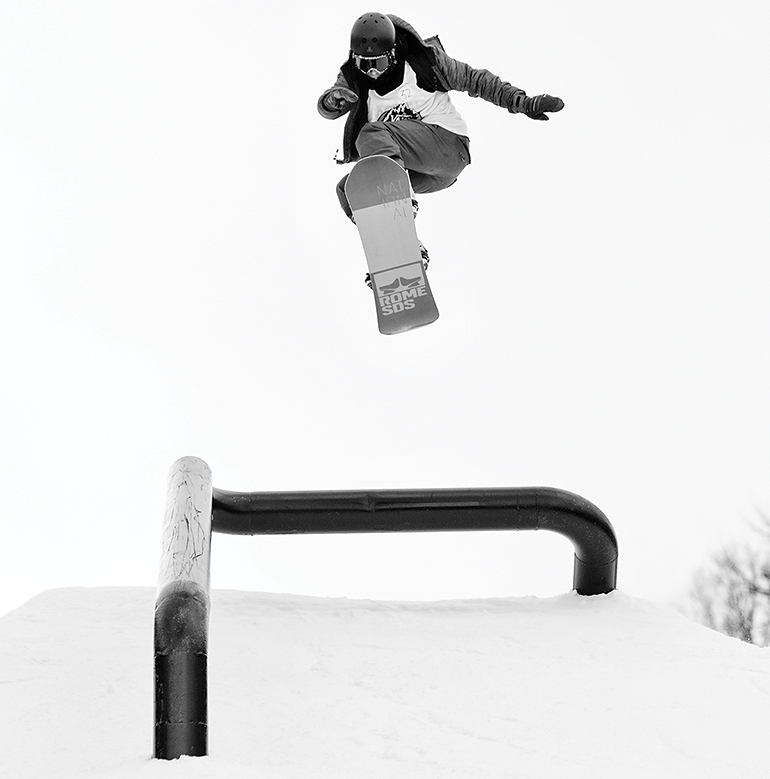 A heap of weird, bent pieces of 8" scrap snowmaking pipe left over from Mount Snow's recent upgrades got fabricator Rory Bruder thinking creatively. "It started as just a close-in to down bar, but then we thought about kicking the front leg back and putting some angle on it for a polejam close out," says Bruder. He built it with no middle leg under the close in/close out. He made the support frame with 2" X 4" square tubing. As a result, he calls it the "hanger rail," because the 6-foot close in/close out of the 25-foot-long feature is basically floating, sans base. It took three days of fabrication using a welder, plasma cutter, and grinder, and four hours to install on snow using one PistenBully Park Pro and two diggers.
5. COOLER THAN COOL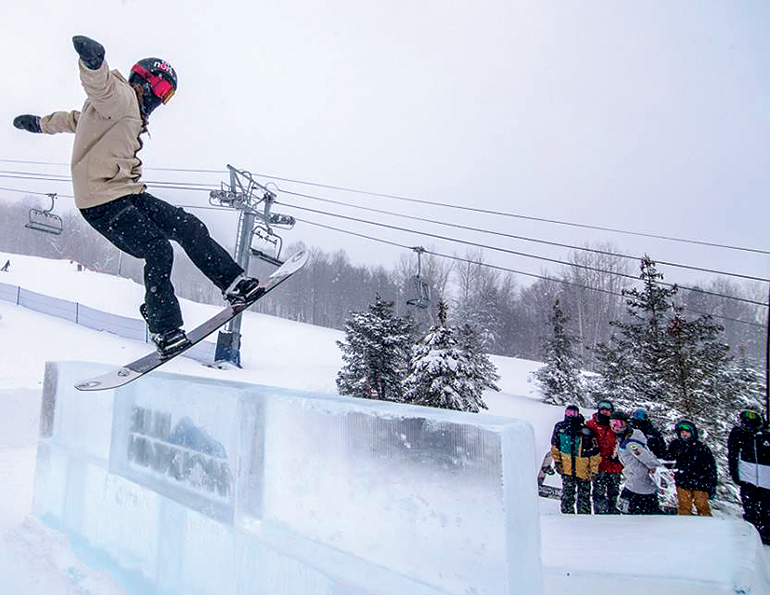 The Frozen Rail Jam has been the season-opening event at Blue Mountain Resort in Ontario, Canada, for years. Last season someone said, "Let's pay homage to the contest's name—let's make a rail out of ice." After calling different ice-carving companies, the team found one that could actually do it. The result: a 16-foot-long, 10-inch wide, 36-inch tall, 600-pound block of ice. The feature arrived on three skids and was carefully moved by a front-end loader with forks to the event site. It took one cat and three shapers to build the setup, with two of the 10 total build hours spent on setting the ice rail. There was no risk of it melting for the event—temps dipped to -30C (-22F).
6. SET IN STONE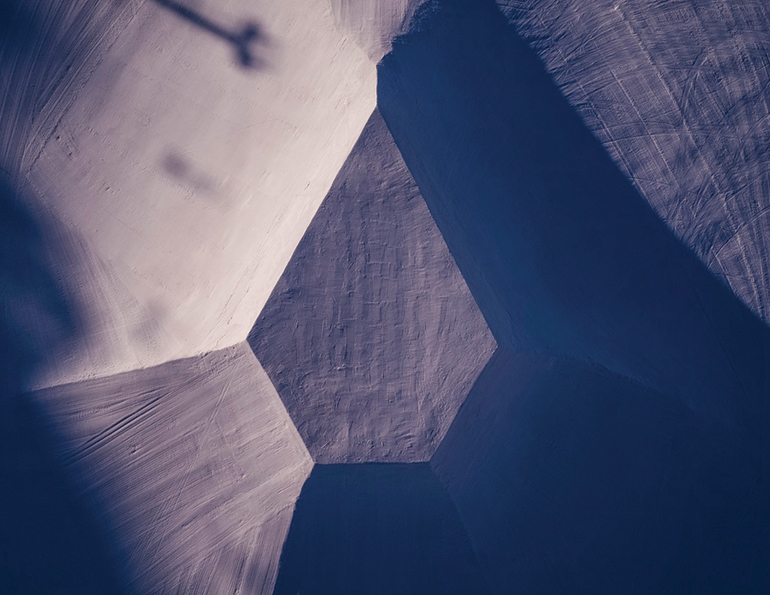 Volcom Snow marketing manager Seth Huot and his team worked with the crew at Falls Creek, Australia, to create the Volcom Stone out of snow for a photo shoot. To meet precise dimensions, Falls Creek head park builder Bailey Mitchell and SPT's Chris Castaneda took measurements of the site, so when the snow flew starting in August they knew what needed to be done. The team spent a month farming snow and prepping the area. After they built the rough "stone" and took several more measurements to make sure they got it right, they began shaping. It took two weeks to build the feature using a Pistenbully 400 Winch Cat and a 200 Park Cat, and park crew using vert shovels to establish the sharp edges of the stone. From tip to takeoff, the stone is 80 feet long, with three takeoffs of multiple angles. Photo: Vernon Deck
7. MINI BOWL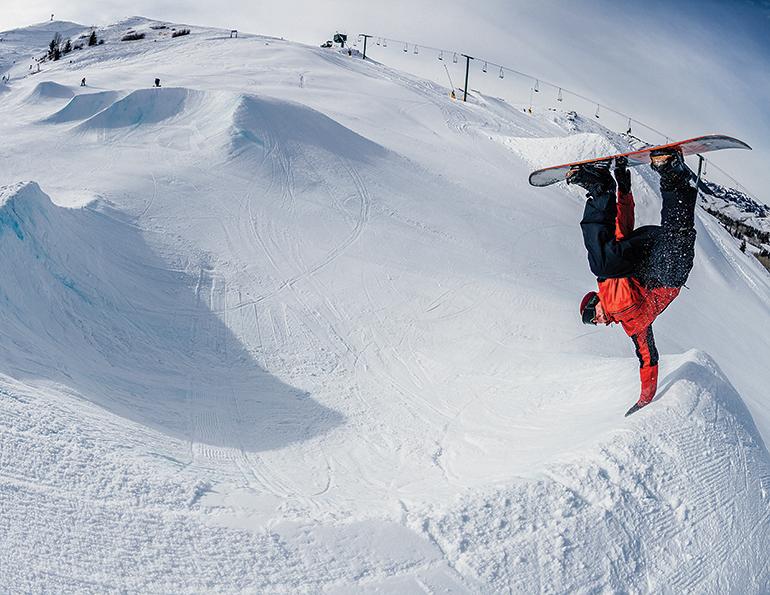 A centerpiece of Sun Valley's skate-park influenced Trestles Park is a half-bowl/gap jump/hip hybrid they call Mini Bowl. The name derives from the feature's relatively tight radius and the mini excavator used to build it. The resort's 22-foot Zaugg was too big to get into such a tight space, so they parked a mini-X in the center of the flat-bottom and dug the coping and transition. It took several hours for a crew of three or four diggers to finish, using string lines, vert shovels, and rakes. Skiers and riders of all abilities used the Mini Bowl in a variety of ways. Rider: Jeremy Black Photo: Tal Roberts
8. UNDER THE RAINBOW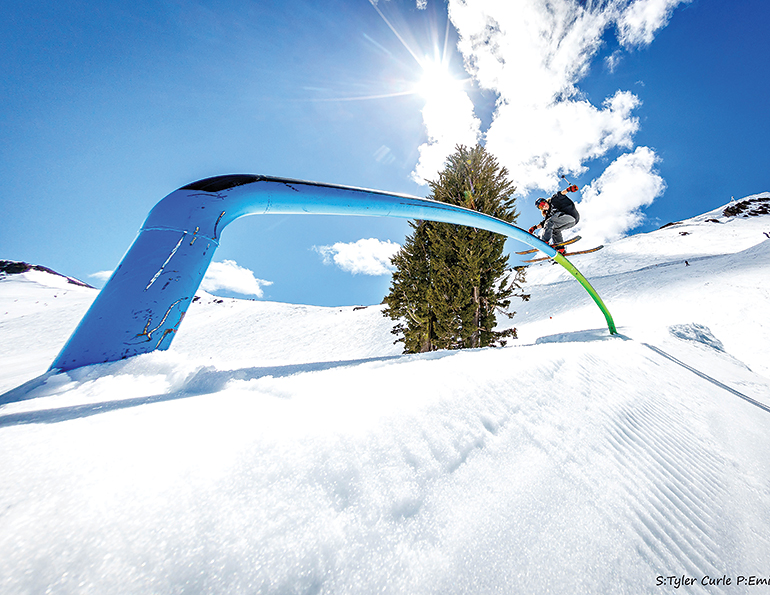 This 25-foot-long, 6-foot-tall rainbow rail was a staple in the larger lines of Squaw Valley's Gold Coast Park. The feature was fabricated in-house, with no skirting to make it lighter-weight and easier to relocate, which the crew did three or four times during the season. This also allowed for greater creativity for photography. As a result, terrain park manager Jess Richitelli says, "It was by far the most photographed feature in all of our parks. Wherever we set it up, the backdrops were stunning." Such as Squaw's famous Siberia Bowl here. Rider: Tyler Curle Photo: Emily Tidwell
9. BONFIRE AXE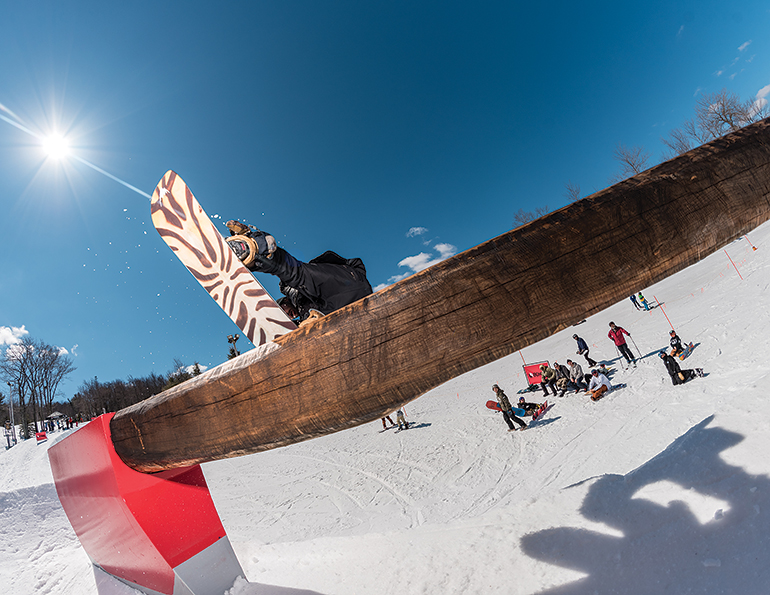 Big Boulder Park, Pa., director of freestyle terrain Pat Morgan and Tim Swart, then of Bonfire, collaborated on the idea for the Bonfire Axe, and sketched one out on, yep, a cocktail napkin. Built in-house over the course of two weeks, the 20-foot-long feature has a 16-foot handle made of wood sourced from a local tree service, and an axe head made of steel sheathing on the outside, with heavy metal inside for balance. An I beam connects the two parts, built into each for a secure fit. A wide metal sub frame stabilizes the feature, but is buried in the snow when it's set. The unique element spurred its own event, the Bonfire Axe Jam, for which the crew sets the axe at the base of a mini-pipe. Rider: Kyle Earl Photo: Shawn Kalatucka
10. CHIMNEY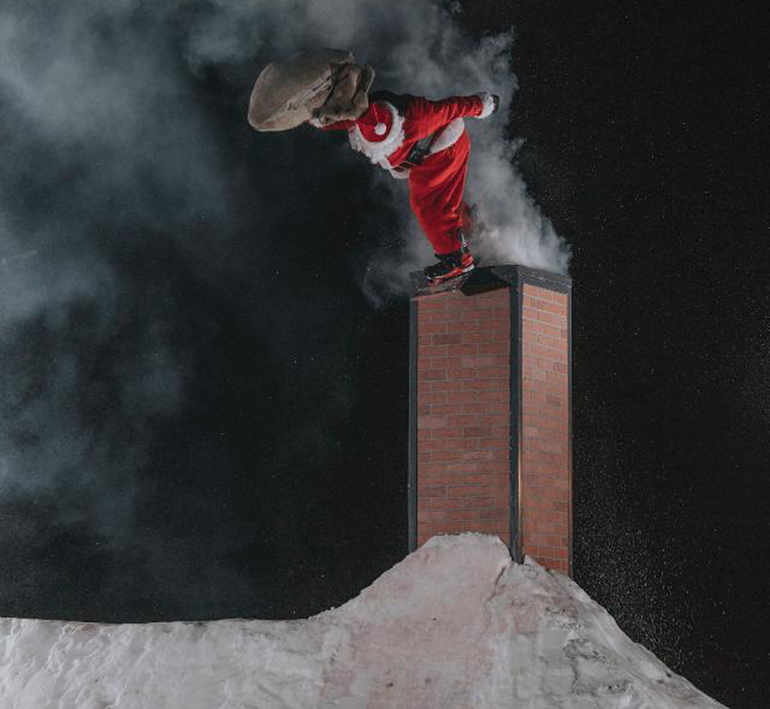 Pro snowboarder Johnny O'Connor and park crew member Justin Aloisi devised the idea to add a chimney feature for Windham Mountain's (N.Y.) annual "Nightmare Before Christmas" event. The team came up with a simple design that took about 8 hours to design, fabricate, and paint. It consists of an outer frame with two-inch square stock and angle iron ribs. Half-inch plywood with brick paneling was laid flush with the coping, and all the pieces are bolted together. The feature is 8' H x 2' W. The crew installed it on the corner of a bowl, and skiers and riders treated it like a wallride. The feature stayed in place in our largest park, "Wilbur," for the rest of the season.
11. SCENIC WALL RIDE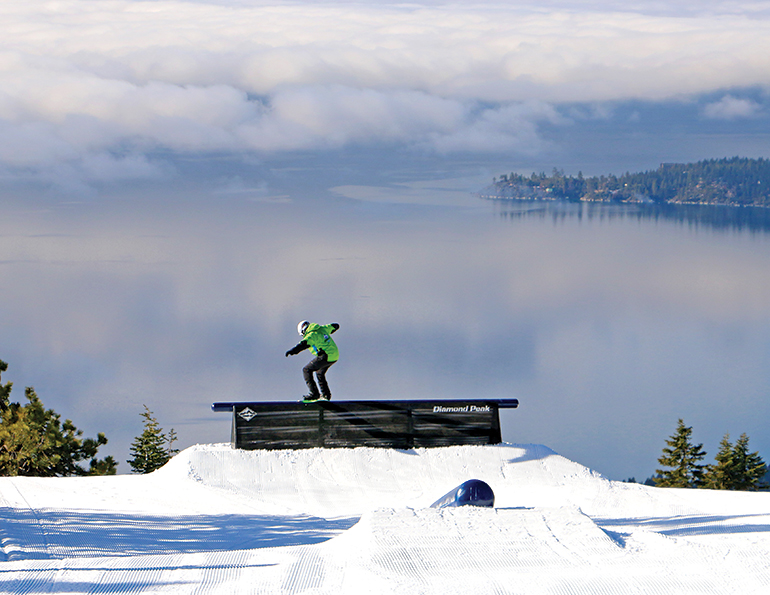 Built for Diamond Peak's new Lakeview Terrain Park, this A-frame wall ride was initially installed on Crystal Ridge at the top of the mountain due to limited opening-day terrain. This photo was one of Diamond Peak's top photos on Instagram for the season. The location proved so popular, thanks to the views, that the resort kept some features on Crystal Ridge all season. The wall ride, built by Tim Hay, is 16 feet wide, with skate-style 20-foot coping made of 6-inch round pipe. The slide surface is perforated steel. The result is a mellow, feature that's inviting to beginners and fun for advanced riders. Rider: Eric Kertzman
12. ZIG ZAG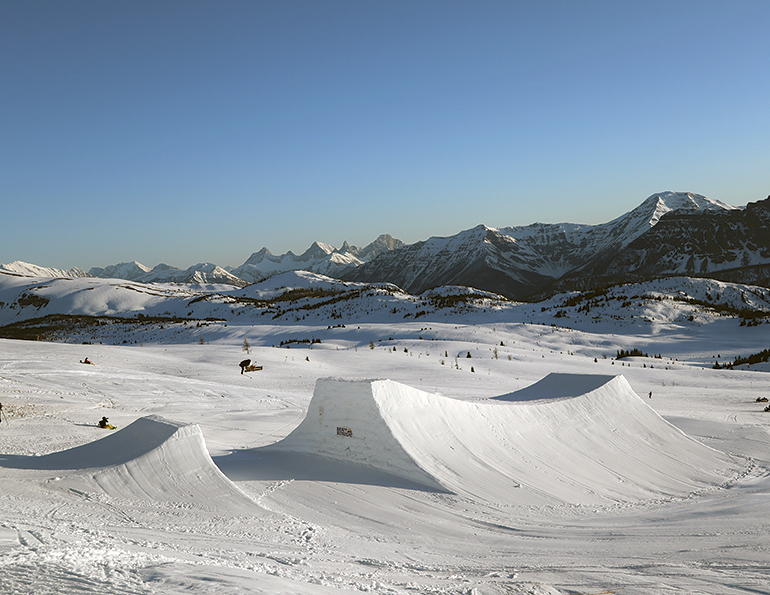 Sunshine Village created this feature for Level 1's 2018 feature film "Zig Zag." It reprises the much-loved "Excite Bike" jump, based off an old '80s motocross video game with lots of doubles, step ups, and step downs, which appeared in Level 1's 2010 movie. The feature itself is a step up into a cradle which shoots riders into a step down. To set the feature apart from the 2010 version, the crew cut out the snow between the gaps to enhance the size. The location provided ample speed for the feature along with some stunning backdrops. It took 40 hours to build and shape the feature using one PistenBully Park Pro cat, one PB400 winch cat, a chainsaw, string line, rakes, vert shapers, and several park crew. Photo: Ben Suurallik
13. CARRIE UNDERWOOD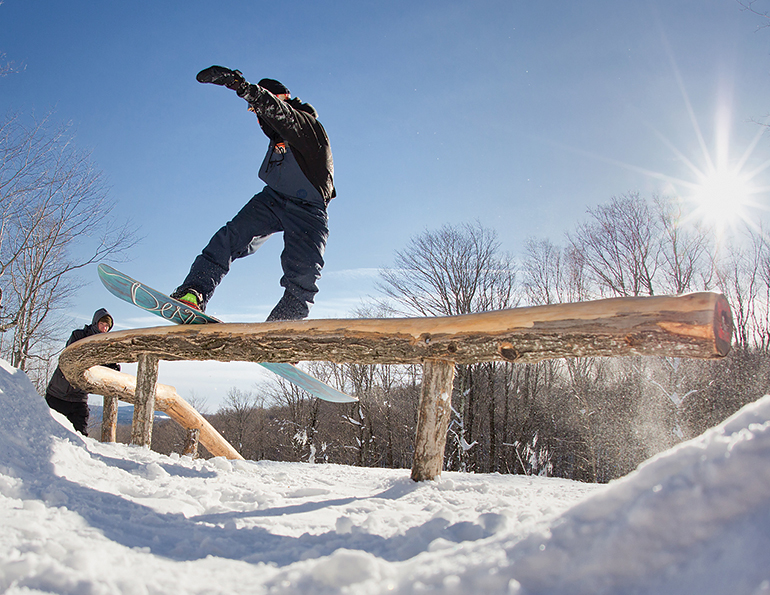 Carinthia at Mount Snow's Prospector park has long been the place where the Carinthia diggers take natural wood features to the cutting edge of what's possible. Rob Black saw this cool tree, harvested from a trail expansion project and destined to end up as wood chips or firewood, and set it aside for park use. The feature is 28 feet long, made with two six- to eight-inch diameter logs, a 19-foot s-log and 9 foot down log. It took one and a half weeks to fabricate, using a chainsaw, draw knife, orbital sander, and drill set, and just two hours to install via snowcat, rakes, and shovels. "We built this feature to challenge the best log sliders out there," Black says.
14. QUARTERPIPE TRANSFER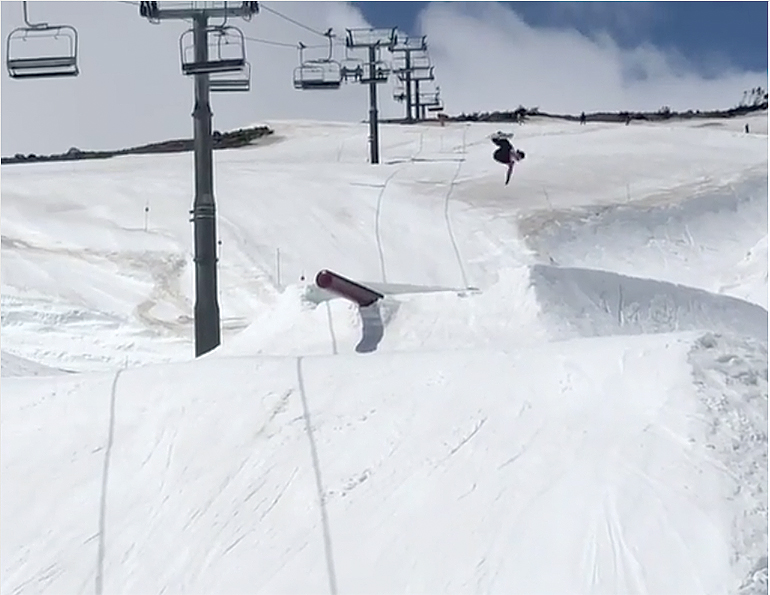 At Mount Hood Meadows, this combination of two 18-foot quarter-pipe transfers, whale tail, and lift tower cannon in the Vista Park gave terrain park guests numerous approach options. It was conceived by Brendan Foley, and constructed in two shifts with support from the full park team. The 125' tower is located in an area known as the Great Drift, which loads with up to 75 feet of snow during storm cycles; afterward, the resort has to dig out the tower and push snow into the park lane. What to do with all that snow? Construct a large snow-hogging feature to both improve operational efficiencies and provide a unique experience. Various vehicles contribute to the build, including several PistenBully Park Pros, a PB 400 winch, and Prinoth Sherpa winch with an 18' Zaugg.
15. BUTTERY COMBO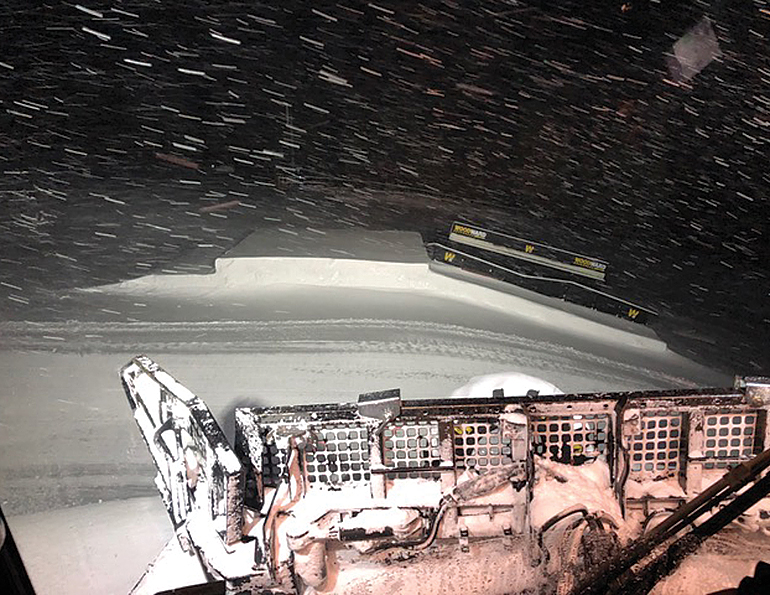 This feature, built by Copper Mountain's Chris Cracraft for The Launch—an annual photo shoot event by Snowboarder Magazine—proved so popular the resort kept it open to the public all season long. It was inspired by a similar feature in the 2018 Olympics, but tweaked to be more difficult. It consists of a step-on butter pad to either a 25-foot-long down-flat-down square bar or a 20-foot-long creeper ledge—in all, a 20' X 65' creation. Located in Copper's large Central Park, it took four hours to build with a PistenBully Park Pro, chainsaw, and lots of shoveling.
16. TRIFECTA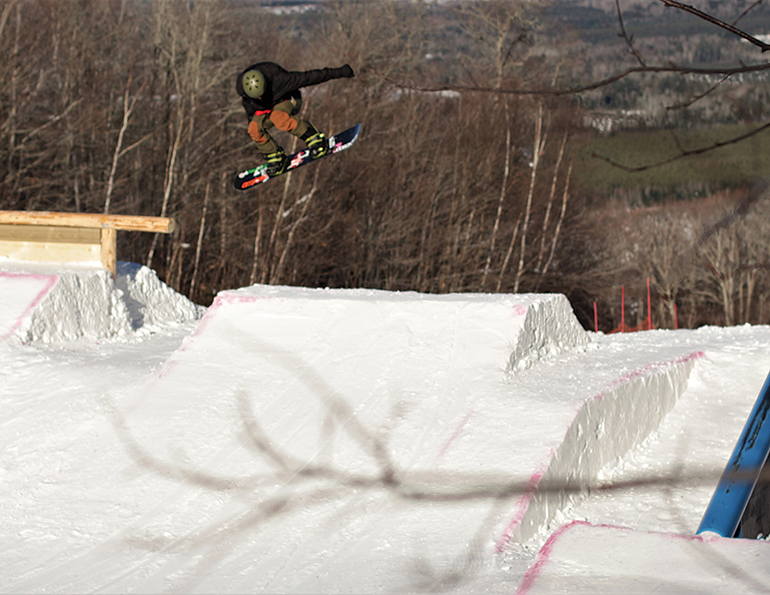 Crabbe Mountain, New Brunswick—in particular, Ryan Jennings, Matt Miller and Ryan Somerville—built this log/spine/jump setup in Dave's Jib Park for Roast Beef and Rails, the area's opening event. It is three groomers wide (45 feet) which makes day to day maintenance, well, work. Setup time was approximately 2-3 hours, using a Bombardier 275 to transport, place features, and shape. Crews fine-tune with park rakes and a cutter blade for the edges. To keep everything looking square, orange rope along the edge guides the cuts. Crowds travel from all over Atlantic Canada for this annual event in what is often the region's first park to open for the season.
17. SPLIT TOWER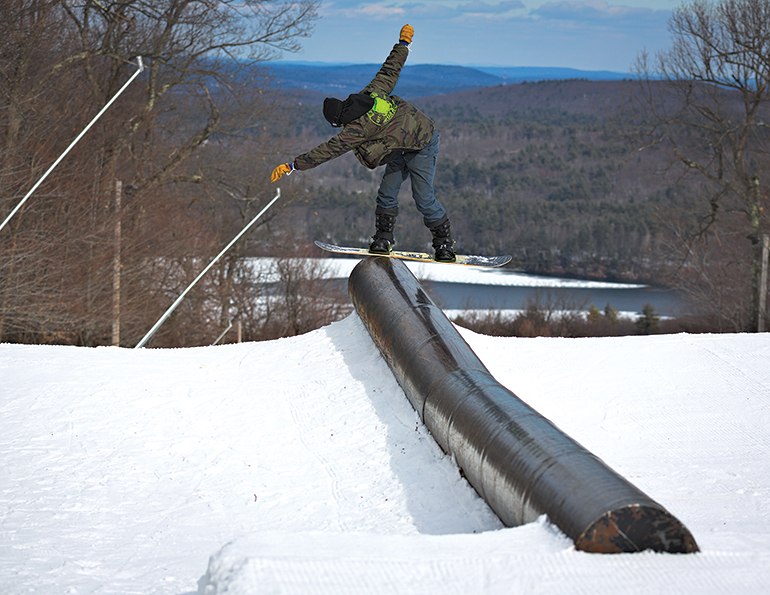 A few summers ago, Wachusett (Mass.) Parks staff cleaned up and repurposed a lift tower, giving it new life. Crews first cut it into two 10-foot tubes, then introduced the sections into the park in a variety of ways—and they have become the area's highest-traffic features ever since. All it took was permission from mountain ops to chop up old tower, a few hours of grinding to smooth the sections, and a fresh coat of paint. Endless setup possibilities, combined with the low consequence of riding this pair of features, invites everyone from park newbies to seasoned freestyle skiers and riders.
18. THE FUN HOUSE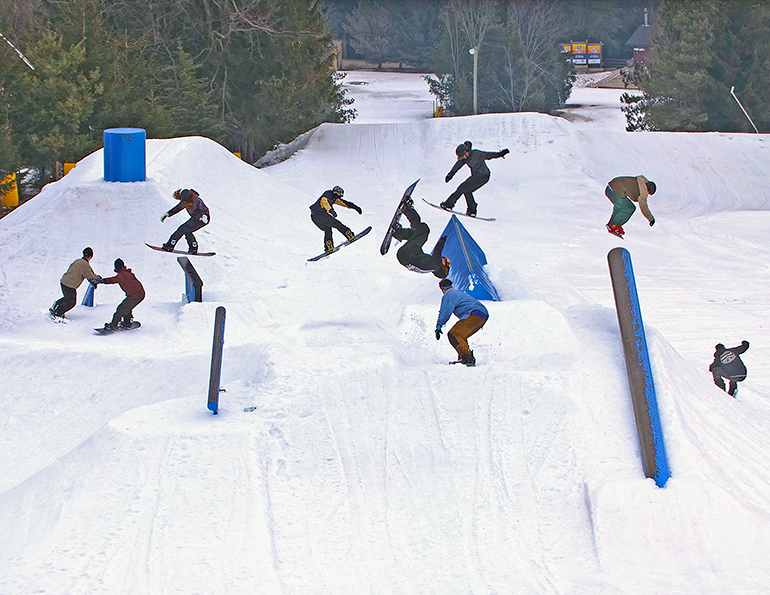 At the end of last season, Beaver Valley (Ont.) snow parks manager Caleb Bosse collaborated with pro snowboarder Ben Poechman to build this multi-element feature using leftover snow from a large step-up jump. The park crew pushed out the snow and built a contoured bowl-shaped edge on riders' left and a large hip landing on the right. In between, the team set a variety of elements, including a 35-foot lift tower used as a cannon tube. Others included a stairset down rail, "A" wall rail to drop, flat bar, with a variety of transfers, blending all of these components into a single progressive feature. Bosse used a Prinoth Bison X during the three-day build, and the crew set the rails and did the hand shaping. Once it was done, a crew of riders came to Beaver Valley for a photo shoot that produced some quality edits—despite some challenging weather—and a mini-feature in Snowboard Canada magazine.
EVENTS

1. SUN'S OUT GUNS OUT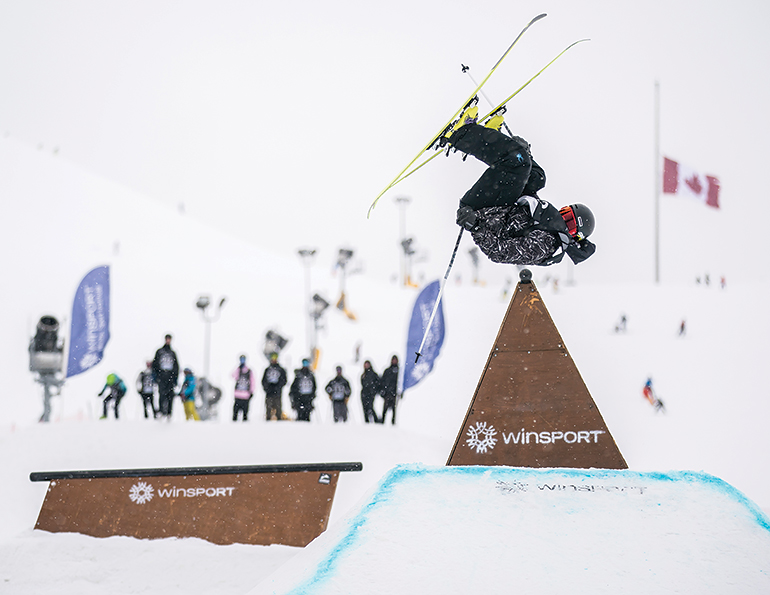 WinSport, the Winter Sports Institute at Canada Olympic Park in Calgary, held the inaugural Sun's Out Guns Out rail jam last April as a creative way to end the season—the hill closed for the season an hour after the event concluded. The two-day event brought out intermediate and advanced skiers and snowboarders from Calgary and beyond. It took one cat operator and four members of the park crew two days to build the setup, located in the middle of the hill in front of the day lodge for primo spectating. The setup included a closeout to down bar, a flat bar wall ride, and a little wally feature. Day one was for skiers, and about 50 athletes competed. About 40 snowboarders competed on day two. Due to its success, Sun's Out Guns Out will now be the park's annual season-ending event.
2. TRUDEAU METHOD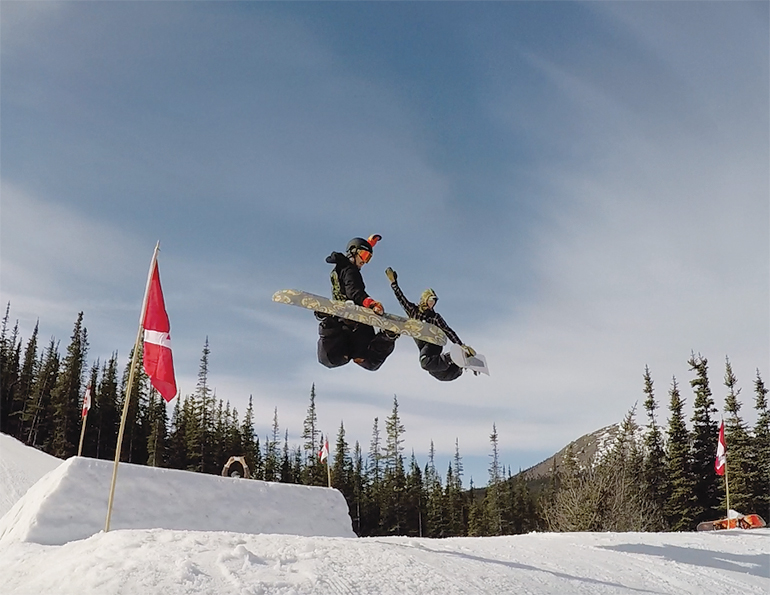 Canada's Prime Minister Justin Trudeau is a snowboarder, and a few years ago a photo of him doing a method made the rounds on social media. Mt. Sima's park builder, Tyler Nichol of Transition Industries, and the crew at Mt. Sima in Canada's Yukon Territory were joking that it's all about the "Trudeau methods," perhaps both political and freestyle. So, the Trudeau Method contest was born. About 30 participants of all abilities came out for last season's third annual contest, held during the resort's spring weekend called Simapalooza. It's held on a medium-size jump with Canadian flags flapping everywhere. Prizes, awarded for most stylish method, most Trudeau-like method, and best method in a rotation, are, appropriately, large Canadian flags.
3. TORAH BRIGHT MINI SHRED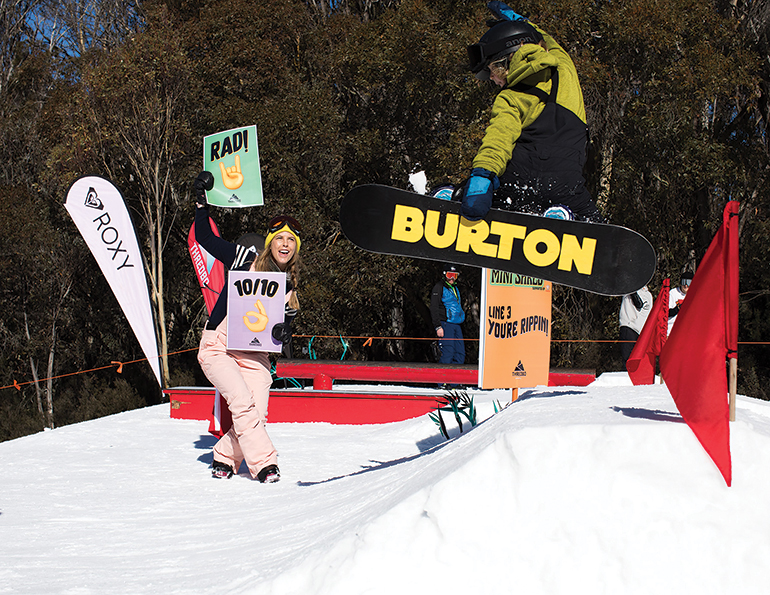 Pro snowboarder and Olympic Gold Medalist Torah Bright created this free event for kids age 17 and under. Torah and an all-star lineup of Australian Olympians and snowsports pros coach kids in a custom-built park for a couple hours in the morning, break for a BBQ lunch, and then return to the park for more coaching and a jam session, followed by an autograph signing and giveaways. Bright worked with the Thredbo terrain park crew to build a transition-based park with three different lines that step up in progression. Each line includes a combo of jumps, boxes, rails, hips, and spines. It took two cats to push the park into its rough form, and six diggers to complete the final handwork.
4. TETON SURF CLASSIC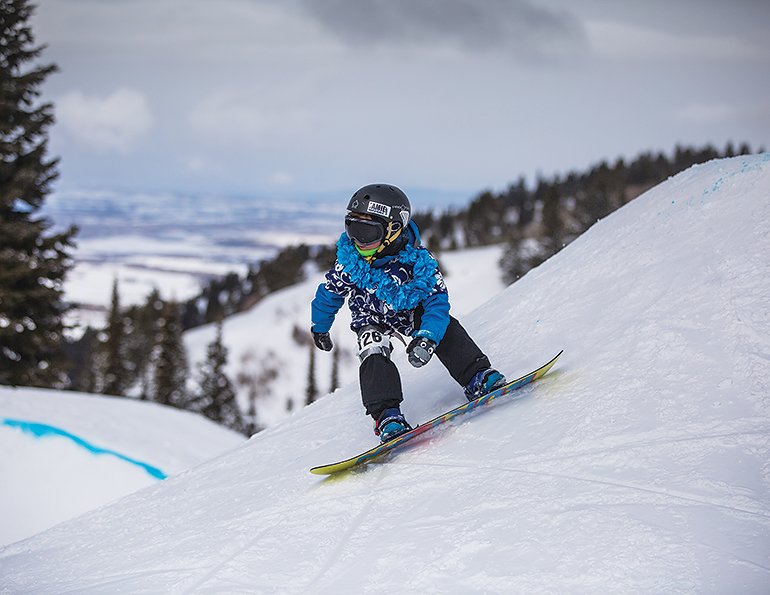 The inaugural Teton Surf Classic (TSC) snowboard event was held in March at Grand Targhee, Wyo. The park crew collaborated with local riders and resort staff to create features reminiscent of early skate parks/bowls. Using a PistenBully 400 Park Pro and plenty of handwork, the crew transformed the North Pole Terrain Park into the "North Shore" by reshaping existing features and adding new ones by farming snow adjacent to the venue. The park offered amazing flow and fun transitions for the sold-out, jam format contest, open to riders of all ages and abilities. Winners received the coveted Kinco Glove Shaka trophies. A total of more than $4,500 in fees and raffle proceeds went to the Teton Valley Ski Education Foundation Snowboard Program—the second biggest fundraiser in TVSEF history. The North Shore Park was open to the public for the remainder of the season. Photo: Mike Hanford
5. NIGHT RAIL JAM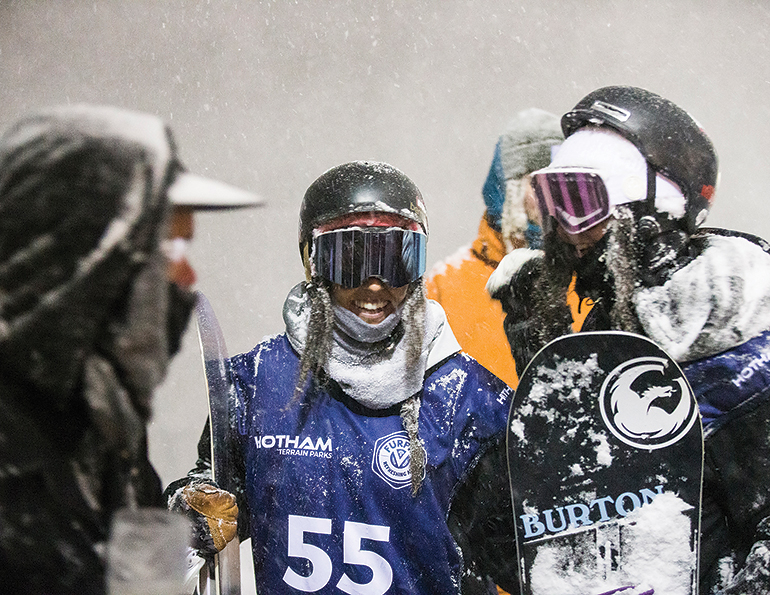 Mt. Hotham, Australia, debuted its Night Rail Jam event in August. The event supported and promoted the #showusdagirls movement aimed at getting more women on snow, and in this case, in terrain parks. The jam-format event had a $5,000 purse, and awarded equal prize money for male and female winners. It drew 18 female and 53 male participants to compete in a custom-built park loaded with flat-down, flat and down rails, tubes, boxes, and hitching posts. A team of five park crew members designed the spectator-friendly setup, which was lit by spotlights and visible from the deck of a popular bar. It took eight hours of cat time to push the setup together, and six hours of raking and shoveling to complete.
6. TRICKS FOR TREATS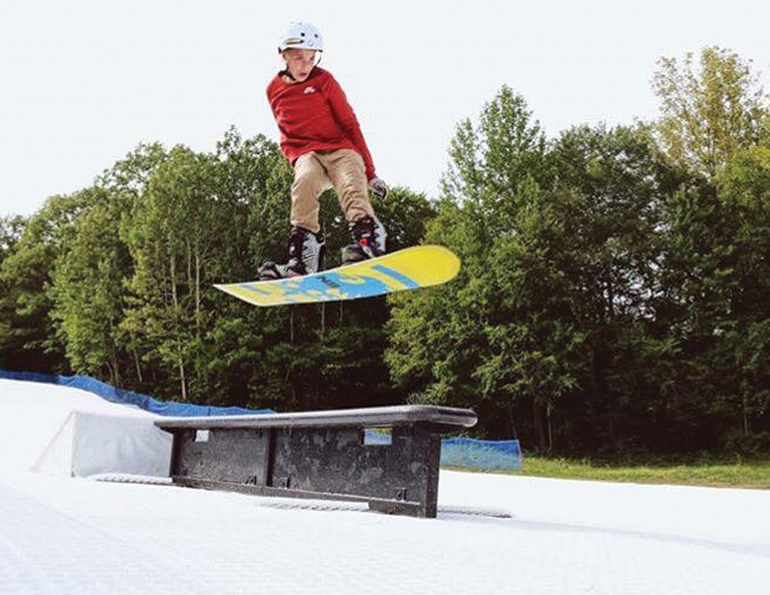 Powder Ridge, Conn., used its new Synthetic Snow Park to host a Halloween rail jam called Tricks for Treats. About 25 kids come out from as far as Pennsylvania and Vermont to participate in the jam session. The park crew added extra features—rails and boxes— for the event. It took them about a week to prep, as some features required modifications before they could be safely set on the synthetic surface. Rails were shorter, and the crew added feet to the features, which were lag-bolted down and covered by a small section of synthetic. Winners received giant oversized candy bars, and lollipops.
7. METHODOLOGY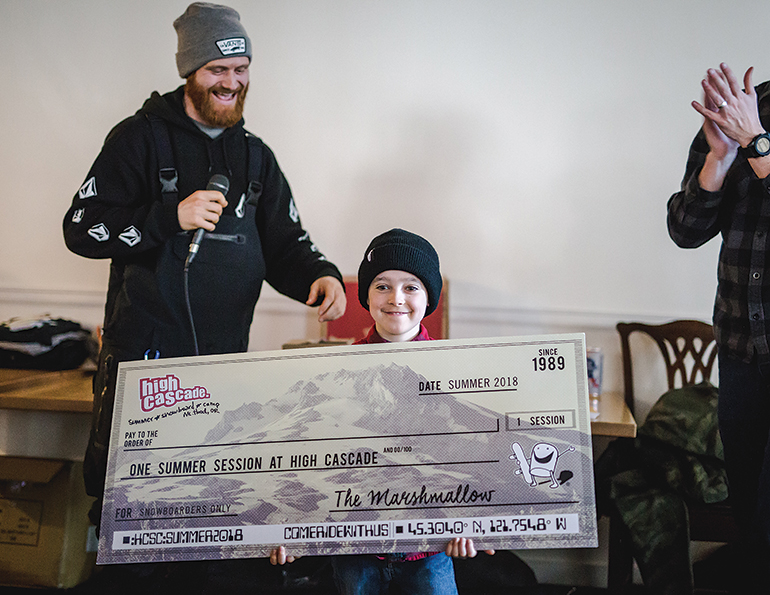 Loon Mountain Resort was a stop on the Methodology tour in March, hosted by pro snowboarder and New Hampshire native Pat Moore. The comp blended speed and style: competitors navigated a banked-slalom course before pulling their best method off a big double-sided hip just past the finish line, shaving time off their run based on the judges' score. It took two days of cat work and a day of handwork to complete the course build, and a day and half to build the hip. More than 115 competitors raced in six age and gender categories. Olympic medalist—and N.H. native—Scotty Lago won the men's open division. Afterward, a raffle and silent auction raised more than $13,000 to help build a skate park in nearby Lincoln. Photo: Randy Williams Spitzer
8. THE POOL PARTY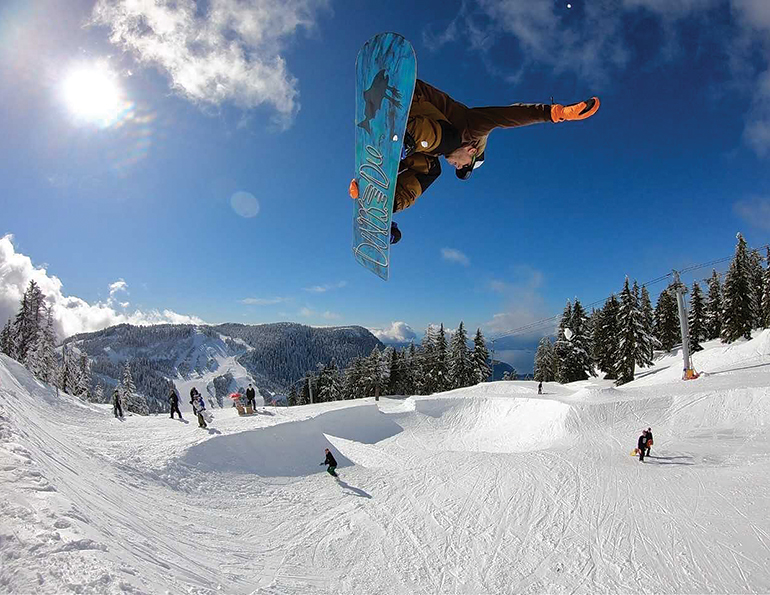 Cypress Mountain Resort near Vancouver, B.C., has more of a beginner skill-set in its parks, and structured events tend to scare away younger kids. Thus, many of its events, including the Pool Party, are open to the public—no waivers, categories, or entry fees—and the crew hands out gear and goodies to deserving folks of all skill levels. The four-day build for the kidney bean bowl, right-sided hip/diving board feature started after a two-foot dump. The crew used a PistenBully Park Pro, 2-3 park staff, hand tools, string line, and a chainsaw to build it, mostly by digging down into the deep snow. It dumped another foot mid-build, so on the eve of the event, the crew cleaned out the pool, did the final shaping, and had a bluebird event day.
9. DUAL BANKED SLALOM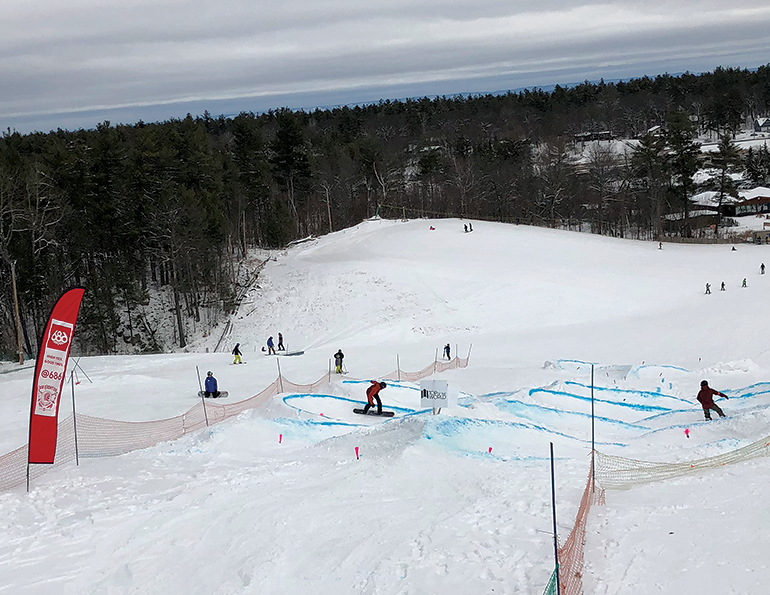 More than 100 snowboarders came out to race in the Mount Pakenham DBS (Dual Banked Slalom). It was a great turnout, considering that the Ontario ski area had decided to hold the race only three weeks beforehand, after a favorable turn in the weather. The dual banked slalom course took two days to build using a BR350 groomer and eight diggers to hand shape it. Park builder Andrew Burns says the decision to run a dual slalom event came down to getting "a wider group of snowboarders out to a contest. In our area it's always the same group of younger kids at the rail jams and slopestyle contests. We thought this might get some of the older riders out." And it did: the over-30 category was the event's largest.
10. PARTY IN THE PARK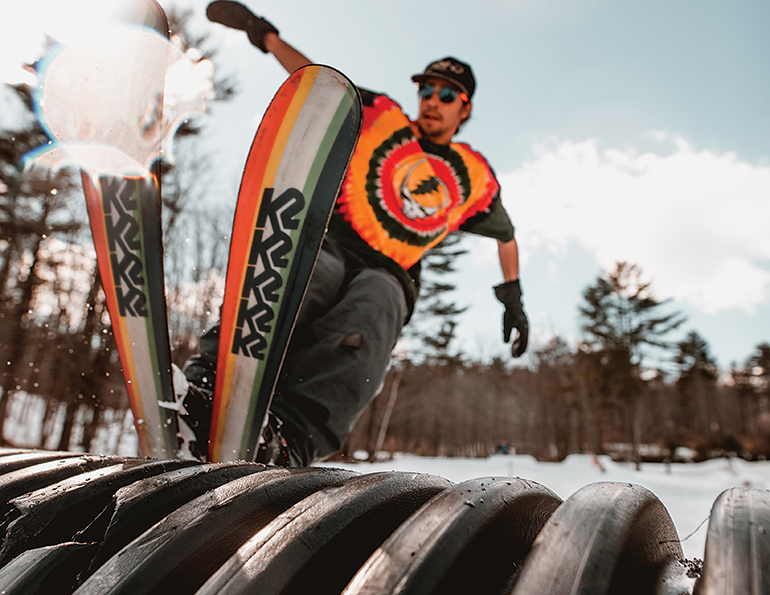 Titcomb Mountain in Farmington, Maine, got a boost to its park scene last year after park-skier Seth Noonkester was hired as GM. After the area closed in March, a local crew of volunteers, with the support of Noonkester, planned a post-season park event for March 31. Six days before the event and an hour into the build, Titcomb's primary snowcat broke down. So the crew enlisted the mountain's other cat, a BR160 Nordic trail groomer. One cat operator, three regular volunteers, and a bunch of friends spent 24 build hours over four days to plant 10 rails and jibs on Titcomb's beginner slope. More than 70 people of all abilities came out on event day to lap the park under bluebird skies. Photo: Jacob Dube.
11. REAL TO STEEL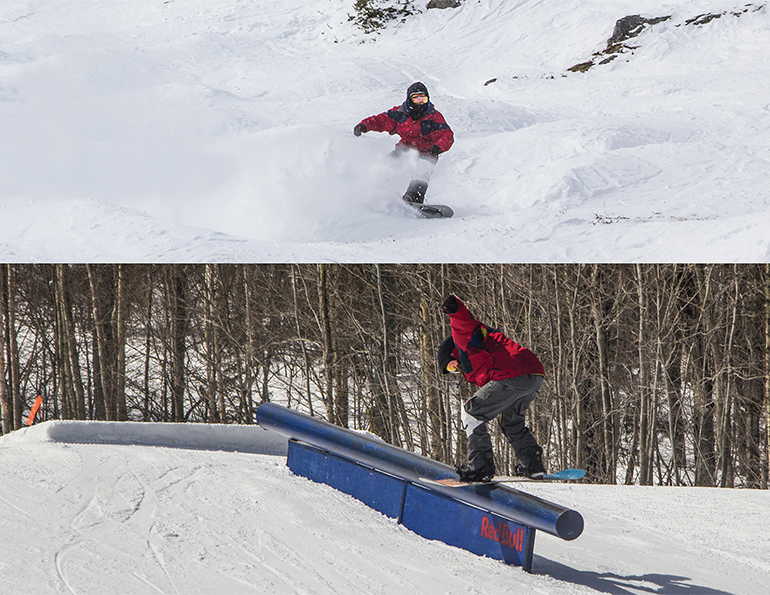 Jay Peak's inaugural Real to Steel contest challenged competitors' freeride and park skills in one event. The first of two runs was held on a steep, natural snow trail loaded with cliff drops. Jay's patrol, parks, and events crews prepared the course using shovels, scoops, SPT park rakes, drills, and B-net. Competitors were judged on line choice, speed, style, and more. Next, competitors dropped into a slopestyle course with a three-jump line of roughly 25ft, 35ft, and 50ft, flowing into a plaza loaded with Red Bull-branded rail features. Scores were combined to determine winners. More than 50 skiers and snowboarders came out, the youngest a mere 8 years old.
12. BEYOND THE BOUNDARIES WOMEN'S CAMP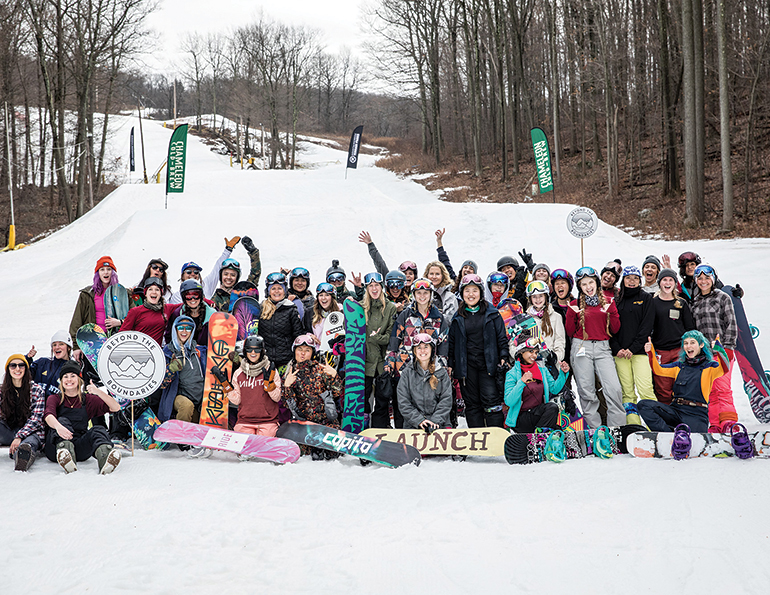 Forty women with varied terrain park experience and backgrounds gathered at Mountain Creek, N.J., for a two-day Beyond the Boundaries Women's Camp in late January. Hosted by Mary Walsh and Jersey native Christine Savage, the camp was held in a private park built by six Mountain Creek park crewmembers using a Prinoth Bison X snowcat and several SPT snow sporks. The setup was designed for progression, with smaller features up to more advanced, including a jump line and a variety of jibs. Participants learned new tricks and techniques that will help them progress, while also making connections with like-minded females. Photo: Mary Walsh
13. THE POP-UP PARK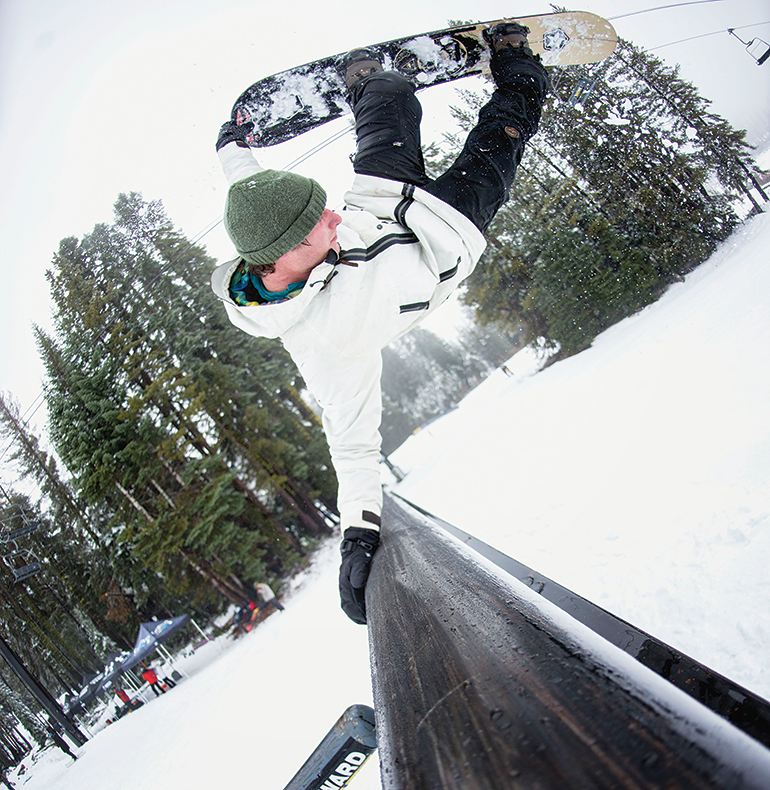 Boreal Pop-Up Parks happen three times throughout the winter season, and allow riders and skiers of all ability levels to ride the same setup their favorite pro just did the day before. For each pop-up, a one-of-a-kind park is built in a different spot on the mountain over the course of two days using a PistenBully Park Pro, with all hands on deck for handwork using shovels and rakes. The event starts off as a private shoot with pros from all over the U.S., and then opens to the public for three days only. Boreal does this to foster an inclusive atmosphere by inviting guests to ride the features they see in the magazines. The temporary nature of the pop-up drives a sense of urgency to come ride it before it's gone. A weeklong media blitz surrounding each event led to millions of impressions endemically and organically. Rider: Ryland West Photo: Jake Pollock
14. GREASE: THE RAIL JAM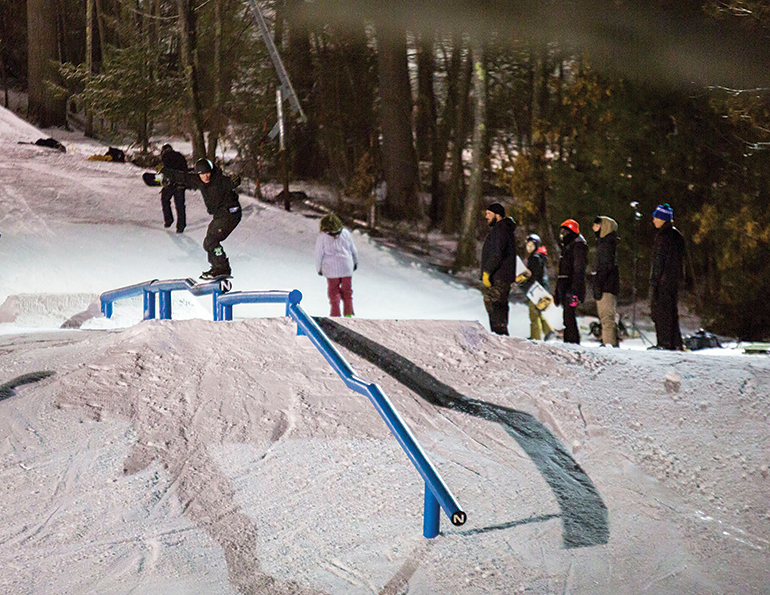 There is no better feeling than making it to the end of a really long/difficult feature, aka, "greasing" a rail. So Nashoba Valley, Mass., park crew crafted a contest that focused on doing just that. The single feature used in the contest was nothing short of a "Mega Rail:" a 98-foot-long combination of four rails—flat, drop, flat down flat, drop, flat, down flat down—made from 6-inch diameter snowmaking pipe. This monster had two takeoff options and a street-style lip at the final DFD. It took six hours for a four-man crew using posthole diggers and park rakes to set the rail into the ground and build takeoffs. The event was an open jam style format with competitors from age 13 up to late 20s. The first skier and snowboarder to "grease" split the entry fee kitty, while the best trick for skier and snowboarder earned prizes from sponsors.
15. TOYOTA REVEGETATE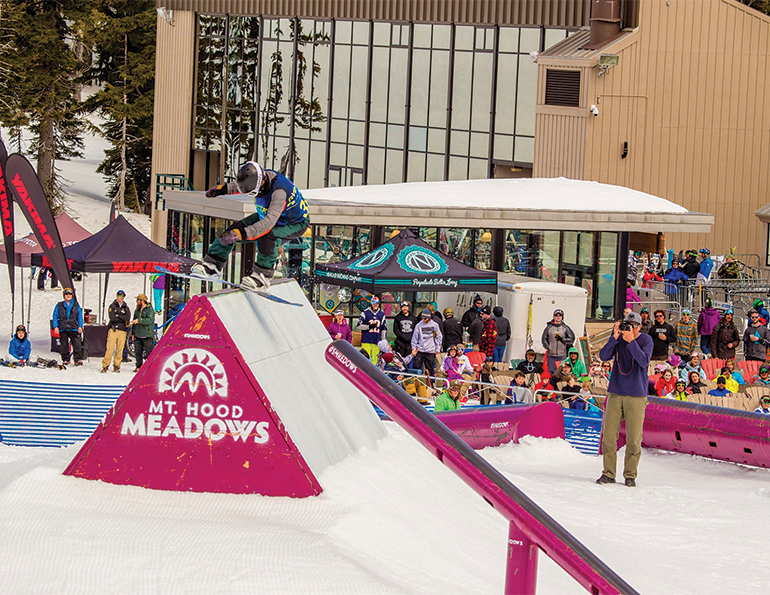 To help celebrate its 50th anniversary season, Mt. Hood Meadows revisited the Vegetate comps of the '90s with the Toyota reVEGETATE. This two-day event featured a Speed and Style course and a Rail Jam competition. A combination of invitees and lottery winners vied for the $13,000 purse. The Speed and Style course was a hybrid banked slalom and slopestyle course that dropped nearly 1,100 vertical feet and channeled through six judged features. It took two operators 10 days to build using PistenBully Park Pros, an 18-foot pipe cutter, and a PistenBully 100. The rail jam venue took two operators and three diggers five days to plant 20 features. Twenty finalists competed in a 30-minute jam to determine the winners. Some proceeds from the lottery went to the Eagle Creek Wildfire Restoration Fund to aid rebuilding efforts after a 2017 forest fire.
16. THE PICKLE PARK PARTY JAM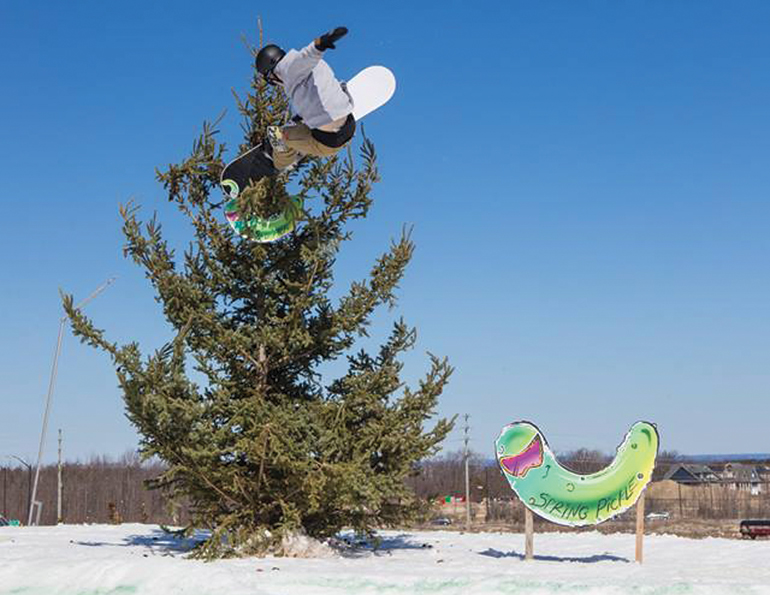 The Pickle Park Party Jam has been the season-ender for the last few years at Blue Mountain, Ontario. Formally called the Pickle Pipe Jam (when the resort still had a half pipe), the "pickle" part lives on thanks to the park builders' creativity. The event venue consists of three decks shaped like pickles, each with a whole bunch of features, jibs and jumps for competitors to session. Two cats, with the help of a tractor, worked a total of 20 hours to stand up a few features, and two shapers worked for about 15 hours to finish the prep. The free jam-format event also has a viewing area with BBQ going to keep everyone fueled for an afternoon of fun.
17. WINTER WAVES SNOW SURF CONTEST & RAIL JAM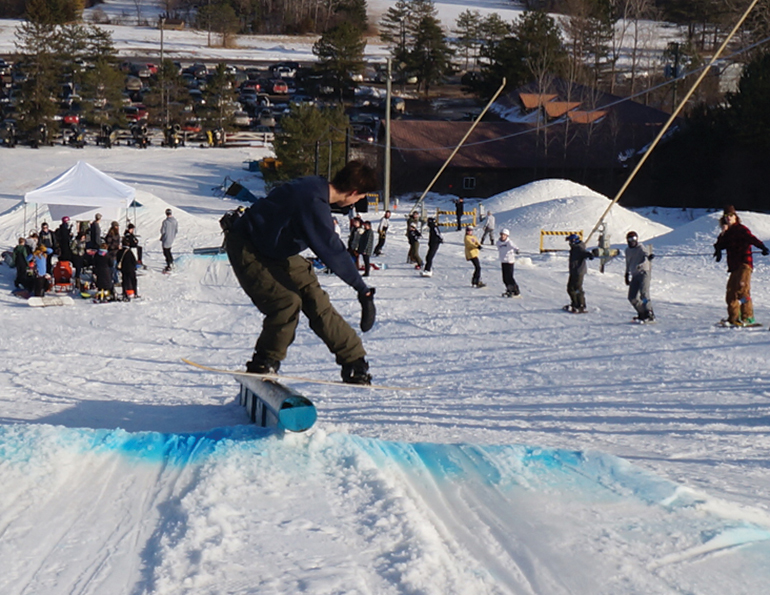 After a day and night of snowmaking in super cold temps produced huge "Dr. Suess-like" piles of snow on one side of its park, Alpine Valley, Mich., decided to use the mounds for a snow-surf comp at the same time as a scheduled rail jam last January. A high-speed rope tow runs right up the middle of the park—the rail jam went down on lookers' right, snow-surf on lookers' left. Around 60 snowboarders came out for the event, which was a loose, jam-style format on both sides. It was sponsored and run by a local shop, which brought a bunch of swag and gear—in addition to goods from Alpine Valley—that was awarded to riders who were killing it. The rail jam had two lines of features, including a 15' round up-flat rail, the dog house jib, elevated rainbow rail, a banked 12' flat-bar rail, a monster 45' round tube set up as a mellow urban down rail, and more, all culminating at the bottom rainbow-style c-rail called the C-Cave. Snow surfers slashed, gapped, and hand-planted down the series of mounds.
18. CHRISTMAS STROLL RAIL JAM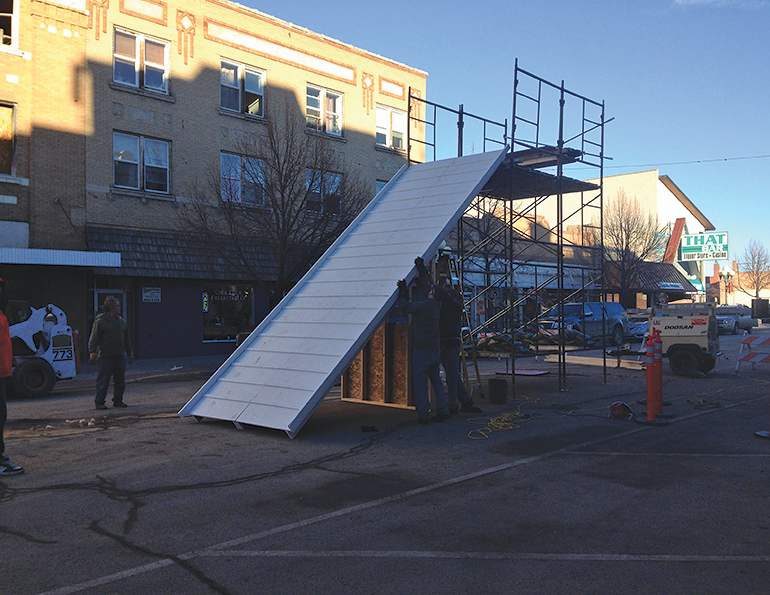 About a week before Showdown, Montana, opens for the season, the area stokes the local crowd by holding its annual Christmas Stroll Rail Jam on Central Ave. in downtown Great Falls. Although only 20 to 30 skiers and riders participate, the streets are packed with hundreds of spectators. Even more impressive is the build: the crew only has five hours between the time police block off the street and first drop. In that short window, crews construct a drop-in ramp out of scaffolding, haul snow, install and shape the features, barricade the event area, and complete other unique preparations.
19. BANKED SLALOM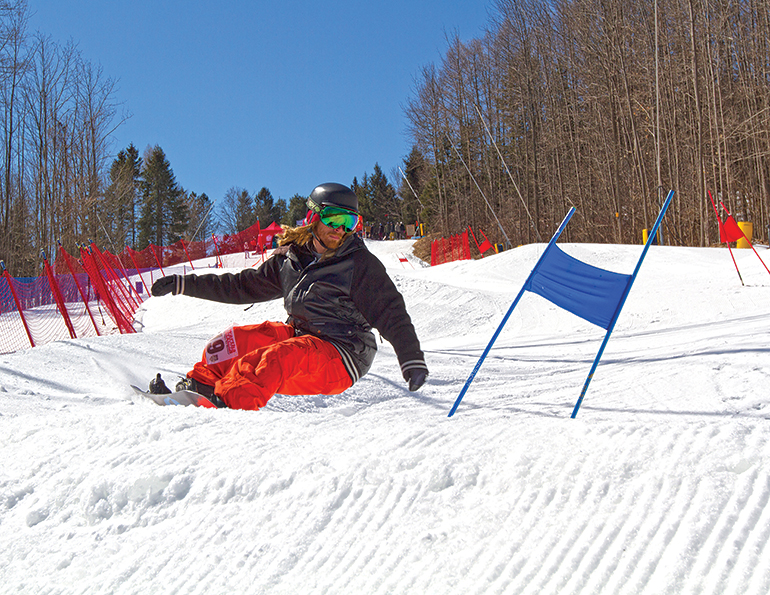 The Beaver Valley (Ont.) Banked Slalom—part of the WSF Banked Slalom World Tour— has grown from humble beginnings six years ago to a huge celebration of Eastern Canada's snowboard culture. It also raises funds for a great cause. More than 300 riders came out for the 2018 edition, which debuted several new elements: an 80-foot hip in front of the party deck, a hike park in front of the base lodge, and a standalone mini-shred banked course for kids 10 and under. An industry rider category supported by Union Bindings enticed shop staff and reps to attend and participate. The event involved a week-long build by parks and events manager Caleb Bosse and his crew. Bosse drove a Prinoth Bison X and his crew of diggers took care of the details. They rebuilt the Main Park including more than 40 rail set-ups, jumps, transitions, and bowls, plus the hip, hike park, and mini-shred course. The event raised more than $13,000 in memory of Beaver Valley snowboarder Jacki Snarr to support the development of a local hospital.