The push to increase trial and especially conversion has transformed rental operations, an important piece of overall operations for many resorts, into a key element in customer development as well. Many shops are taking steps to upgrade the rental experience as a result.
In the past decade, the introduction of reduced-sole-length boots and integrated systems, from suppliers such as Head, Rossignol, Dalbello, Elan, and Salomon, has speeded up the rental process. But speed is only one piece of the equation. Top operations are helping guests feel comfortable and at ease even before they arrive, and build on that relationship as guests move through the shop.
"Those who are doing best are ultimately thinking about their customer," says Rossignol's Tom Lebsack. "They make it easy and quick for them to sign up. Destination areas can promote advance online reservations and invite guests to come in the evening before. That way, guests avoid the morning rush, and it allows a more intimate conversation with the customer."
Mike Poole, rental product manager for Head USA, echoes that. "The best rental operations have figured out a way that customers feel they are getting individualized treatment, and are not just being herded through. These operations have assistants helping guests throughout the shop, and have bootfitters working the benches.
"The good stores put really good people out in front of the customer. There's a real attention to this idea of retention, retaining current skiers and converting the newcomers," Poole says.
That personal attention matters. A rental shop is a foreign environment for first-timers, and that can make them feel uncomfortable. Signage, video and staff can all help guests become familiar with the rental routine. Shops as diverse as Snow Trails, Ohio, and Mount Hood Meadows, Ore., do a lot with video and electronic signs. "Meadows has fantastic signage," says Lebsack. "It explains how skis and boards work, and describes the steps of the rental experience. They are able to walk the customer through the process."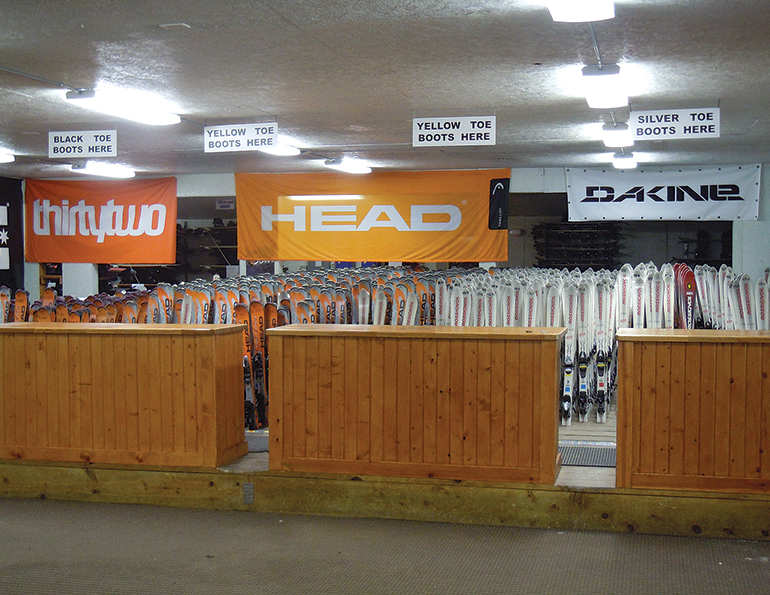 Overhead signs color-coded to boots help customers find their way at Cascade, Wisc. The ski stock is a mix of Head and Rossignol. The Head BYS system speeds the process, and the Rossis can be pre-set and sorted, same as the Heads.
"Shops are realizing that they control the experience more than they thought, and affect whether people come back or not," adds Scott Russo, VP at Dalbello. This evolution is bound to continue, and focus on bootfitting. In Europe, he points out, "shops are using boots with moldable liners in rental. The boots fit like you would expect a personal boot to fit."

SPEEDING THE PROCESS
Reduced boot sole lengths make it possible to preset both binding length and DIN, minimizing and often eliminating binding adjustments.
For ski rentals, the time and cost savings can be significant. "Let's say it takes one minute to adjust bindings, and it's usually more than that," says Tony Marinella, rental manager at Snow Trails. "On a busy Saturday, you do 1,000 rentals. That's 1,000 minutes to adjust bindings. One thousand minutes is 16.6 hours." It probably takes four people to do that work. Now, they can be reassigned to help people fit boots and otherwise assist customers.
And that's key: With shops built for speed and reduced labor in setting up gear, staff can spend more time where it's needed—bootfitting, for example, and assisting newcomers to feel comfortable and at ease in strange surroundings. Poole notes that even largely self-service rental operations like those at Mount Snow, Vt., and Cascade, Wisc., "move staff from behind the counter and into the boot area and the ski staging area." Even though it's largely self-service, "customers feel they are getting help and assistance."
Many shops are adopting this "assisted self service" approach, setting up boot racks and try-on seats or benches so that guests can fit themselves. Many renters can find the correct size on their own. That frees employees to help other guests with sizing, buckling, or lacing. Plus, a family or group can sit down and try on boots at their own pace. Assisted self-service enables a shop to provide just the right degree of attention or speed to suit the customer.
This is especially true for high-end rentals, Poole says. Stratton, Vt., is a good example. "The face at each station is truly an ambassador. They give personal attention, trade boots with a smile, spend time to straighten out problems, yet still keep the people moving," he notes.
Service, efficency, and customer comfort: Here's a look at how several resorts have raised the bar in rental.
SNOW TRAILS: EFFICIENCY
Snow Trails is a skier and rider factory. Two years ago, to better accommodate renters, the area built a new facility, expanding from just 1,300 square feet to 9,000. That gave Marinella a chance to rethink the overall layout and design.
"We thought about where the traffic jams were," he says. "We had a bottleneck at the front door and registration." So the area installed a 15-foot sign-in counter, and adds stanchions for busy times. Two staff assist guests with the forms during peak periods. (Snow Trails still uses paper; Marinella says that it is still faster than electronic registration for the guests.) With three registers, "there's hardly any wait time," Marinella says.
Another bottleneck was bootfitting, with staff handing out boots. So the shop shifted to assisted self-service. The boot area occupies the middle of the shop, with ski boots on one side, snowboard on the other. Guests can go to the boot racks, arranged by size, and try on boots. Staff (up to four) circulate to help those who need it. Guests can leave their footwear on the rack or in nearby lockers.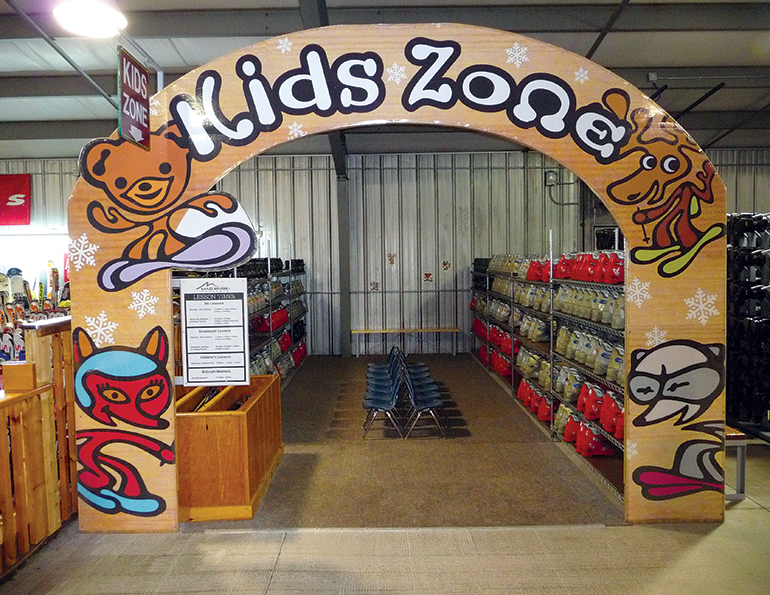 At Mad River, Ohio, the kid-sized Kids Zone makes little folks feel at ease. Its location in the rental shop makes it easy for mom and dad to pop in.
Armed with boots, customers proceed to the ski/board issue stations. These increased in number from 5 to 12, so guests get their gear quickly. For Alpine, Snow Trails uses the Rossi Flash system, which allows the shop to pre-set both sole length and DIN. Total inventory is about 1,200 pairs of skis, and 500 snowboards, along with a few pairs of snowblades.
All these steps "really speeded up the whole process. And that was accomplished with less staff, and lower labor costs—8 percent lower," Marinella says.
While the labor savings could be greater, "You don't want customer service to suffer," he adds. "We found that we could cut costs by careful staffing, such as scheduling a lot of half shifts."

PATS PEAK: FLEXIBILITY
Jim Wall, the services director at Pats Peak, N.H., credits an article by SAM's Olivia Rowan for sparking its customer-focused approach. "Olivia challenged us to look at operations from the view of a single mother with two little kids. That really hit home with us."
One result: a big shop expansion, from 2,400 square feet to 10,000. "We tried to utilize the space so guests could get through more quickly," says Wall. "We realigned where and how we gave out equipment. We reduced the work techs actually did. [Pats uses the Elan/Dalbello 4Factor system.] That allows us to get more out."
The rack systems are all on wheels, for flexibility; the shop can scale up or down as demand requires. On busiest days, it's set up almost as four separate rental shops.
After paying at the register, guests go to the boot area. Bootfitting takes place in two separate rooms, where boots are stored on Advanced Racking System dryers. "We identify beginners and never-evers," says Wall. "We put extra effort into getting them the right size. That's the most crucial aspect of a beginner's experience in the sport." And that applies to both skiing and riding.
If the boot doesn't fit, the employee does the legwork. At that point the self-service system becomes a full-serve boot service. That starts with using a Brannock device to determine size. "We don't let them guess," says shop manager Rick Avedon.
Once booted up, guests proceed to the ski or snowboard rooms. These are side by side, about five feet apart. "We were specific in designing it this way as we never wanted to separate families nor go through processes twice," Wall says.
For returns, there are four doors, and returns are organized by color-coding. The shop can also move empty racks to the outside row, to accept returns, and handle incoming business down the center.
"We're always refining the process," Avedon adds. "We changed the front counter layout in midseason to improve flow. It's gone through endless tweaks. And it can change from day to day: the counters are movable, and the layout might be one thing for Saturday night, another for Wednesday morning."

STRATTON: HIGH TOUCH
Stratton uses a combination of efficient layout and personal attention to provide a more upscale and service-oriented rental experience. To avoid bottlenecks, Stratton emphasizes advance online reservations and employs a square layout that rotates guests through the shop, with lots of assistance for those who need it, and an expedited routine for repeat customers and those with reservations.
Stratton also houses skis and snowboards separately; the latter are part of its 900-square-foot Burton Experience center, where bootfitting gets a lot of attention. "We show them how to lace and unlace. Some of the explanation is via poster, but mostly, it's done by the techs," manager Wes Huck says. As many as four techs work the Center, and snowboard instructors are there to help.
The Alpine shop is cleverly conceived. Most unusual is the dispatch system for the Head BYS skis. "We have wooden [storage] boxes on wheels, and put them in the courtyard to hand out skis," Huck says. That puts the gear close to the slopes, making transport easy.
Outdoor dispatch also makes it easy for newcomers to find the rental shop. For many, this is their first contact with the rental staff, who can direct renters to either the Alpine or snowboard shop.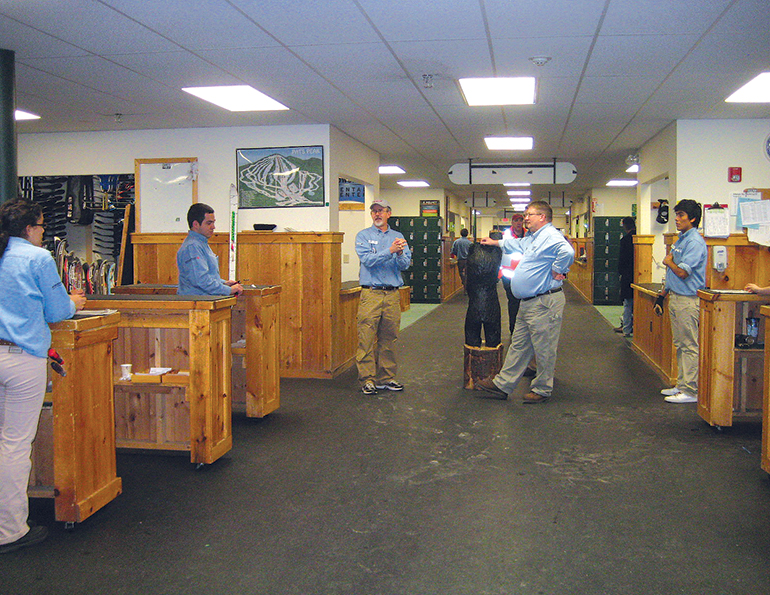 Pats Peak staff gathers for the morning pep talk. Renters can proceed down either side of the main aisle, or along two other lanes along either outside wall. The four lanes boost capacity and speed the process.
All steps are guided by greeters. A staffer meets renters as they enter. Three staff work with those who have pre-booked, and also handle overnight storage (which the shop offers to all renters). There are up to five cashiers to greet and guide walk-ins, four to six boot techs, and four to six techs to hand out skis.
"Whether there's a line or not, renters want to be comfortable, they want to know that people are there to help them," Huck says. "Even when there are lines, people are content if they know where they have to go. When they don't know, they struggle, they get concerned."

MAMMOTH: STAY PUT
Mammoth has recently redone its rental shops to make flow easier, and to make time in rental more enjoyable for the customer. Mammoth ditched its traditional layout, in which guests waited in four or five lines. Now, guests enter and input their info at one station, then proceed to a cashier/boot station, where they also get their skis. Everything takes place in that one area.
"We brought in this idea from smaller shops," says rental/repair manager Bill Glynn. "It's a more personal service, and guests like it. Our NPS scores have definitely gone up."
Mammoth has several entry points, and therefore, four main rental shops. All use a similar system. The main shop has eight stations, each staffed by a cashier and a tech. While one is ringing up the sale, the other is helping to fit boots and get skis. Both staff can handle all functions, and they switch roles often. During busy periods, the shop often adds a third staffer to help with fitting and pulling stock from the boot and ski racks, which are behind the service stations. Boots are on rolling racks in the middle, flanked by skis and boards on the sides.
b "The result is more personalized customer service, and it's a bit faster. There's less moving around. Guests stay in one place while being served. The time in the process is similar, but the perception is that they are getting more personalized customer service."