During the summer at many ski resorts, when the wildflowers abound and the ski trails are snowless, downhillers' passions turn to mountain biking. Downhill biking has been a male-dominated sport, but many downhill bike parks are successfully catering to women, too, offering programs, resources, and opportunities for women to learn about and participate in the downhill community. At these parks, it's no longer surprising to see an armor-clad woman tear down the trail, her helmet a blur while she races over rugged terrain. And these riders are expanding the market.

It's important to consider women when designing a bike park, says Paul Mutch, the former director of the Trestle Bike Park at Winter Park Resort, Colorado, and currently a consultant with Gravity Logic, the Whistler-based company that specializes in bike park design and development. "If you want to make your park successful, you must engage women. This needs to be in the DNA of the park. It is culturally relevant to the park at the beginning stage."

The benefits of creating women's programs and fostering a culture of gender inclusion are numerous. Not only does targeting women bring new participants to downhill parks, but it also increases retail sales. And let's be honest: women, just by their presence, help build the overall downhill community. They are a major attraction at après-ride socializing and events, just as with skiing and riding.
Also, let's not overlook the fact that mountain biking's fun—and teaching people to be active and engaged in their community, and the landscape around them, is beneficial for everyone involved.


IT'S IN THE FEMALE DNA
There are many ways to implement good women's downhill programs. Trestle Bike Park's Women's Night offers deals on women's rental equipment, such as a two-for-one package that makes it easier and cheaper for women to ride with a friend. (And there's safety in numbers.) Trestle Park also hosts camps such as the Trek Dirt Series with gender-specific lessons and clinics.

One of the most influential factors in increasing female ridership is to hire female coaches. Women are more likely to feel comfortable with a female instructor; mountain biking's complicated enough without dealing with some testosterone-fueled male instructor.

Weekly programs for women only, like Whistler's Women's Nights, also help to bring together the female biking community. Tom Radke, director of Whistler's Downhill Bike Park programs, says, "The success of this program starts with the talented pool of coaches that made this small group of ladies grow into the thousands who have crossed our doorstep." Read that again: a few female instructors can develop thousands of repeat customers.

Whistler's Mountain Bike Park began its women's nights (held every Monday and Wednesday, mid-June till September) because staff noticed that "in the beginning, there were very few women using the park," Radke says. With the aim of introducing women to the sport and creating repeat customers, Whistler created women-specific programs that began at the riders' current skill level and focused on building their skills until they could really enjoy the experience.

These classes, often with the same group of women week after week, help to create a supportive and social learning environment. "I have never heard anyone complain about slower riders holding up the group, just the opposite," says Radke. "It's nothing but encouragement from the ladies and the coaches, and because of that I have seen very timid riders turn into experts over a few summers."

It is this sort of positive, supportive community that has helped make these nights such a success. The energy and camaraderie generated from these women's nights is contagious.

In the end, the social aspect of the sport is crucial to creating a thriving program. Radke, among many others, was pumped on the social vibe Whistler's Women's Nights offered. "I have rarely missed a ladies night and cannot explain the fun and social factor it has on everyone—including me," he says.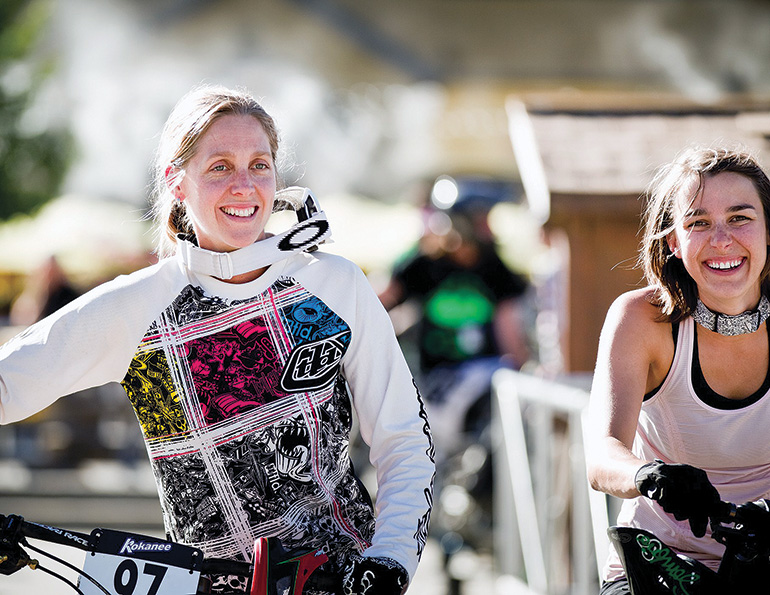 How big a hit are Whistler's Monday and Wednesday evening women's classes, held from 6 to 8 p.m? Over eight summers, the program has seen more than 8,500 participants. The growth of the program is staggering. It has swelled in numbers from the first season of women's programming, which saw 333 riders, to the 2,000 participants over 22 nights during last season.

During their first season, most riders were beginners. The program has now evolved to mostly intermediate and advanced riders. The groups average around four riders each, and anywhere from 15-25 coaches work per night.

Women can choose the level of involvement they want. They can buy one lesson for C$18, a lesson and lift ticket for C$29, or a lesson, lift ticket, and rental for C$68.

If they want to commit to a full season, Whistler offers an early bird special for a season's lesson pass (23 nights) before May 31 for C$248. After that date it costs C$274. Club Minx is an all women's riding club that offers all 23 nights with the same coach and same group of women. Last season, early birds grabbed this deal for C$349; after June 1 they paid C$389. None of these season's lesson passes include lifts or rentals; these are lesson prices only.


ANCILLARY REVENUE
It's not hard to imagine that all this gender-specific programming is significant to the health of a downhill park. True, women make up, at best, 25 percent of the downhill community, but their financial impact extends beyond their numbers. The social factor is a key component for a bike park, not only in gathering women to try a new sport and building repeat attendance, but also in terms of attracting men to the park. Whether it is having more female athletes around the mountain, on the chairlift, or at the bar, the social quality of the experience is magnified when women are present.

"You can say that the Men's Night hit above our target numbers last summer because of the popularity of the Women's Nights, and because of the coaches who coached the women's nights," says Radke. Together, they make a fun, interactive, sustainable, supportive community. Not to mention, downhill runs provide excellent fodder for bar talk and après events.

Other retail venues noticed a bump in business from the increased numbers of women as well. "The impact as this program grew was apparent in the retail shops. As each person became hooked, they had to purchase the gear and bikes that went along with using a downhill bike park," Radke notes. Big revenue winners include local bike shops and the food and beverage services. Women often enjoy the après event at Whistler from 8 to 10 p.m. after their rides.

Women are also significant apparel buyers. As the downhill industry has grown, many companies are beginning to carry women-specific clothing and equipment. Women, unlike men, often want a variety of riding outfits, and their commercial buying power has become evident. "Female specific gear accounts for 35 percent of the retail revenue" at the Trestle park, says Mutch.

Radke agrees: "The financial impact for the local retail stores is huge."

Sales have grown even though women-specific gear is still more limited and harder to get than equipment for men. Mutch says that many companies are still stuck in the unisex middle-ground. The downhill/freeride market is small, and companies are more apt to create and promote unisex or male-focused products. But women want to purchase gear that fits, and that has a woman's sense of style—they don't want to be just another dude on the trail. As women's gear becomes more common, sales will surely grow.

Beyond finding suitable equipment, there are very few downsides to implementing a women's downhill program. Because of the increased numbers, Whistler had to order additional rental bikes to meet the demand from female participants—approximately 100 women each Monday and Wednesday night. That's not such a bad problem to have, though.


SPREADING THE WORD
Whistler created buzz for its program primarily through word of mouth. The initial participants rallied their communities and promoted the program to interested friends and locals, creating a grass roots campaign. The energy of the women, coupled with excellent coaching and a strong social factor, all led to the overwhelming success of the Whistler Women's Downhill program.

"The second-most-important factor in the growth of this program are the women who started from the first inception, who live in the local region and pumped up the vibe, who were there almost every night and talked it up to the point where none of us would have guessed the quick growth," Radke says.

Beyond the grassroots and word of mouth marketing, Whistler did very little in terms of promotion. The Whistler bike park website touts the Women's Nights thusly: "Bringing together the female riding community, women's night is the perfect balance between learning and socializing. In a pressure-free environment, progress at your own pace among fun and supportive peers."

"We did not need to advertise other than our website and a couple of free local paper ads," Radke says. "Our sponsors give us blog time on their company websites, and through our PR department, I am constantly in contact with magazines, TV shows and newspapers, so we receive loads of free publicity."

Increasingly, women's programs are stacking the deck so that female riders have the confidence, composure, and skill to make their way in this male-dominated sport. So, don't be surprised if you see a full-face-helmet-wearing, armor- clad woman wrangling a bike down a trail in the middle of your favorite run. Women are gaining numbers and momentum.

Catherine Doucette grew up skiing in New Hampshire and now skis and writes at Lake Tahoe. Her work has appeared in Off-Piste Magazine, Backcountry Magazine, and The Ski Journal as well as literary publications including the Bellingham Review.

GUEST EDITOR SAYS
It was refreshing to read details of a grass roots approach for growing a sport. So many programs today are focused on technology-driven platforms and complex marketing strategies based on data, not people. Here, choosing appropriate well-trained coaches that connect and inspire created word of mouth and organic growth. Kudos for having patience!

Women are networking gurus. If we are stoked on a brand, product or community, we will tell our friends and we pay it forward. I've been fortunate enough to start women's programs from scratch and, as in the article, it was those very dedicated women that first created the program that had the passion to drive its success. When you are vested in something, it makes it easy to succeed.

The notion of creating an "experience" rather than a clinic by coupling a social piece seems to be the icing on the cake. It works in skiing and snowboarding, so it makes sense it would work in biking.

Too many times we managers shy away from testing new waters for fear the numbers will be so small that profitability becomes the driving force for not sticking with, or trying, a new program. Remember that with women's programs, the participants can be your greatest marketing allies.

I had to chuckle when SAM invited me to guest edit this article. We often take for granted the sports we do every day, and forget that we have to nurture growth and remember how to teach and connect with the people we want to do our sports. When sports get so advanced, we start to lose the aspirational elements that connect and keep us coming back for more.

For example, while I consider myself an advanced mountain biker, I'm not sure I would even classify when it comes to downhill. In fact, I prefer the uphill climb over the downhill terror, generally speaking. With a great instructor, I'm sure my desire to take my mountain biking skills to a new level would grow. Had I not read this article, I likely would have stayed in my comfort zone of cross country biking and felt that downhill was for the more aggressive riders (male and female). I am a big fan of women on bikes – keep on growing!

—Jody Churich, former SAMMY winner and SAM Guest Editor