What are the most noteworthy trends in gear and programs? We surveyed suppliers to find out.
ALPINE RENTALS 2016-17
"Partnership" is the buzzword that defines rental for the 2016-17 season. Equipment suppliers are increasingly taking extra steps to support their resort customers and bolster the success of their rental/learning programs.
Rossignol promotes its 39 Experience Centers in North America, working with ski area operators in the rental, demo, and instructional process. Elan has expanded its free-skis-for-beginners program to 11 areas nationwide. Beginners who complete a four-day lesson program earn a free pair of Elan skis, branded with the ski area logo.
Head introduced a rental "camp" at the Midwestern Ski Areas Association summer show this year. This all-day seminar covered topics from metrics for measuring profits, fleet maintenance, and rental software. The company plans to expand the program to other regions and add half-day executive-only sessions. Tecnica customizes its rental products for clients, as it has done with the Aspen Skiing Company, imprinting boots with the resort's logo.
Why go to such lengths? There are at least two logical answers.
First, a partnership implies an extended relationship, rather than a one-time deal. A "partner" is more likely to renew purchase agreements. "It's a lot easier (to form a partnership) if you bring something else to the table [than just product]," says Head's Mike Poole .
In recent years, of course, limited-sole-length boot/binding systems have been big news in the fleet rental market—and these systems require a major commitment to a trio of products. The major players in this space—Head, Rossignol, Dalbello, Elan—continue to offer systems gear for areas seeking fleet pricing and process efficiency in dealing with high rental volume. These systems put buyer and seller into a partnership by their very nature.
It should be noted that Dalbello, now under the Völkl/Marker umbrella, has unwound its long-standing rental relationship with Elan. "That has been the case ever since Elan moved out of Dalbello and in with Alpina. So in some sense it's not a new situation," says Dalbello/Völkl/Marker chief Geoff Curtis. "Our brands will still work together for sure, but each of the brands is positioned to operate wherever it makes sense within the category—as a package or not."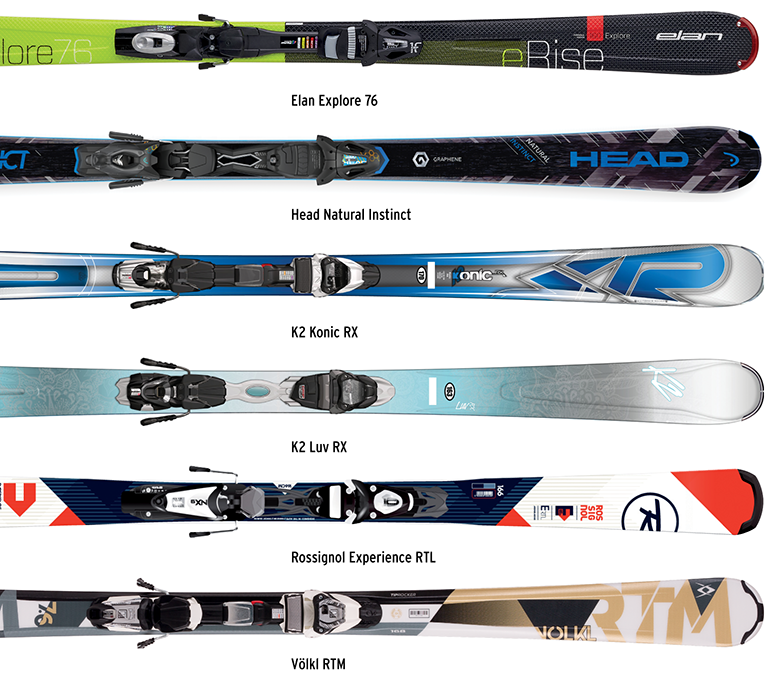 Such flexible alliances signal a continuing competitive market in systems, which will surely keep partnerships top of mind for both operators and suppliers.
Second, manufacturers increasingly recognize that rental is an important portal into the sport for many skiers. Make a good first impression, and a first-time skier is more likely to become a convert, and ultimately a brand-buying enthusiast. Elan's Bill Irwin declares the company's free-skis-for-beginners program is "a new way to create more skiers." And that should ultimately mean more people buying more equipment at retail. Other companies are following this manner of thinking in different ways.
AN OVERALL UPGRADE
Equipment suppliers continue to upgrade the performance, quality, and look of their rental gear, from entry-level on up—even if it means squeezing profit margins to a hair-thin level. It's all about making a good impression and providing a positive experience.
Head's Andrew Couperthwait calls rental "your front line of exposure to consumers." As Nick Castagnoli, Rossignol's brand and communications manager puts it: "We're trying to figure out ways to improve the consumer's experience coming into the rental shop. (A customer's) first engagement is at rental, and we want the equipment to be up to snuff with what's on the retail wall."
K2's Adam Rusitto describes the step up to the Iconic (for men) and Luv (for women) from the basic fleet-rental Strike as a chance to "start using some brand power." And Volkl's Curtis says that higher-performing gear, even if at a slight price premium in Volkl's case, helps establish a positive brand identity.
Equipment aimed at the step-up market typically has a strong link to in-line products. Nordica, for example, is producing an 85mm waisted rental version of its popular NRGY ski. Salomon's Chris McKearin reports that "we're seeing a lot more interest in the Quest Access (boot), which is a price point above" basic rental and taps into a retail line. K2 has been seeing strong interest in the Iconic and Luv skis. Ditto for Head with its step-up Monster 78 and Monster 83 skis. Those are just a few examples; other companies are increasing their offerings of similar high performance rental gear drawn from in-line specs.
This trend reflects a market change in the U.S. With fewer destination skiers traveling with equipment—due to high baggage fees or for convenience—destination resorts are seeing performance rental growth. As a result, Curtis sees "a very healthy high-end/demo rental market" in North America. And, as Nordica's Scott Russo points out, "high-performance rental can be very profitable, because it is easy gear to sell used." Who can argue with that bonus?
NEW PRODUCT INTROS
There are a few new products of note this year, even if there are no breakthrough innovations. Head is introducing a new, high-performance Advant-edge boot model with a cuff design intended, according to Couperthwait, "to produce edge pressure with less forward flex." That means less effort to produce the same result; hence, easier skiing with less fatigue.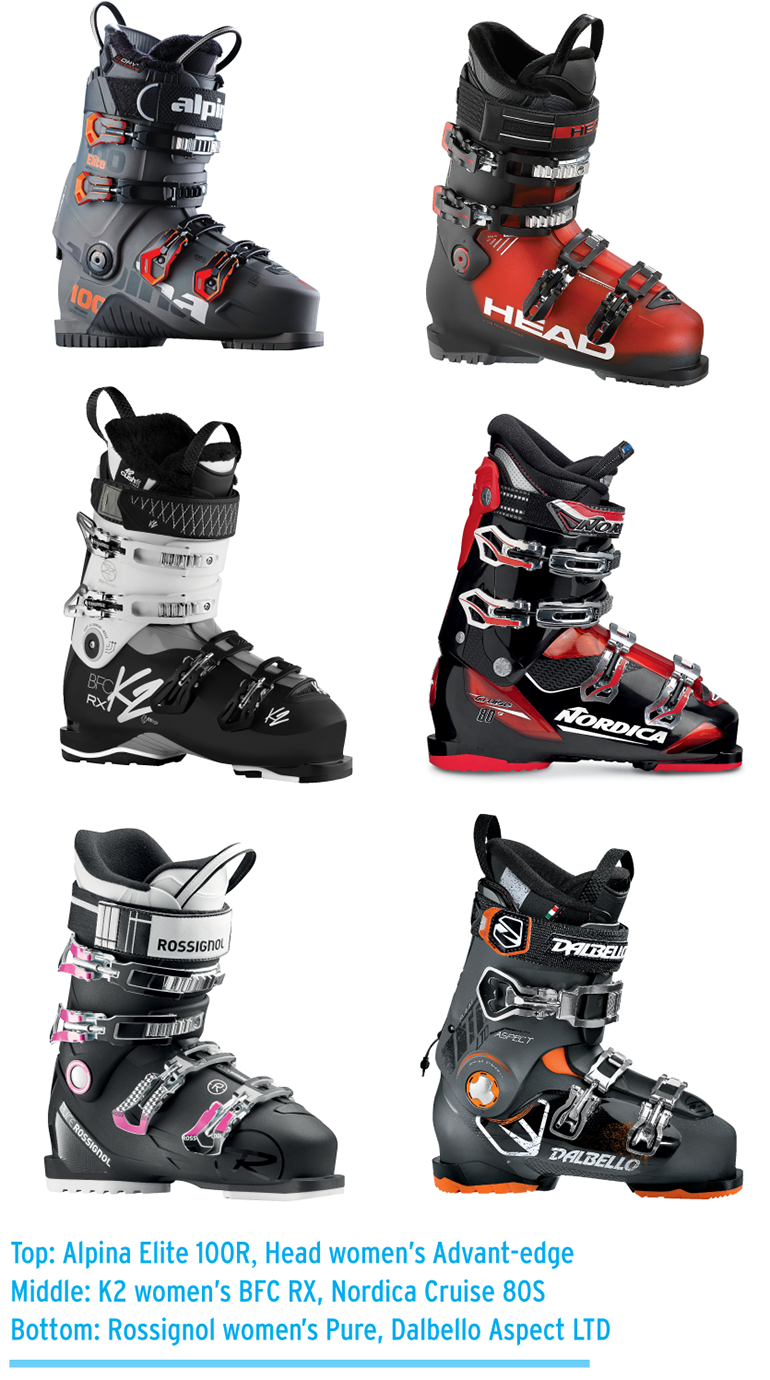 Nordica is resurrecting its Speedmachine category in a model with a 110 flex (90 flex for women) that features "in-line architecture spec-ed for rental," according to Nordica's Scott Russo.
In some cases, companies are producing new designs to address non-skiing performance. Dalbello is introducing a Vibram-like sole called Grip Walk for easier, safer walking, on models such as the Aspect LTD (shown above). And with growing interest in AT equipment and an increase in boots with varying sole specs, Salomon is debuting a demo version of the Warden MNC 13 binding that is adaptable to different boot sole specs.
In addition, manufacturers are reaching out to rental buyers with increased variety and versatility. Völkl is slipping an RTM 7.6 rental model (76 mm waist) between its RTM 7.4 and RTM 8.0, a move aimed primarily at Eastern areas looking for a little more waist width. Alpina's new Elite 100R boot is listed as having a 103 mm last, but comes with a width-control adjustment at the second buckle to make the boot wider or narrower.
NICHES: TBL AND KIDS
One trend that continues to gain traction in the lesson/rental arena is a move toward terrain-based learning. Programs like Snow Operating's TBL Program—now at 31 resorts—Burton's Riglet Park for little snowboarders, and other variations on the theme are becoming more prevalent, and manufacturers are answering the call. Rossignol and Elan have jumped on board the TBL train. Elan has even designed a ski specifically for the program—a 130cm ski for all skiers, with a slightly turned-up tail and two inches of early rise to make pressuring the tip easy at very slow speeds.
Finally, in kids rental, Elan is expanding its U-Flex ski offering with an increased size run through 130 cm. The ski, paired with an Alpina-made, Elan-branded boot, flexes like an accordion, according to Irwin, in order to assure the proper flex of the ski. Volkl also offers a nice upgrade option in a rental version of the RTM Junior.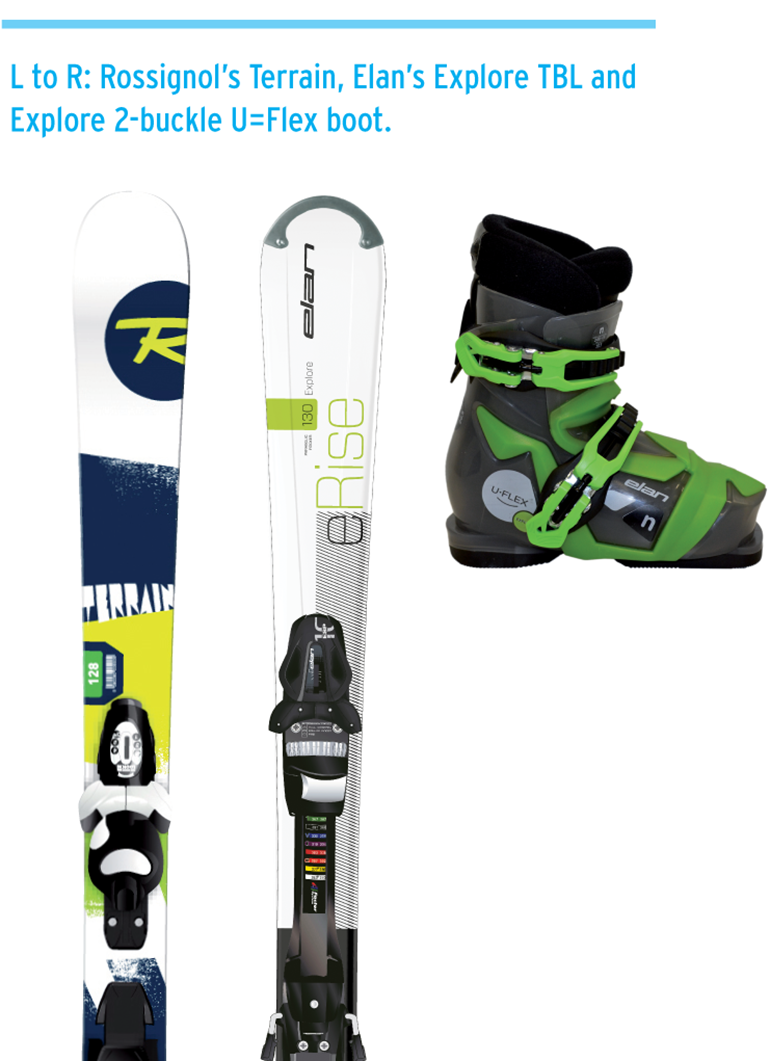 In sum, rental is increasingly becoming much more than a simple transactional business. Equipment companies that don't already have a value-added program to support their buyers are contemplating moves in that direction. Rental buyers should start thinking of equipment companies as partners rather than simply suppliers.
Snowboard Rentals 2016-17
Snowboard rental lineups are offering increasingly diverse and progressive products. Suppliers and resorts alike recognize the importance of the rental market, and of retaining beginners. As Nick Castagnoli, brand and communications manager for Rossignol says, "The rental shop is where practically every participant will be introduced to our sport."
DURABILITY AND COSMETICS
While bindings, boots, and other gear continue to evolve and lead to a better overall experience, the board is still a main priority. For many brands, this means providing a specific product to match specific needs, while at the same time providing a good option for everyone. "We are trying to balance the needs of individual customers, women, kids, etc., with the desire to keep a shop's inventory streamlined," says Shaun Cattanach, global experience manager for Burton.
Durability remains key. To address that, Head snowboards are incorporating the brand's newest sidewall technology, Liquid Framewall. "This uses a PU [polyurethane] that is actually poured into the recessed space of the wood core. It's as durable as the current Framewall, but much more resilient and elastic," says Mike Poole, national rental sales and category manager for Head. Flow uses urethane-infused topsheets for durability.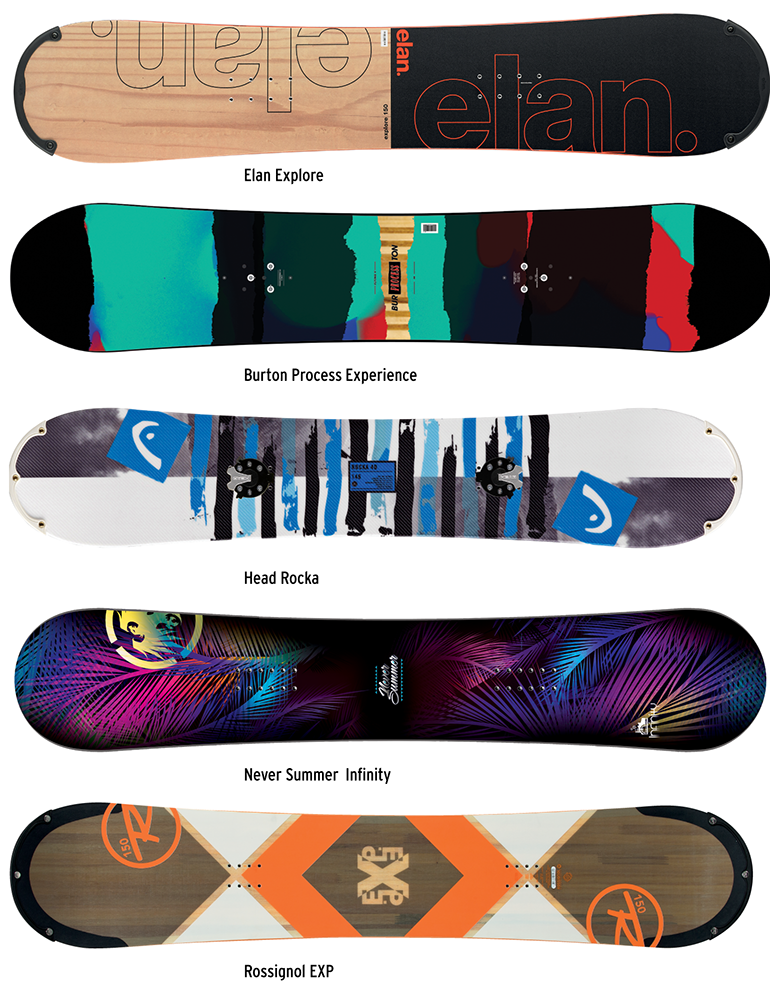 Another benefit to durability is a board that lasts also leads to a greater return when the boards are resold. "Never Summer boards last for years to come. Because they hold up well and we make all of our boards to sell, often they then have a high resell value at the end of the year when you are looking to liquidate your demo fleet," says Vince Sanders, product developer for Never Summer.
Cosmetics matter, too. A board that screams "renter" can annoy or make some folks feel less comfortable, and does little to instill confidence in the novice, let alone a more advanced rider.
Arbor Snowboards, a brand recognized for its artistry, is extending that strategy to the rental line. "The System Rental [snowboard] is characterized by a clean, black look that will prolong the value of your fleet without sacrificing that classic 'Arbor' styling," says Matt Patti, Arbor Snowboards brand manager.
"As rental and demo continue to take on more importance in the marketplace, the demand for and need to move to newer technology and higher performing products and richer graphics has been recognized, and is continuing to take hold," says Castagnoli.
GENERATION SHRED
Retaining young snowboarders begins with getting them started on the right foot—or board. And suppliers continue to bolster youth products.
The kids market has been a particular focus of Burton's for many years. For 2016-17, Burton will debut the Handle Bar—an accessory designed to be mounted onto Burton's kids' boards. The bar allows kids to stand on the board and hold on to the bar for balance, but still have the ability to step off if need be.
Never Summer will offer its youth boards, the "Yutes," down to 80 cm. Head Snowboards will offer a full Kids Snowboard Package that includes boards sized from 70 cm to 110 cm, an XXS snowboard binding, and a new junior snowboard boot, the 400 Boa/lace. This model will come in sizes 18.5 to 25.5 and is reinforced in both the toe and heel.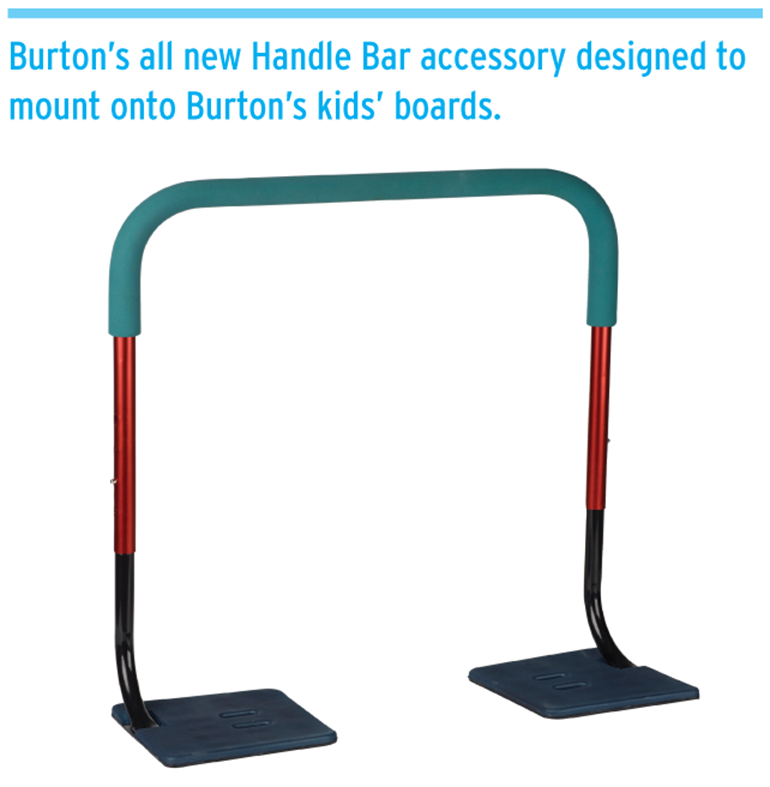 CAMBER AND ROCKER
The debate continues over which camber profile is best for beginner and younger riders. Flow calls its technology True-Twin EZ-Rocker. Elan employs its Reverse Press Early Rise technology in beginner rental products along with parabolic sidecut. Elan's Bill Irwin says this is the "absolute best performance for beginners." The early rise rocker makes for a shorter effective edge length, which Irwin says enables beginners to make turns more easily, and to progress quickly.
Never Summer believes a combination of cambers is best. "We think that hybrid profiles like ours not only make it easier to learn how to snowboard, but they also make it easier to ride," says Sanders. "Rocker between the feet allows a board to easily go edge-to-edge, and the extended transition areas at the ends keep a rider from catching an edge."
EASE OF USE
Elan's new rear-entry binding, Fastec, will be easier to use, perform well, and reduce wear on boots, Irwin says. The boot slides into the binding with no need to adjust ratchets on every run.
"Flow rental products are a solution-provider product, for both the rental facility and the end user," says product manager Lucien Vink. The Evolve rental bindings come in one-piece PowerStrap and two-strap versions, and are symmetrical, making it easy to store, set up, and switch between goofy/regular.
Head will present a new women's-specific boot for 2016 with a double BOA closure system. "We will also launch a ladies-specific snowboard, Libra, with specific flex and torsional characteristics designed for ladies and employ the Head Liquid Framewall technology," says Poole. "We feel that ladies-specific products are the most important trend in rental products."
CREATIVE LEARNING
Beginner programs are moving towards terrain-based teaching parks. Elan designs gear for kids and adults that is more flexible at slow speeds to accommodate needs in these parks. Burton's Riglet Reel and Riglet Parks have opened up the opportunity to learn how to snowboard to kids as young as three years old, a full year earlier than what is traditionally offered without the Riglet program.
Rossignol, which has partnered with Snow Operating LLC, and its Terrain Based Learning Program, offers the only rental line with Magne-Traction technology. "Beginners will definitely find more stability and edge grip than with a traditional edge," says Castagnoli. The technology is available in the EXP Mag board, Rossi's more progressive rental option.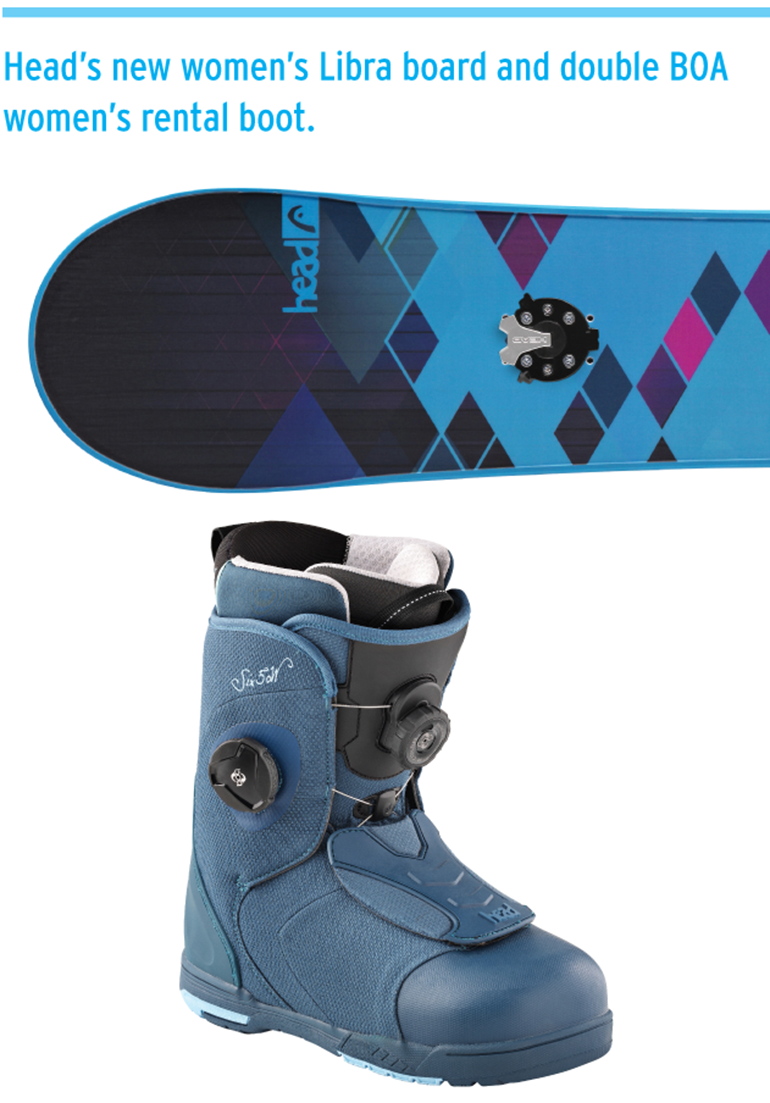 MAKE THE INVESTMENT
Some suppliers continue to offer a very low price-point fleet board. Faced with price-conscious customers, rental shops can't be faulted for choosing the lowest-cost option when purchasing equipment. Nevertheless, some suppliers argue this can be a poor strategy.
"The best constructions and newer technology will cost slightly more, but the snowboard will last longer and ride better," says Irwin. "That makes it well worth the slightly higher price. A rental deck can generate a 2000-percent profit. Paying a few dollars more for the best fleet product is a good investment."
Cattanach echoes that caution. "Find a partner who is committed to helping you make the experience the best it can be for your guests, not just someone looking to make a quick sale. Cheap prices don't always mean the guest experience will be good," he says.
Nothing, it seems, is as reassuring as a good partner.