A CLOSER LOOK AT THE NUMBERS
According to recent SnowSports Industries America (SIA) participant studies, 17.8 million people went skiing and snowboarding last winter, and 40 percent of them were female. Since the 2009-10 season, an average of 6.8 million females have participated in skiing and snowboarding yearly, and for the past three years that number has been rising. Last year alone, SIA reported a seven percent increase in female participation. National Ski Areas Association numbers are lower, and based on a different data set, but the percentages are similar. There are millions of women skiers and riders.
And they tend to be younger women. Additional SIA research revealed that last season, the biggest demographic of female snowboarders, alpine skiers, freeskiers, and cross-country skiers across America belonged to Gen Y (ages 18 to 34), also known as the Millennials. Snowboarding's second largest female demographic was Gen Z (under 18), and for freestyle, cross country, and alpine skiers, Gen X (ages 35 to 54) was the second largest. In Canada, Vivadata research from 2015 shows the largest group of female snowboarders last season belonged to Gen Z.
Women, of course, are different than men. Ryan Solutions, a database marketing company, analyzed how the behaviors of male and female skiers differ. Using data from a sample of 10 ski resorts over multiple seasons, Ryan Solutions set out to determine how women season pass holders differ from men pass holders. The biggest difference: The males in the sample skied an average of 8.8 days, compared to only 6.8 days for women. Still, using the same database, the researchers found that renewal rates were nearly the same: 60.5 percent for men and 58.4 percent for women.
So it would seem that women have the same commitment to winter sports, even if they don't ski and ride as frequently as men.
What would it take to encourage women to participate at the same level? The guest experience plays a significant factor—and not just in skiing and riding. In 2014, Steve Cannon, the CEO of Mercedes-Benz USA, declared, "Customer experience is the new marketing." When you're trying to attract new customers and retain current ones, especially females, a positive experience will keep guests coming back.
Ah, but everyone knows that. A study done by Gartner Inc. revealed that by 2016, 89 percent of companies expect to compete based on customer experiences. The key takeaway from that message is simple: keeping your guests happy has never been more crucial.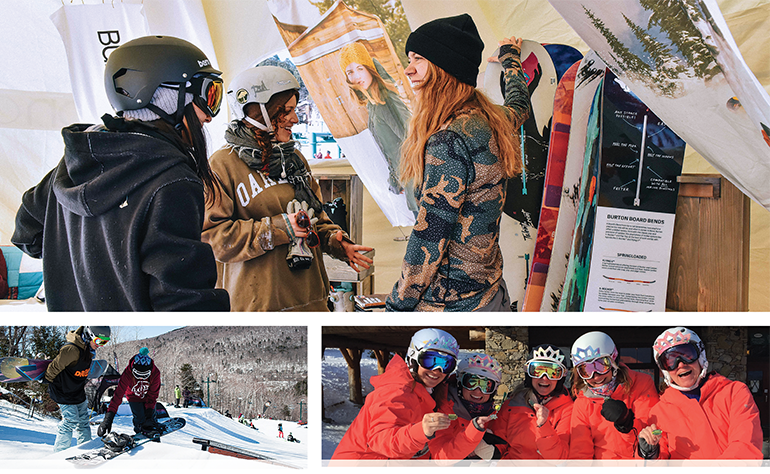 Top: Burton integrated a Burton Girls demo tent into the Burton Mountain Festival (formerly the Super Demo Tour); it helped women and girls feel welcome. Bottom left: Loon partnered with Oakley to host the annual Droppin' In event, which features Oakley team riders coaching the particpants. Bottom right: Willi's Ski Shop in Pennsylvania created the Winter Divas Club, starting with 40 members in 2010 and growing to more than 200 currently.
And resorts have had some success with women in that regard. Guest Research Inc. collects and analyzes its clients' customer feedback to determine the Net Promoter Score (NPS), a key measurement of guest satisfaction and loyalty. To determine a Net Promoter Score, subtract the percentage of detractors (customers that won't recommend the resort) from promoters (customers who would definitely recommend the resort). In a recent study, Guest Research Inc. found that women are more likely to recommend a ski resort than men, with the female NPS score coming in at 73 percent, compared to only 67 percent for men. And that's important, because customers who fall into the promoter category are at least 94 percent likely to return to the resort, and will also share their positive experiences with others.
Given the huge economic impact women have, and the increased numbers in female participation, it's no surprise that resorts, retailers, and manufacturers have all devised clever ways to tap into this market, and to encourage women to participate more often.
THE ROLE OF RESORTS AND RETAILERS
Many resorts worldwide offer female- specific programs. Whistler Blackcomb has been at the forefront, hosting its own women's camps for the last 12 years. "Women represent a growing segment in our industry, we need to be on the cutting edge," says Nadio Hachey, Whistler Blackcomb snow school manager of adult groups.
A crew of all-female instructors who help women master their confidence on snow conducts the resort's ski camps, which are held in partnership with Arc'teryx and Gore-Tex. Following the on-snow sessions, a private après party is held with product giveaways and a silent auction benefiting the Howe Sound Women's Centre. Snowboarders have a similar program with the support of local retailer Showcase Snowboards, Oakley, and Gore-Tex.
These camps include equipment reviews, tips to help women build their all-mountain skills, and a fun après event to close off the day. This winter, six ski and snowboard camps will be held from December to April.
In the U.S., Vail Resorts introduced its own women's lesson program last year, called Women's Ultimate 4, which was offered at Vail, Beaver Creek, Breckenridge, and Keystone. These lessons are aimed at women who are not deeply committed to downhilling—from first timers to advanced beginners. The four-hour sessions, with no more than four women in a class, are taught by female instructors.
The program was not developed on a whim. During the 2013-14 season, Vail Resorts conducted surveys and hosted focus groups to help determine what keeps women off the slopes. Responses from the women surveyed included: being too busy taking care of family members, being overwhelmed, and being too intimidated to learn a new sport. One of Vail's responses to these results was to adjust the start times of its women's programs, so that mothers could pick up and drop off their children at ski school in between lessons.
"Seeing as Vail Resorts' mission is to provide an experience of a lifetime, we need to be sure we understand and meet the needs of our guests," says Kirsten Lynch, Vail Resorts chief marketing officer. "There was clearly an opportunity to understand what our women guests need to increase their participation in snow sports. We want to make the ski experience more accessible to all women, and then empower them to make time for themselves to have the ski experience they desire." This winter, the program will be offered again at Vail Resorts' four Colorado destinations, as well as Park City, Utah, and Heavenly, Northstar and Kirkwood, Calif.
New Hampshire's Loon Mountain has also played a significant role in supporting the she-conomy. "The women's market in the snowsports industry is often overlooked, which seems so silly. Why would anyone ignore such a large demographic?" says Brian Norton, Loon's terrain park manager. "We realized long ago that to be successful as a family resort, we need to cater to the entire family, not just dad or the kids."
With that idea in mind, Loon began hosting a women's weekend camp, Droppin' In, 12 years ago. When this terrain park-specific event first started, its simple goal was to get more women out on the hill and having fun. As interest in the camp grew, Oakley jumped on board as a sponsor and began flying its team riders out to help coach the participants.
In the early years, Droppin' In attracted around 20 skiers and snowboarders. Now it maxes out at 80 women.
Additionally, Loon teamed up with K2 Ski Alliance six years ago to offer Women's Performance Camps for intermediate-level alpine skiers. Held twice a year, the staff of female coaches teaches girls to ski expert terrain, glades, and moguls. The camps include 12 hours of coaching and video review.
In Pennsylvania, the family-owned Willi's Ski Shop retail chain has truly embraced women's importance in snowsports. In 2010, Willi's co-owner Kjerstin Klein created the Winter Divas Club. The club started out with close to 40 members, and now has more than 200 participants of all ages, and a Facebook group that is 600 members strong. Winter Divas hosts weekly ride days at Seven Springs Mountain Resort. On the social side of things, there's an annual winter kick-off party, a pre-season sale, and a Ski Your Tiara Off race day.
The Winter Divas Club has carved out its own niche within the she-conomy. Today, the club acts as a focus group for the ski and snowboard industry. The Divas take part in ski demos and offer their input to sales reps and manufacturers through online surveys.
BRANDS LEND A HAND
Various manufacturers are also doing their part to target female consumers. Burton has had huge success with several of its women's initiatives. However, zoning in on the women's market isn't necessarily a new concept for the company.
"It's never been one of those things where all the sudden we realized we need to pay attention to women. It's really been part of our culture from the beginning," says Clarissa Finks, Burton women's hardgoods category manager.
For more than 10 years, the Burton Mountain Festival (formerly the Super Demo Tour) has traveled to a new resort each weekend so the general public can test out the latest gear. "Something we found was girls and women like having a unique experience that they can feel comfortable and welcomed into, but they still like being a part of the bigger picture of snowboarding. They don't want to be completely secluded," says Finks. "So, we integrated a Burton Girls demo tent within our overall tour. With that we really wanted to enhance the experience of getting to try new gear by adding education behind it."
In addition to the women's demos, each stop of the festival includes a Burton Girls Ride Day. Here, local girls can snowboard with Burton team riders and staffers in a relaxed and stress-free environment. Finks says last season's Ride Day events attracted participants of all ages and abilities.
Numerous resorts around the world have partnered with Burton to offer its Learn to Ride Program. Finks says these resorts can even become designated women's learning centers by offering specific gear and hosting women's specific lessons.
Billabong is another brand that's achieved success in the she-conomy. The Billabong Flaunt It series is a women's only slopestyle and rail jam contest that's entering its tenth season. Each event is held on a custom-built terrain park constructed with female riders in mind, and the jam format allows participants to drop in when ready. For the 2015-16 series, three Canadian stops are on the calendar, with more than $20,000 in cash and prizes up for grabs. The overall winner at each stop will receive a free trip to compete in the series finale. While hosting a women's snowboard contest isn't a new concept, Billabong's approach has long-lasting appeal.
As women in America continue to spend trillions of dollars annually—and make most of the key decisions about family travel and vacations—it's more important then ever to find ways for your resort, ski school, rental shop, and on-site retailers to find ways to serve this demographic.