Stowe's financing solution: cover the lion's share of the price tag through advance membership sales for the elite Stowe Mountain Alpine Club and the sales of 19 residential units, all of which will occupy space in the Spruce Peak Village Center along with the Adventure Center.
When the residential units went on the market they were swept up in a flash, producing roughly $42 million in working capital. Before the Alpine Club had opened its doors on Dec. 15, more than 120 of a planned 300 memberships had been sold, ranging in price from $25,000 to $100,000. More cash in pocket, and another giant step toward covering the final cost of approximately $80 million for what is being dubbed the Spruce Peak Village Center.
Not many ski areas can tap into a deep pool of affluence like Stowe seems to have at its disposal. But there is a lesson to be learned here for any resort of any size: Before undertaking a project of this sort, look for creative ways to finance it up front.
Financing, however, is only the beginning to the story of a kids learning center cum family adventure center that is being regarded, even before its opening, as the state of the art. While money might be the great enabler, a vision and sense of purpose will ultimately determine the center's success.
Stowe has been in the midst of a major expansion to its Spruce Peak base area for several years. It has built a sprawling new base lodge and hotel, performing arts center, golf course, and numerous outlying residential projects. What was needed, says Stowe operations director Dave Merriam, was a central focus around the base area plaza that would "inspire passion for the mountain lifestyle."
The mountain lifestyle, as Merriam and his team originally visualized it, and as lead architect John Ashworth recently characterized it, is based on "an indoor-outdoor relationship."
To get that relationship right, Stowe contracted the architectural firm of Bull Stockwell Allen, which boasts a resume filled with mountain resort projects and community centers, expertise well suited to the objectives Stowe hoped to achieve.
The project also enlisted the SE Group, to develop integration and flow between indoor and outdoor activities from a site planning and landscaping perspective. As one SE Group representative put it, the goal was to create a "[seamless] sequencing of the learning experience . . . from beginning to end, from inside to the snow."
Another simple lesson to be learned: Get the right people to do the project.
FROM CONCEPT TO REALITY
The idea, then, in developing a kids center based on this concept, was to connect indoor activities with outdoor activities—visually, logistically, and architecturally.
Immediately outside the front door of the building is a 9,500-square-foot skating rink. (In summer, this space converts to an open green space that can be used for a variety of activities.) Directly out the back, through separate exits that are designated for various age groups, is a self-contained kids ski and snowboard learning area, complete with a brand new triple chair dedicated to the Adventure Center.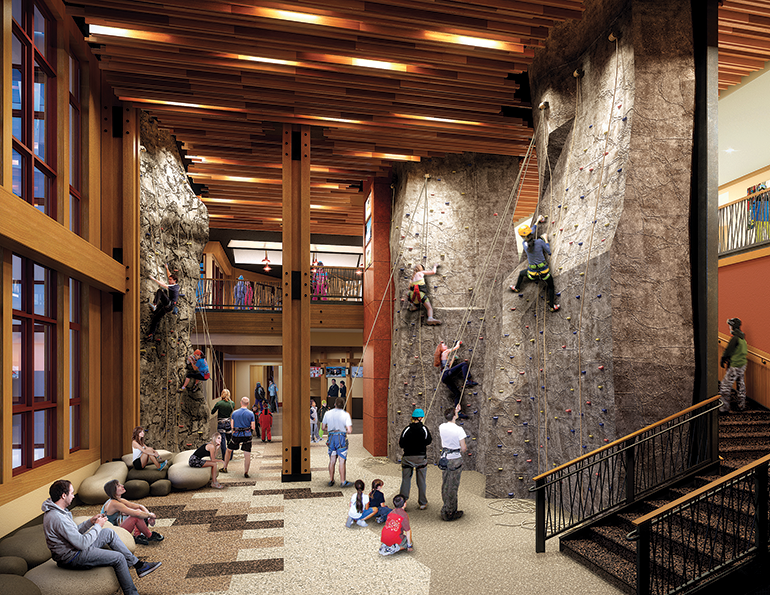 The lobby and climbing wall embody the Center's outdoor-focused theme.Immediately inside the front entry is a visual and architectural connection with the outdoor surroundings, a space Ashworth likens to "an enclosed Vermont sun porch." Except that it brings the outdoors inside, in a way: there are two climbing walls and a bouldering wall that face 40-foot windows. So, even when engaged in indoor activities, there is a sense of being outside.
But the indoor activities are limited. According to Merriam, the resort didn't want to "cannibalize" its principal business—skiing in winter, various outdoor activities in summer—by creating a center with multiple indoor activities that might discourage guests from venturing outside.
"Flexible" is a word that comes up repeatedly when speaking with Merriam and Ashworth about the 40,000-square-foot Adventure Center. Ashworth declares this concept "a trend in design" —the creation of spaces in which fixtures and furniture can be shifted, removed, or adapted to suit a constantly changing slate of activities.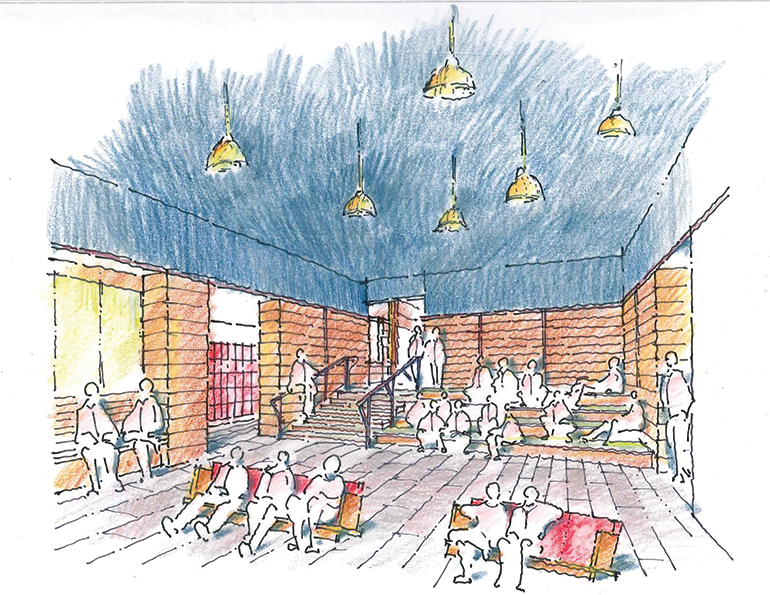 Versatility was a key goal; a gearing-up space easily converts into a movie theater.One of the neater examples of flexibility in the Stowe center is a gear-fitting area, in which benches can be flipped to create seating for a kid's movie theater. Another example: A large, second floor dining area for older kids can easily convert into an open space for various other activities—even an adult cocktail party in the evening.
Another goal of the design concept was to create a space that, as Ashworth puts it, "functions from morning through evening." Merriam insists that he didn't want just a kids ski school center, where kids are dropped off in the morning and picked up toward the end of the ski day. The idea was to offer enough activities—from climbing to movies—to keep kids engaged late into the afternoon or early evening, freeing parents for après ski or simply a little quiet time together. This extended use also helps retain vital energy in the base village after the lifts close.
And the Center could become a high-energy place. When fully operational, Stowe expects it to handle up to 700 kids, with 150 ski instructors.
That level of traffic could be a recipe for chaos. To avoid that, the Center segregates age groups into different gear fitting areas, dining areas, and activity areas, with different egress and ingress to and from the slopes. Capacity for each age group is figured by number of chairs needed. Daycare space is assigned with one chair for every kid; the ratio for three- to six-year-olds is 1.5 chairs per kid; for kids up to age 14, it's 2.5 chairs per kid. Of course, it helps to have 40,000 square feet at your disposal.
A large part of that square footage is in the enormous entry lobby—home to the climbing walls—which can accommodate up to 250 people at one time, with eight points of sale. Once kids are age-segregated, they move to separate areas to get geared up before moving upstairs to a shared ski room where alphabetized ski racks can be rolled out slopeside. To maximize indoor space, seven- to 14-year-olds are moved to the snow as quickly as possible.
Exactly what activities—mostly après ski—will be part of each age group's indoor program "is still something we are trying to figure out," says Merriam. But everything from foosball and ping-pong, to arts and crafts, or a DJ-powered pizza party will be in the mix, enabled by the relative ease of moving and reconfiguring furniture as necessary.
TAKEAWAYS
Yes, the Adventure Center is unusual in both its size and its cost. But in concept, it represents a lead that many resorts can take guidance from and follow.
For starters, the design principle of flexible space might be even more imperative at a center of less than—perhaps far less than—40,000-square-feet. The way a space functions in the morning might be completely different from the way it functions in the afternoon, and different in winter compared to summer. The way it functions in 2016 might be completely different than in 2020.
Second, a dedicated learning area for kids, one that flows freely and naturally between indoors and outdoors, is a major step toward producing a better experience for both kids and parents.
Third, extending activities into the evening not only improves the family experience; it helps keep all guests in the base area or village for a longer time. And that can bring added vitality and commerce to village life.
And finally, secure a robust financing package before breaking ground. Get the money and then start building, rather than build and try to figure out later how to pay for it.
Speaking of financing: if you had your heart set on that $4 million residential unit above the Stowe Adventure Center, sorry. It's been sold.