One year ago, mobile visits to ski area websites in the U.S. (nxtConcepts sample study) were 49 percent of total visits. This year that figure is 56 percent. This extremely rapid adoption of mobile has opened a proverbial can of worms for all businesses today—but especially ski areas.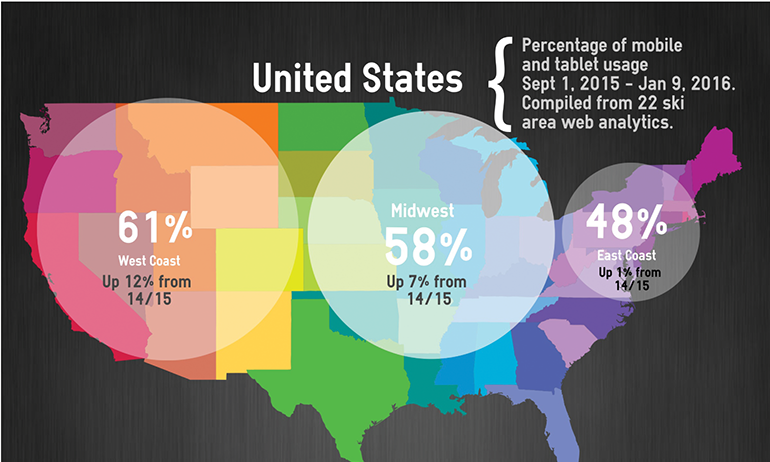 According to the Google Travel Study (June 2014, Ispos MediaCT) the Internet is the top resource for travel planning, with 74 percent of leisure travelers using it to make decisions. Smartphones are used throughout the travel process—from inspiration and research, to booking a trip, all the way through the actual experience, and finally, to post-travel feedback.
The Booking Experience
Early actions on mobile devices influence buying decisions. Travelers rely heavily on mobile sites and apps, so encountering a poor site experience can result in a negative impact on the brand, and ultimately the bottom line. That's reflected in the numbers: 83 percent of leisure travelers have encountered a travel site that was not mobile friendly, and only 23 percent of those consumers stayed on the site.
One in five leisure travelers download travel apps to their mobile devices due to a poor mobile site experience. Other consequences of a lackluster mobile experience include: 20 percent opt to use a competitor's site, 13 percent complain on social media, and—perhaps most damaging—13 percent stop using the brand altogether.
Consumers—especially Millennials—want quick and simple options for travel and entertainment. Millennials tend of have very little loyalty to brands or our sport, as highlighted in studies conducted by RRC Associates. Make the purchase process too difficult, and potential customers simply move on to something else.
Today, consumers can buy groceries, arrange car rides, hire a dog walker, and order a cup of coffee at Starbucks using apps on their mobile devices. So, why is it often very difficult to make purchases from ski areas using the same tool?
Up until this point, there has been a lot of finger-pointing coming from both resorts and vendors. Common bones of contention include:
• not enough vendors
• not enough new ski resort-specific technology development
• ski areas are just too complicated for anything but custom solutions
• liability and release requirements slow down the process
• no way to integrate between multiple systems, such as ticketing, retail, food and beverage, and lodging
• limited resources when it comes to staff, budgets, and time.
Within the last year, however, there are signs of progress. The open conversation between resort operators and software vendors began this past fall during meetings at regional industry trade shows in the Midwest and Northeast.
The Takeaway
Mobile-centric e-commerce is a hot topic for both resort operators and vendors. Reps from Siriusware, e4Soft, Intouch, Liftopia, Inntopia, SkiData, and RTP either attended sessions I led at the regional industry shows, or spoke to me directly to reinforce their dedication to the ski industry. They also highlighted the fact that they are actively developing new mobile-ready e-commerce options, or continuing to refine existing ones.
Some good examples of options currently available:
E4Soft's ERP system: currently being used to sell the 4th and 5th grade programs in Pennsylvania. Guests can use this platform to purchase cards that can be used at any of the 20 participating ski areas.
Liftopia offers two options: Liftopia.com and its white label Cloud Store e-commerce platform. Both options were built to be mobile-friendly for an optimized buying experience. By using either platform, resorts get access to Liftopia's inventory management system and business intelligence layer. Since Liftopia handles processing, fraud protection, chargebacks, and other payment details, it also removes the headaches associated with those things. Liftopia's business model is a SaaS-based service where the rates charged are based on the transactions that come through the platform.
Inntopia is a reservation solution for the destination business. It offers a fully integrated call center and Internet booking engine, which means you can sell a variety of products, including lodging, lessons, and lift tickets, on one storefront. Bromley, Vt., uses Inntopia to make it easy to purchase packages online and on mobile devices. A benefit of the platform is that it includes a backend system through which Bromley's call center can see what the guest sees in real time.
Online lift ticket wholesaler GetSkiTickets.com uses Inntopia's platform for its Ski-Commerce—a third-party white label e-commerce option akin to Liftopia's Cloud Store. Using this platform, a guest can purchase lifts tickets, rentals, lessons, and more, on a single itinerary.
InTouch Technology Group's new e-commerce platform uses modern user interface design, anonymous shopping (i.e. the ability to purchase without an account), streamlined checkout, and minimal barriers to purchase. NZSki is the first to implement this new product.
Snow Valley, Canada, proves that it's possible to use off-the-shelf e-commerce like Shopify—an all-in-one hosted online storefront designed to sell just about any product—to take advantage of all the latest e-commerce technology, while working with a point-of-sale company like Volante.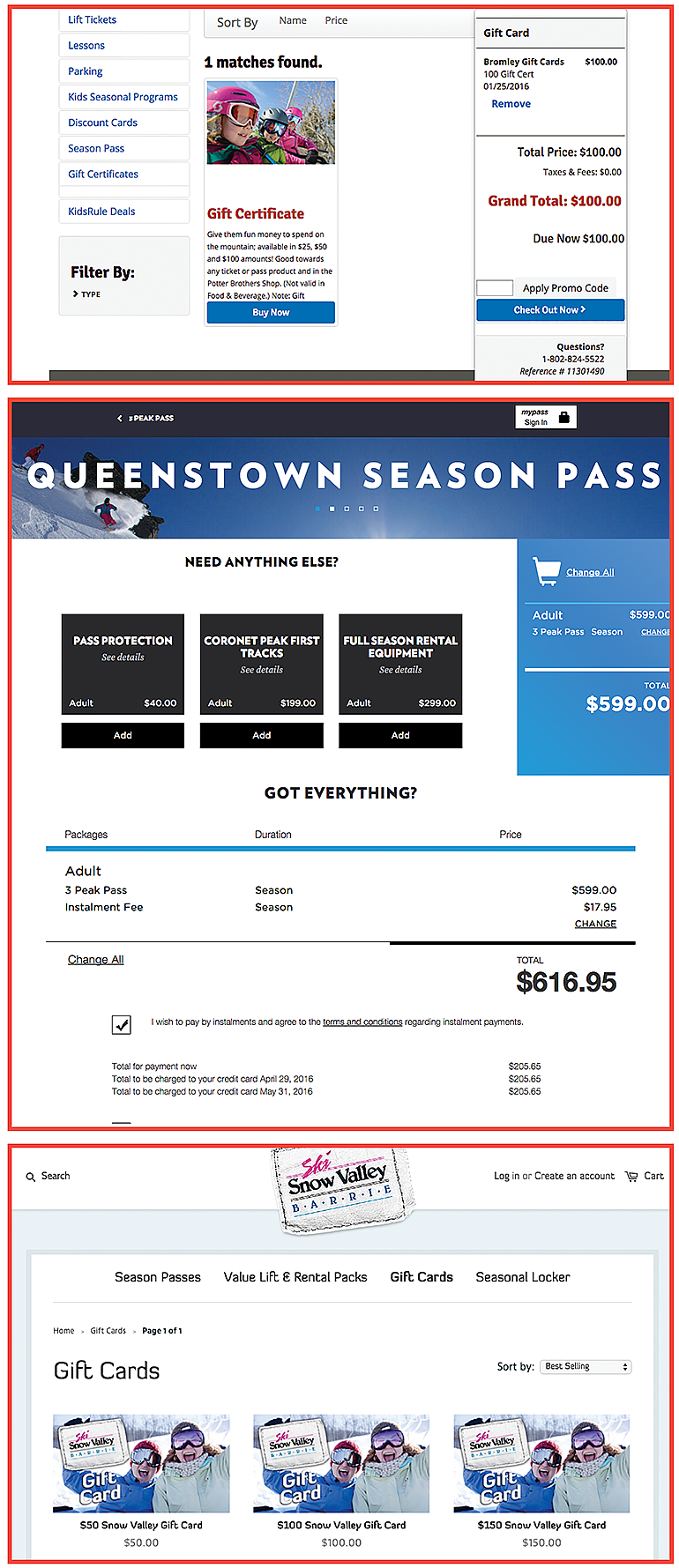 Mobile e-commerce platforms come in a variety of shapes and forms. Top: Inntopia's reservation solution, used here by Bromley, Vt., offers a fully integrated platform allowing resorts to sell tickets, lessons, and lodging all on one storefront. Middle: NZSki is the first to implement InTouch Technology Group's new e-commerce platform—designed with a modern interface and streamlined checkout. Bottom: Snow Valley, Canada, uses Shopify, an all-in-one hosted online storefront designed to sell just about anything.
The Big Question
This begs the question: If there are so many options available for mobile-friendly e-commerce, why are ski areas having a difficult time implementing them?
It seems like the answer should be simple. Set up a cart, add products, get a payment processor, watch the sales roll in. But it's not that simple, because resort transactions, aside from simply buying a lift ticket, often become very complex. Each profit center involves many variables and has different options.
To have an intuitive and user-friendly system, according to most vendors, reducing complexity is a must. However, as Jonathan Davis, operations manager of Perfect North Slopes, Ind., wrote in SAM a year ago, the nature of the ski industry is unique and needs custom solutions. "Our … challenges are real, and some that Amazon, Disney, Expedia, and the Ritz-Carlton do not face," he says. "I don't have to add names to products when buying something from Amazon, or consider the weather when buying airplane tickets off of Expedia.
"Maybe we need to evaluate what products we offer to the public and streamline them," Davis continues, "But most of our complex offerings are designed with the purpose of being accommodating to choosy, high expectation, less tolerant, more demanding customers." That sounds like a Catch-22.
One year later, the goals and challenges remain, but are coming into sharper focus.
Goals
In order for the mobile shopping experience to improve, systems should meet the following goals:
• good customer service that keeps guests happy and coming back
• online (website) and onsite (POS) systems that either integrate or talk to each other for easier management, reporting, and accounting
• future-ready systems that allow for new technology and growth: responsive design/mobile centric, social commerce, personalized marketing, federal and credit card company compliance, and secure systems to protect from intrusions
• affordable options that are easy to maintain.
Biggest Challenges
• Ski areas are so busy trying to work with legacy systems built on technology that's older than most Millennials, they may not be keeping up with the latest security, credit card requirements, or government regulations when it comes to privacy and ADA.
• Although current ski industry vendors are dedicated and have a great understanding of the unique needs of ski areas, a large influx of cash would be needed to make major changes.
• Resorts are trying to bring together dissimilar systems: lodging management, retail management, food & beverage, equipment rental, lesson reservations, ticket and season pass sales, accounting, call center management, and property management. Each one of these areas has unique needs that make bringing them under one umbrella not only difficult, but very expensive.
• Resort pricing and programs are complicated. The large variety of options available and different price points and discounts usually mean off-the-shelf solutions do not work. And, realistically, resorts will not change how they do business unless something drastic happens or something extraordinarily better comes along.
• Limited resources. One ski area alone will most likely not be able to afford the development costs to meet resort goals, especially since websites and e-commerce are still considered a marketing expense, not an annual capital expenditure.
Possible Solutions
There isn't one answer that would apply to every ski area. The most popular four options, so far, are:
1. Review the current and about-to-be-released options available from more than a dozen vendors mentioned here, as well as others not listed. Find the one that best aligns with your goals, and work directly with them to customize to your needs.
2. Initiate a joint ski area venture to create a new custom system from scratch. But that raises other questions: How do the ski areas find each other? How are the costs spread out? Will one set of specifications work for all? Who will do the development and maintenance work?
3. Current POS vendors open up their systems to more web-based developers, similar to the open source development model companies like e4Soft and Volante are using.
4. Let the POS companies focus on what they do best, and let web-based businesses do what they do best. Will vendors be open to this? Which developers are savvy enough to work within what are now considered proprietary systems?
One year ago, we started with the question, "Does the ski industry have an e-commerce 'wait' problem?" One year later, we are now asking the question, "Has there been progress in finding a solution?" You be the judge. Have we made significant progress? Or are we just making excuses?