NEW ENGLAND SUMMIT, SUNDAY RIVER, MAINE, SEPTEMBER 12-14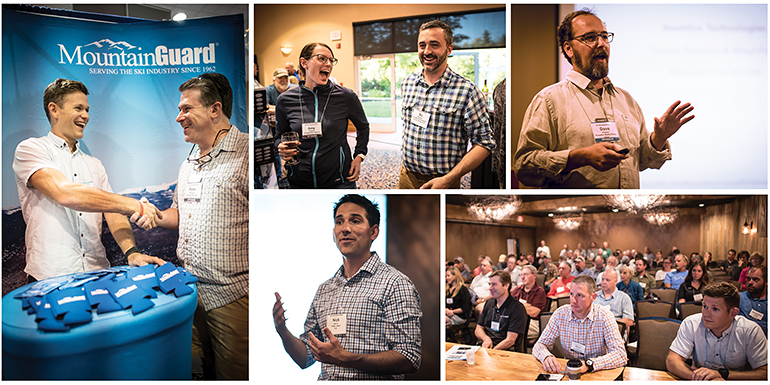 This year's New England Summit drew a large crowd of more than 450 ski area personnel, suppliers, and speakers, with 54 resorts represented. Left: MountainGuard's Tim Barnhorst meets with Ross Boisvert of McIntyre Ski Area, N.H. Top Center: Killington's Amy Laramie chats with event organizer Bo Bigelow of Ski Maine. Top Right: Propeller Media Works' Dave Gibson leads a session about web accessibility. Bottom Center: Nick Herrin, CEO of PSIA-AASI, leads attendees through a thought-provoking session addressing "Intro & Retention: Evolution of Teaching." Bottom Right: The schedule was chock full of well-attended sessions, covering everything from social media to snowmaking pumps. Photos: Dave Gibson, Propeller Media Works.
ISKINY-PSAA EXPO, CAMELBACK RESORT, PA., SEPTEMBER 18-20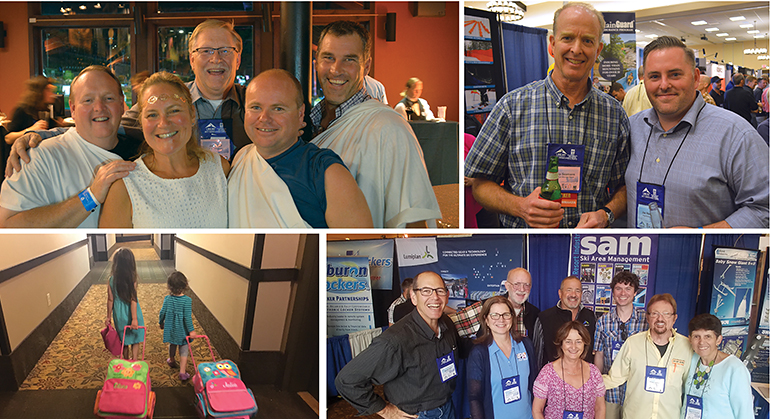 It was Pennsylvania's turn to host the annual joint expo that gathers member resorts from both the Ski Areas of New York and the Pennsylvania Ski Areas Association. Top Left: The management team from Snow Valley, Ontario, went toga. From the left, that includes Peter Hanney, Pamela Disera, John Ball, Jonathan Palmer, and Jamie Dermott. Top Right: Windham Mountain GM Chip Seamans (left) toasts with SNOW Operating founder and Mountain Creek president Joe Hession. Bottom Left: SAM's Dave Meeker brought along a couple of Camelback's key demographic to test out the waterpark. They approved. Bottom Right: Media and communicators. From left, back row, are NASJA's Larry Walsh, SANY's Scott Brandi, and SAM's Dave Meeker. In front from left are Martin Griff of NASJA, PSAA's Linda Irvin, NASJA's Iseult Devlin, Skier News' Dave Leonardi, and LSSM's Mary Jo Tarallo. Photo by Tim Wang.
SAM SUMMER OPS CAMP, KILLINGTON RESORT, VT., SEPTEMBER 5-7
The Eighth Annual SAM Summer Ops Camp took over Killington Resort in Vermont, drawing resort operators from around the world for a little fun. Top Left: Almost 200 resort-industry professionals gathered for three days to discuss the opportunities, choices, trends, and pitfalls in developing a summer activities program. Top Center: Hands-on experiences, such as assisting a guest (or Outdoor Ventures' Bahman Azarm here) during a rescue operation, are a key part of Summer Ops Camp. Top Right: Killington Resort president and GM Mike Solimano addresses the group about the resort's growing summer operations. Bottom Left: Killington's Rich McCoy chronicled the development of the base-area Adventure Center and the choices made in crafting it. Bottom Center: A panel of experts— including Jim Schneider and Dave Hunter, Steamboat, Colo., and Robin Rowe and Greg Goddard, Gunstock, N.H.—provided valuable insights during the session, "If I Knew Then What I Know Now." Bottom Right: Wachusett's Carolyn Stimpson led SAM's Dave Meeker on a white-knuckle tour of the Killington Bike Park.
Mountain Tech Symposium, Telluride, Colo., September 28-October 1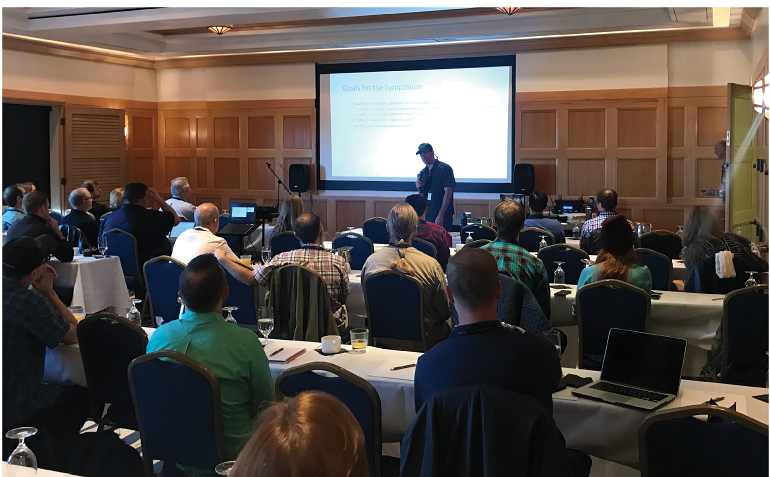 The inaugural Mountain Technology Symposium brought together more than 80 resort staff and suppliers who manage and develop the systems that collect and track money and data. The event was intended to foster collaboration and networking. Event founder Chris Jaquet, software specialist for Telluride, said the biggest takeaway for him was the sense of shared community amongst unaffiliated resorts, and their ability to collectively solve universal technology issues. Session topics included RFID, eCommerce, enterprise resource planning, and more. SAM was the official media sponsor of the event. Next year's Symposium will take place Oct. 11-14, 2018 at Sun Valley, Idaho.
MSAA Devil's Head, Wis., August 20-23

The 2017 MSAA Summer Meetings & Trade Show welcomed nearly 400 people to Devil's Head, Wis., to discuss issues of growth, attracting newcomers, lift maintenance, and more. Left: Befitting the National Ski Patrol's significant role in the Midwest, the organization was well represented. From left are newly named national executive director Meegan Mosynski, Central Division members Ken Meldahl, John Thomas, and Chris Raudabaugh; Steve Paladini, Nordic Mountain; Julie Stone, NSP Central, and national board chair Jim Woodrum. Center: Bob Lanners of Eagle Mountain Recreation Area hangs with Amy and Luke Schrab of mSnow. Right: Chris Bolek (left) and Christian Brandt (right) of Little Switzerland, Wis., meet with Rob Scheibel of White Peaks Technologies.