COPPER MOUNTAIN, CO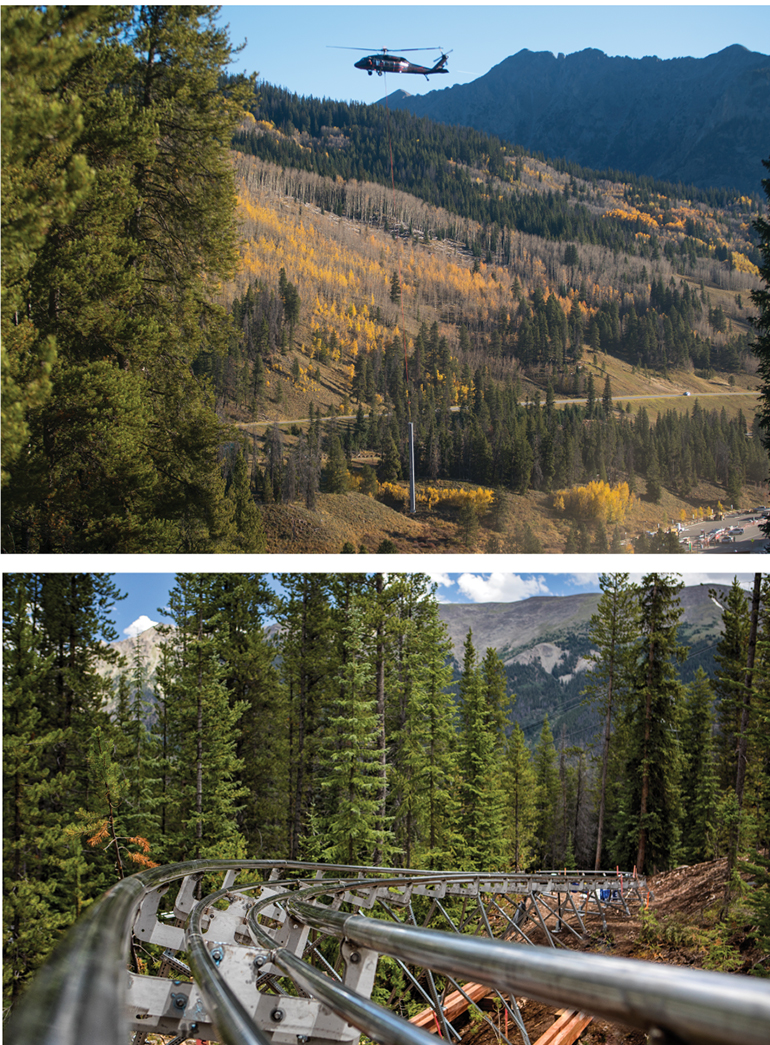 Copper undertook a far-reaching $20 million makeover this summer. The resort overhauled its beginner area, including installation of a Doppelmayr express quad, and added RFID gates from Axess at a dozen lifts, including all lifts from the base areas. For summer ops, it installed an ADG-built Rocky Mountain Coaster and an obstacle course in the village, the Woodward Copper WreckTangle. The Kokomo Express detachable quad, four Magic Carpets, and a new on-hill restaurant vastly upgrade the beginner and novice experience at Copper. The quad, along with three base-area Magic Carpets, serves novice terrain from the West Village. The 4,000-foot quad gains 360 vertical feet, and starts 200 feet closer to the village. To further make life easier for novices, the loading interval is eight seconds, rather than six, and max lift speed is limited to 4 m/s, rather than the usual 5 m/s. Ride time is cut to 3.5 minutes from what was typically 12-16 minutes due to the old lift's slow speed and frequent stops. Capacity is 1,800/hr, compared to the old lift's functional 700/hr. At the top are a new 2,500-square-foot lodge/hut called Koko's and another Magic Carpet. Koko's has seating for 200 inside and a large outdoor deck. The Rocky Mountain Coaster has a downhill length of nearly 4,000 feet, and a total length of 5,800 feet. Vertical drop is 430 feet. The coaster will operate year-round; at press time, completion was set for sometime in November. The WreckTangle offers summer guests a unique obstacle course with foam pits and cargo nets, right in the heart of Center Village. It augments Copper's summer activities, which include the coaster, a zip line, and a go-kart track.
TAOS SKI VALLEY, NM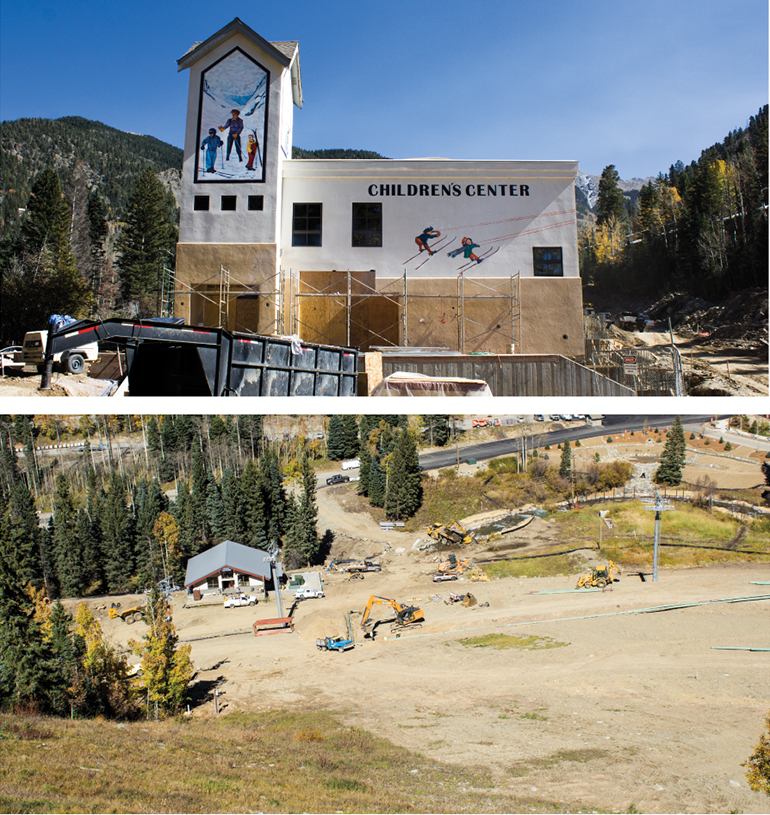 Taos Ski Valley has completely revamped its beginner area, renovated its Children's Center, and added a pulse gondola to improve transportation around the resort base area. Taos' Strawberry Hill beginner area has been re-shaped to offer five beginner zones, designed to facilitate a smooth progression for skiers and riders. Taos has partnered with SNOW Operating to offer terrain-based learning as an option to hasten the learning process. The Leitner Poma pulse gondola will shuttle visitors between the Children's Center and the central resort plaza area. The 25,000 sq. ft. Children's Center, part of the Ernie Blake Snowsports School, has been fully refurbished with more modern amenities, including a small retail area, state of the art rental shop, and a cafeteria. In all, the Center can serve 300 skiers and riders, along with 25 kids in the nursery. A streamlined check-in setup and lounge area will deliver families and kids an even more pleasant experience, particularly for drop-off, pick-up, and group lessons.
ALTA, UT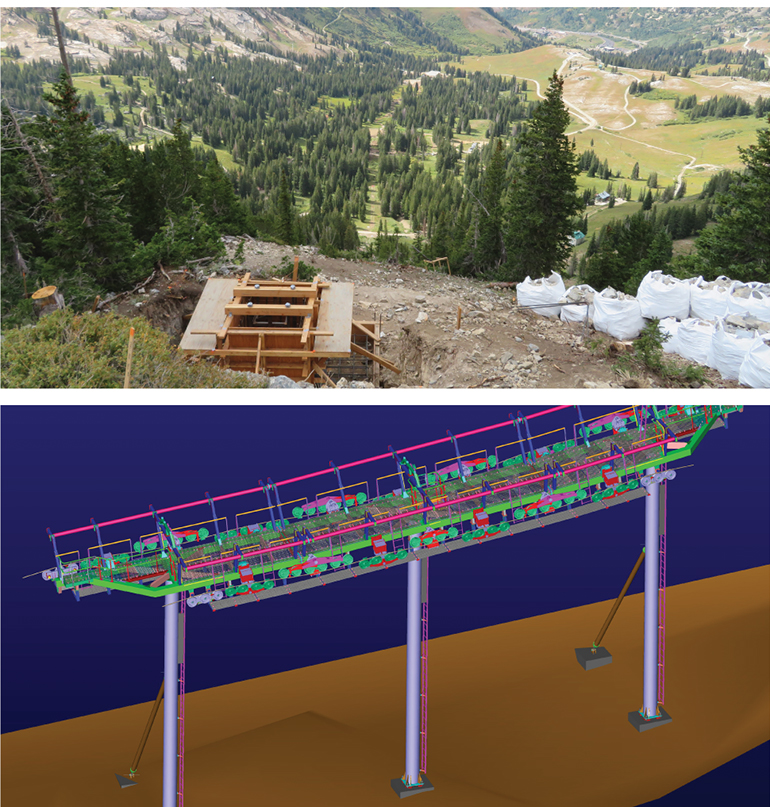 Alta has installed a new Leitner Poma detachable quad, the Supreme, to replace two older fixed-grip lifts, Cecret and Supreme, and provide high-speed access to a large swath of Alta's terrain. Perhaps the most unusual aspect of the lift, though, is that it follows the liftlines of the two former lifts, which requires an 8.1-degree bend in the line. This was accomplished with canted sheaves and three closely spaced towers rather than, as originally conceived, an angle station. The change is a thrifty one, and allowed Alta to make the upgrade with minimal impact to wetlands and surrounding areas. That also led to expedited approval from the Forest Service. If there's a downside, it's that Alta no longer has a dedicated novice lift above Alf's Restaurant; Cecret used to serve that function. The upside: intermediate and advanced skiers have faster access to a lot of terrain, and the new lift has a higher capacity. The lift is 5,000 feet long, with a vertical rise of 1,200 feet. Ride time is five minutes, and capacity is 2,400 per hour. The lift has a bottom AC drive, 800 hp motor, and active tension. To accommodate kids, the chairs are equipped with Leitner Poma's KidStop restraining bars. "We've made that [kid safety bars] standard on all our chairs," says GM Mike Maughan; only a few of Alta's older fixed-grips lack them.
CRYSTAL MOUNTAIN, WA

Now that John Kircher owns this former Kircher-family Boyne Resorts property, he's invested $5 million in on-mountain improvements for the coming season. The main effort: installation of 29 new SMI Super Puma fan guns and six Viking stick guns, and building a new pump house, which increases pumping capacity to 3,800 gpm. Water is supplied by underground 6-, 8-, and 10-inch epoxy-coated steel pipe. Snow Mountain Services installed the pump house and the pipe. The system covers lower and mid-mountain terrain, 70 acres in all, to enable more reliable early-season conditions and top to bottom coverage earlier in the season. Kircher says the system delivers "snowmaking capabilities unmatched anywhere else in the region." Crystal has also installed energy-efficient Snow-Bright lights on the Quicksilver trail, the first use of these lights at the area. The area offers night skiing on several trails Friday through Sunday evenings—until 6 on Friday and Sunday, and until 8 on Saturday. The aim is to make life easier on families and others who get a later start to their day. Three lifts serve Crystal's lighted terrain. And speaking of lifts, Crystal has purchased an additional five carriers for its base-to-summit gondola. The lift now has 28 carriers; design capacity is 36.
BRISTOL MOUNTAIN, NY
Bristol Mountain has invested more than $200,000 to widen the Upper Universe trail, adding 2,000 feet of new air and water lines for snowmaking, and supplementing the trail with 11 new energy-efficient HKD Impulse towers with KLIK hydrants. The trail expansion matches the width of the lower portion, and brings the area's recent Galaxy Pod expansion closer to completion. The area used 6-inch ductile iron pipe from PNP Pipe to replace older steel pipe. "We have been transitioning to using ductile pipe for our water lines, as it has a considerably longer life than traditional steel pipe," says mountain manager Paul Trippi. The new guns use the KLIK hydrants for fast starts and stops, to help take advantage of small snowmaking windows. In the future, the area plans to add automation to the new guns and connect them to the area's largely automated fan gun system, which encompasses 110 of the area's 125 fan guns.