By coincidence, NSAA released its Sustainable Slopes Annual Report just before the United Nations Intergovernmental Panel on Climate Change (IPCC) released its latest climate assessment, with the latter reinforcing the importance of the former.
The Sustainable Slopes Report demonstrates how participating resorts are reducing emissions, through both reductions in energy use and carbon dioxide production and the purchase of Renewable Energy Credits (RECs). Long story short: since 2011, the cumulative impact of Climate Challengers has been a reduction in CO2 emissions equal to the carbon sequestered by growing 6.5 million tree seedlings for a decade. Looked at another way: Onsite energy-related projects over the past year cut the total energy use by about one percent at resorts that inventory their greenhouse gas impacts, which include diesel and gas fuel as well as electricity.
Those numbers demonstrate a commitment to combat global warming, to be sure. But the IPCC report argues that the steps taken to date, even if adopted by the entire industry and, by extension, all of North America, are not enough to avoid significant and potentially devastating climate change.
The U.N. report says that the global temperature could rise by 1.5 degrees Celsius (2.7 degrees Fahrenheit) by 2040, compared to the global pre-industrial temperature (i.e., the temperature average for the years 1850-1900). The global temperature rise to date is about half that level. To keep global warming from rising beyond the 1.5 C benchmark, the IPCC report says, emissions must fall by 50 percent in the next 12 years (by 2030). That will require "rapid and far-reaching transitions in energy, land, urban and infrastructure (including transport and buildings), and industrial systems," it continues.
Some of those transitions are underway. While the Trump Administration has opposed steps to curb carbon production, many individual states, private corporations, and public utilities have been making moves to curb GHG emissions. Some NSAA Climate Challengers (and others) are purchasing as much renewable energy as they can, while also urging utilities to increase the amount of energy sourced from renewables. The cost of renewables has dropped and is now competitive with other sources, to the extent that some Western utilities are aiming to achieve 50 to 70 percent renewable production by 2025 or 2030. Some utility executives believe that 80 percent is possible. These steps will not solve the global problem themselves, but they are a start.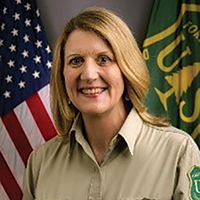 Vicki Christiansen Vicki Christiansen became Chief of the U.S. Forest Service in October after serving as Interim Chief since March. This is an important position to be filled in the USDA, especially for the mountain resort industry. More than 120 ski areas in 13 states operate on Forest Service lands.
Resorts will get a chance to meet Christiansen up close and personal, and gain insight into her attitudes and inclinations about resorts on public lands, when she speaks at the NSAA Winter Conference on Jan. 22, 2019 at Snowbird. USFS representatives are frequent guests at industry events, including NSAA conferences and SAM Summer Ops Camp, but this marks the first time a USFS Chief has participated in an NSAA event.
Her attendance might signal that Christiansen will make recreation on public lands a priority within the agency, and help streamline process and environmental reviews. It could also mean she recognizes a need to educate and familiarize herself with this aspect of the USFS mission. Most of her experience in public and private land management has come from being a wildland firefighter and fire manager for 36 years.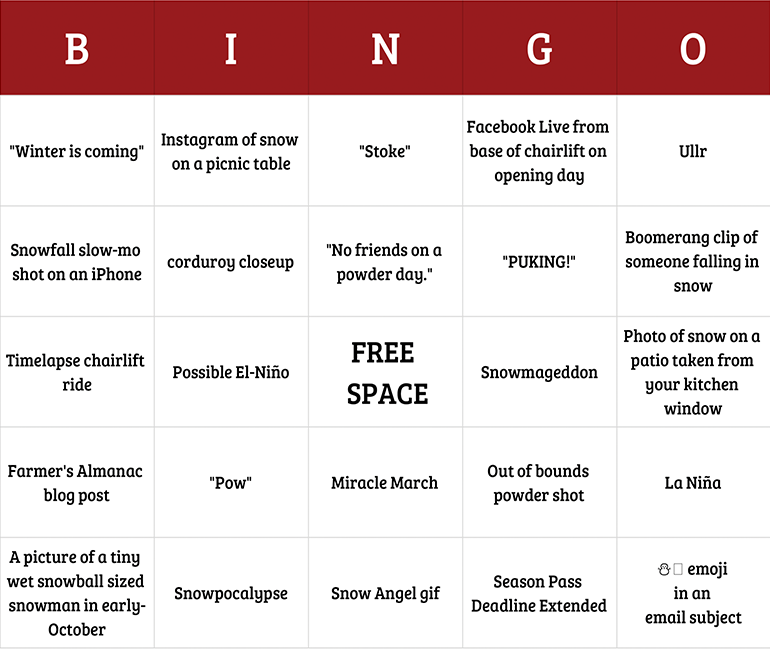 This "Ski Resort Marketing Bingo" card of ski resort cliches, created by SkiBig3 e-commerce manager Chris Lamoth (@banffchris), and spied by SAM on Twitter, is spot on. How quickly can you get B-I-N-G-O just sitting at your desk, perusing social media and resort marketing emails? We bet it won't take long.

INNTOPIA welcomed several new members to its team. Kim Leslie and Gabrielle Ransom joined the Partner Services team; Michelle Cote was hired as senior product manager; Alexandra Garbeck is now in a product owner role; Dan Piccone is a new scrum master; Steve Yerby was hired as a senior scrum master; Kevin Duff was promoted to partner services team lead; Shane Nicholson transitioned to a new position as product support specialist; Clare Secker Walker is now a QA tester/engineer for the Spinal Tap team working out of the Burlington, Vt., office. Mike Abbott will also be working out of the Burlington office as a software engineer for the DevOps team. Grace Whittle has joined the Edwards, Colo., office as the new account manager for Marketing Cloud.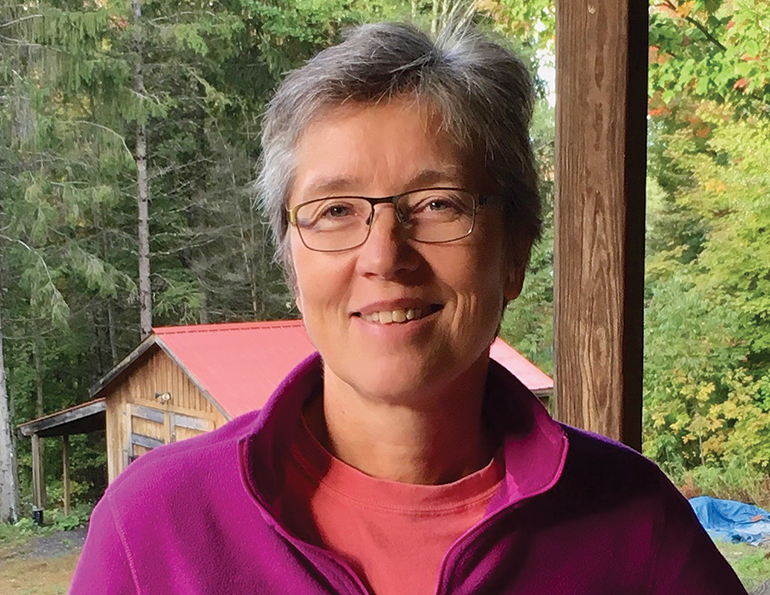 Clare Secker Walker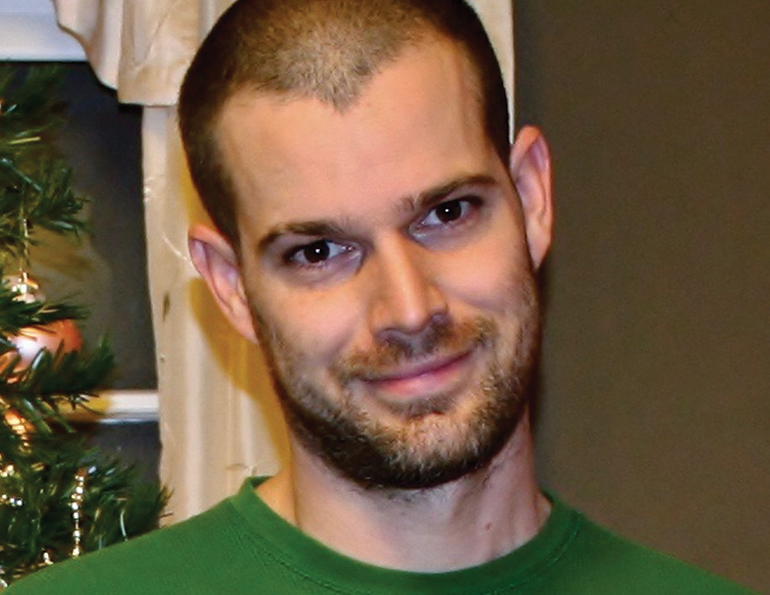 Mike Abbott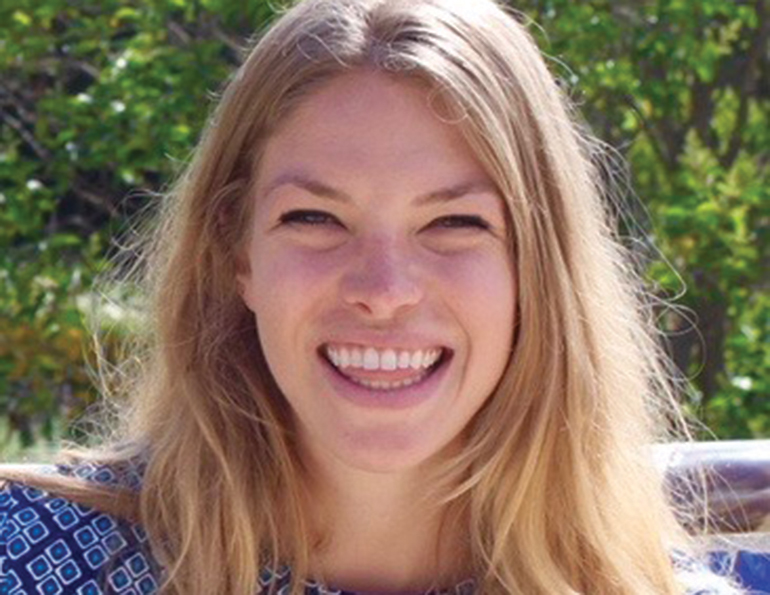 Grace WhittleKASSBOHRER ATV and PISTENBULLY USA celebrated the opening of their new regional headquarters in Auburn, Maine, on Oct. 16. The new $1.4 million building is 20,500 sq ft, 7,000 sq ft larger than its previous home, and has about three times the outdoor storage. The new facility will enhance Kässbohrer's ability to store, service and quickly fill parts orders for its New England customers.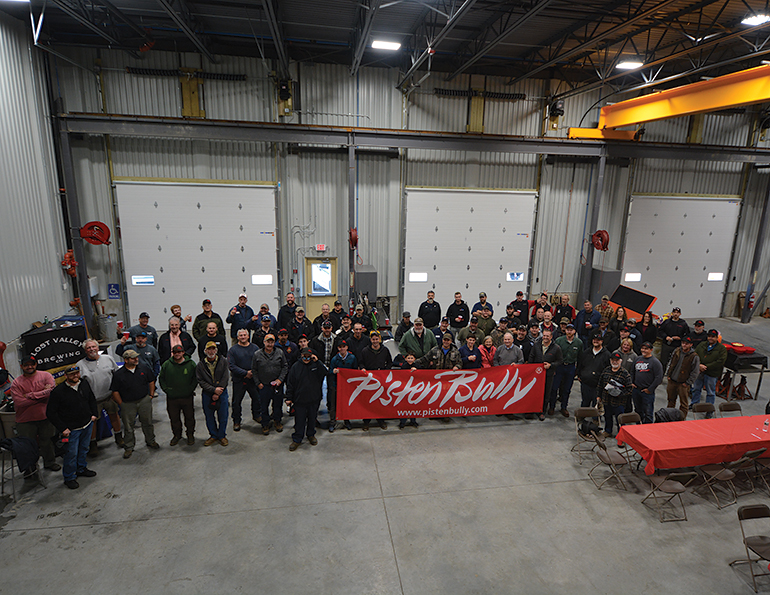 Kassbohrer ATV and PistenBully USA celebrated the grand opening of their new regional HQ in Maine.
LIFTOPIA has partnered with customer database platform Ascent360. As a result, Liftopia partners using Ascent360 will be able to seamlessly integrate guest-purchasing data into their CRM. Ascent360 can use the automated data feed to incorporate guest details from the Cloud Store and help clients create pre- and post-arrival emails, upsell emails, and customers segments.
BURTON named Sarah Crockett as its new chief marketing officer.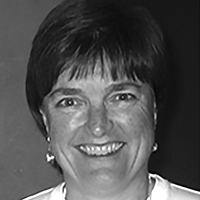 MOUNTAINGUARD promoted Mary Bozack to director of risk management and education, and hired Jesse Whitcomb as a claims and loss control specialist.
HKD SNOWMAKERS has acquired the controls, monitoring, and automation business of SNO.MATIC CONTROLS AND ENGINEERING. The new division of HKD will operate under the name iSNO CONTROLS AND AUTOMATION. The engineering division of Sno.matic will remain under the ownership and direction of company founder and president Scott Barthold.
The PROFESSIONAL SKI INSTRUCTORS OF AMERICA and AMERICAN ASSOCIATION OF SNOWBOARD INSTRUCTORS (PSIA-AASI) has developed a new educational scholarship program, the "Nancy Oakes Hall Memorial Women's Scholarship" for female members who would like to grow as leaders in the snowsports industry. Founded by former PSIA Alpine Team member and instructor Nancy Oakes Hall, the scholarship fund will award three educational scholarships each year.

SNOWVATION, INC., and SHREDBETTER.COM have joined forces to become ONLY SKY. This entity is offering a cloud-based activity booking and management platform that includes a front-end e-commerce solution in addition to an operations solution.

David J. Kenney Jr., died Oct. 4, 2018 at the age of 88. Kenney worked for the Department of Public Safety as an elevator examiner and then on the Tramway Board in Massachusetts. He also developed and ran the annual Lift Maintenance Seminar for the Massachusetts Ski Association since its inception in 1978. Kenney was the recipient of the Sherman Adams Award and the Rocky Mountain Lift Association Award.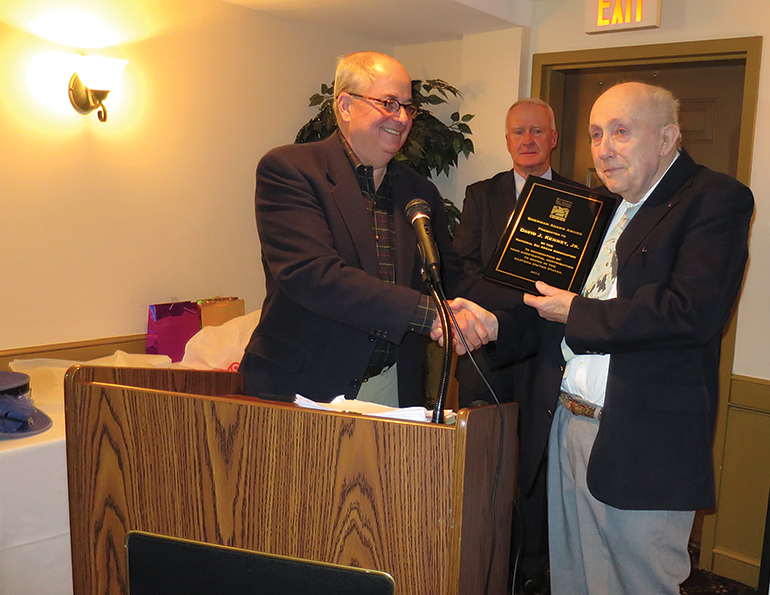 David Kenney accepting the Sherman Adams Award.

In the East, Sunday River, Maine, has made a variety of staffing changes. Jim Largess has been promoted to executive director of the Sunday River Community Fund, Peter Fallon has been promoted to the newly created position of chief engagement officer, Amanda Gallant succeeds Fallon as director of human resources, Jonathon Pasternak was promoted to risk and safety manager, and Dean Stowell is now lift operations manager. … At Cranmore Mountain Resort, N.H., Jennifer Moore is the new accounting manager and Monica Andreani was promoted to HR coordinator.
Duane Stutzman is now mountain sports director for Stratton Mountain, Vt. … Okemo's Joyce Washburn retired after 49 seasons, most recently serving as executive secretary and administrative office manager. Okemo also hired Jason Palmer as its new food and beverage director. … Jay Peak, Vt., promoted Dave Marchand to ski patrol director and Brant Owens to assistant ski patrol director. Kirk Borodaeff has been hired as terrain park manager. … Dave Kulis is the new director of sales and marketing at Windham Mountain, N.Y. … Haley Ripa has joined the sales and marketing team at Mount Peter, N.Y. ... Mount Southington, Conn., named longtime director of racing Duane Bass as its new general manager.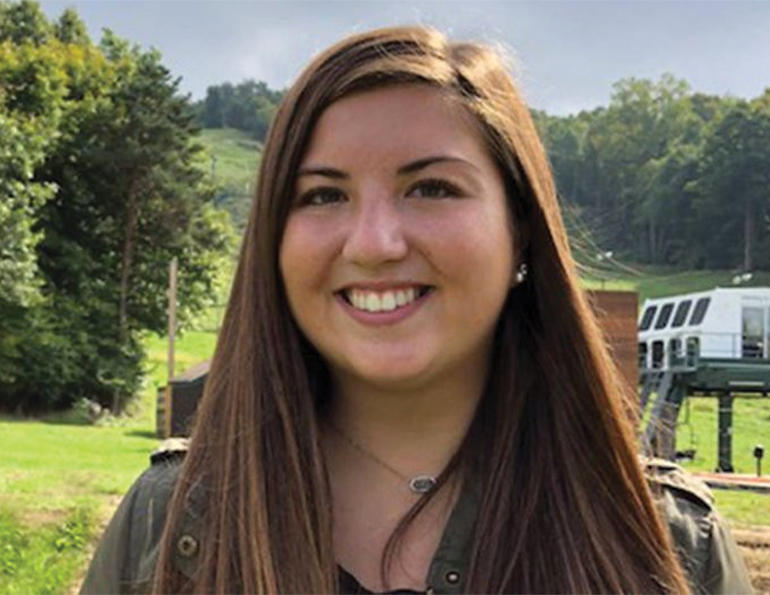 Haley Ripa, Mount Peter, N.Y.
In Utah, Bob Wheaton is transitioning to a senior strategic advisory role at Alterra Mountain Company. Todd Shallan will succeed Wheaton as president and COO of Deer Valley Resort. … Kevin Stickelman has been appointed interim chief executive officer of the National Ability Center following the departure of Gail Barille. … Snowbird's longtime president and CEO Bob Bonar is retiring, along with senior vice president and CFO Tom Jones, and director of village operations Jerry Giles. Dave Fields has been promoted to president and general manager and Nina Mahak has been promoted to director of village operations. … The Spa at Stein Eriksen Lodge in Park City named Jaimie Peterson as its new spa director.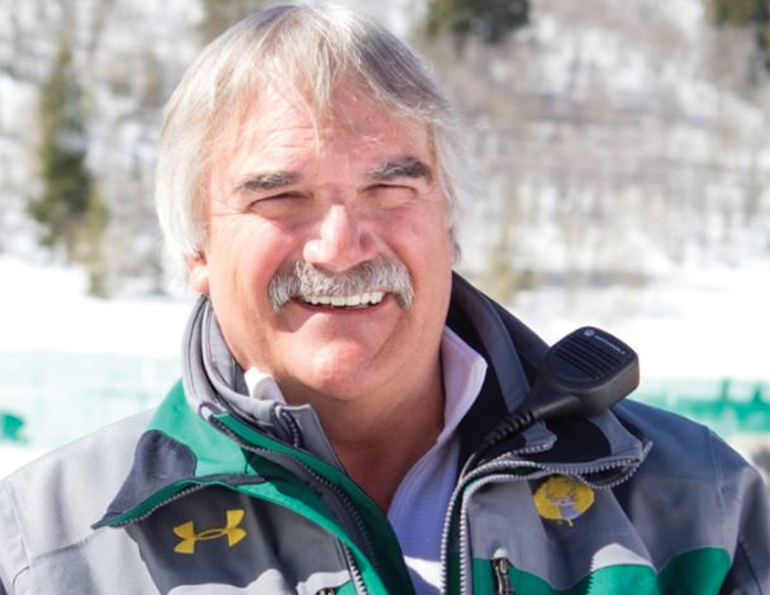 Bob Wheaton, Alterra Mountain Company.
Elsewhere in the West, Sun Valley Resort, Idaho, has made several staffing changes: Mike Davis has been promoted to ski patrol director, Kate Elgee was promoted to art director, while Devon Wesley and Alan Dickerson were both elevated to the role of director of restaurants, each overseeing a portfolio of the resort's dining outlets. Tim Sullivan assumed the Village Station manager position and Mara Smith is now manager of the Sun Valley Club. Mayra Gomez has become director of housekeeping following the retirement of Mike Crotty, who was with the resort for 25 years.
At Schweitzer Mountain, Idaho, activities and events director Mary Weber-Quinn retired after 25 years, Dani Demmons was promoted to the newly created position of director of family activities and programs, Kellie Pierce Marshall is now hospitality manager, Jordan Hansen assumed the role of resort executive chef, and Davey MacFarlane was promoted to lift maintenance manager.
Linton Judycki has ascended to the role of general manager of Red River Ski Area, N.M., succeeding his uncle, Denny Judycki. … Greg Finch has been named COO of Granby Ranch, Colo. … Devil's Thumb Ranch, Colo., has welcomed a new culinary team: Michael McDonald is now executive chef, Taylor Houston is the new pastry chef, and John Leslie is the new executive director of F&B. ... Dan Healy is now snowsports school director for Sierra-at-Tahoe, Calif.
In the Far West, Alyeska Resort, Alaska, has promoted Garth McPhie to mountain services manager/assistant general manager, and Jodie McPhie to mountain learning center director. … Frank DeBerry has been named president and COO of Crystal Mountain Resort, Wash., moving west from Snowshoe, W.Va., and remaining within the Alterra family of resorts.
In Canada, Rabbit Hill Snow Resort, Alberta, has promoted Derek Look to general manager and Doug Pettigrew to assistant general manager. Jocelyn Wetterberg is now marketing manager. Jim Sutherland will remain as president of the resort. … Revelstoke Mountain Resort, B.C., has named Dave Brownlie as its new president. Brownlie takes over for recently retired Graham Rennie. ... Panorama Mountain Resort, B.C., has promoted Ryan Stimming to mountain operations manager and CJ Matthews Dickson is now risk and safety manager. The resort also hired Guy Paulson as global sales and business development manager, Patrick Fournier joins the team as director of resort and mountain operations, and David Auer is the new director of food and beverage. … Whitewater, B.C., has promoted Rebeckah Hornung to inside operations manager and has hired Peter Lonergan as sales and marketing director. … Doug Chimuk has returned to the role of marketing manager at SilverStar Resort, B.C.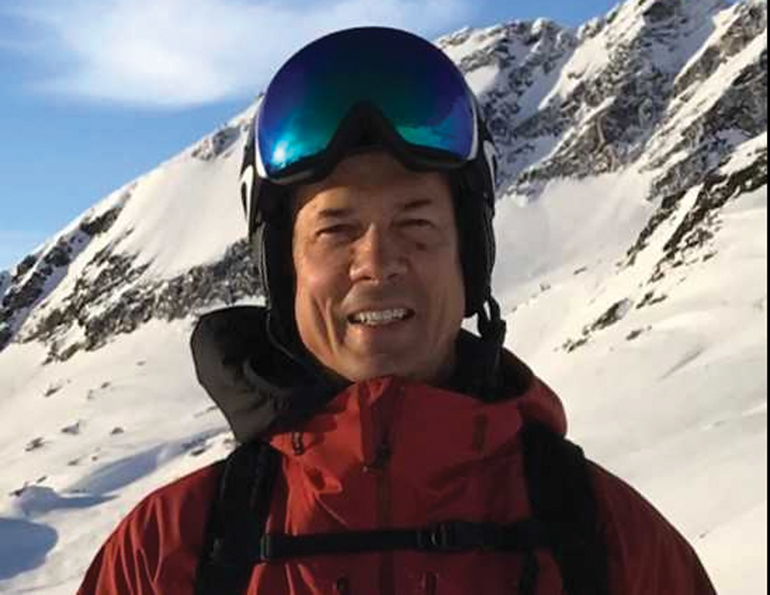 Dave Brownlie, president of Revelstoke Mountain Resort, B.C.
Boyne Resorts has selected three executives to lead operations for the company's portfolio, based on geography and business specialty: Rick Kelley has been appointed COO of eastern and Michigan mountain resorts, John McGregor is now COO of western ski areas and Tennessee attractions, and Barb Rooney, senior vice president of lodging, spa, and owner services, is expanding her oversight to include the company's Inn at Bay Harbor, Mich.
Ski Vermont hired Adam White as its new director of communications.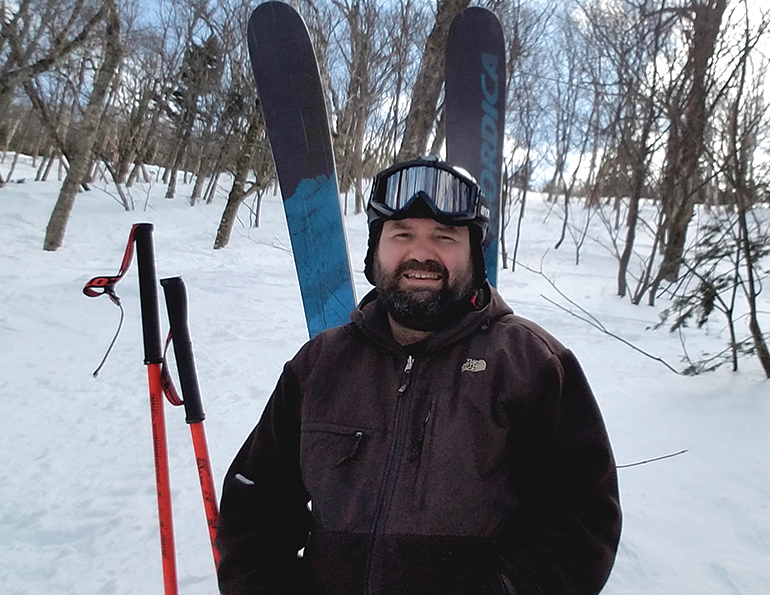 Adam White
NSAA welcomed Adrienne Saia Isaac to the newly formed marketing and communications director position. Isaac most recently served as marketing and communications manager at Arapahoe Basin, Colo.
Adrienne Saia Isaac.

C.W. Craven was awarded the Jimmy Floyd Award at the ASTM F24 meeting in San Diego in October. This honor is bestowed on an individual who has given years of exemplary service to the F24 committee and the amusement industry.
Jim "JB" Bartlett was inducted into the Michigan Ski Hall of Fame. Bartlett was a founding member and the first chairman of the Michigan Snowsports Industries Association. He was most recently general manager of Nub's Nob. … Chip Perfect of Perfect North Slopes was presented with the Jim VanderKelen Lifetime Achievement Award.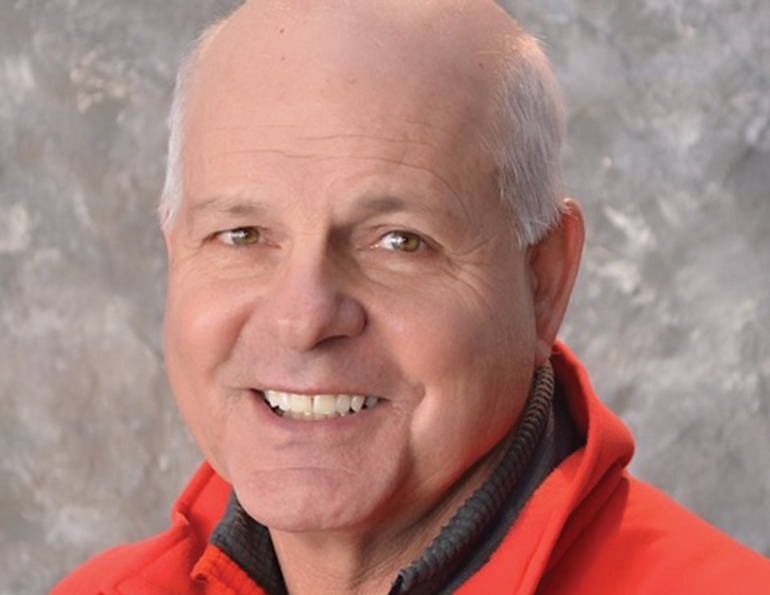 Jim Bartlett
The Vermont Ski and Snowboard Hall of Fame announced the Class of 2018: Foster Chandler, former vice president and director of marketing at Killington Mountain Resort, Olympic biathlete Dennis Donahue, Olympic freestyle medalist Hannah Kearney, Paul Johnston, former vice president of Stratton Mountain Resort, and Pico Peak founders Janet and Brad Mead. Kelly Brush Davisson will receive the First Tracks Award and SAM contributor Peter Oliver will receive the Paul Robbins Journalism Award. Killington Resort will receive the first VTSSM Community Award.
The U.S. Ski Hall of Fame Class of 2018 inductees include longtime resort leader and current Telluride Resort president Bill Jensen, Tom Kelly, 32 year veteran of U.S. Ski and Snowboard, SIMS Snowboards founder Tom Sims, 10th Mountain Division veteran Don Henderson, and several accomplished skiers: Olympic ski racer Bode Miller, super-G Bronze medalist Andrew Weibrecht, four-time Women's World Cup mogul champion Hilary Engisch-Klein, and extreme skier Kristen Ulmer.

In your September issue, SAM had a great article by Jason Blevins called "Growing Together" about creating more snow sliding participants. I loved some of the creative programs he cited, though it's tough to know how effective they've been. Would we, for example, have fewer participants if not for the programs? Maybe they're working even when there's no clear program-related growth.
I finished the article and thought there was something missing: It lacked any mention of climate change or year-round business. Some years ago, I wrote an article in SAM ("Advantages in Summer Activities: Terrain, Lifts, and Gravity," from the May 2015 issue) on how year-round business was evolving and why it was important. My point was that mountain resorts (I refuse to refer to them as "winter" resorts any more, as a matter of principle and a nod to reality) could no longer have a mindset that addresses growing snow-sliding separately from climate change and year-round business.
Sure, there will be some separate tactics around each. But there's a need for a strategic way of thinking—a mindset—that acknowledges and addresses how the three are interrelated.
I assume most people in the industry believe global warming is a reality that we have to deal with, whether we believe it's human-caused or not. By itself, global warming will overall reduce participation, if only because there's less snow and shorter seasons. That means that some resorts' survival, or at least their financial good health, will depend on getting people to come and participate in activities year round—activities that are not snow sliding or snow sliding related.
Certainly, many resorts have already figured out the need for year-round business. Winter brands are thinking about it, too. If you are Burton, just to pick an example since it was mentioned in the article, you own a brand that is known, successful, and respected by people who go to mountain resorts. But Burton has had some trouble taking its brand beyond snow sliding. Many brands have found it's hard to get traction as you get further away from your historical market. I'd suggest Burton and similar industry brands do brand extensions targeting nonwinter activities at resorts. They'd be targeting at least some people who know their brand and story.
Perhaps other organizations should consider a similar move, perhaps even changing their names.
I hope this notion gets people thinking. It's good to ask, "How can we increase snow sliding participation?" But it's not an adequate or complete question as you strategize about your resort.
As always, I hope to hear from anyone who disagrees with me (head to jeffharbaugh.com). I've never figured out how you can learn anything by only talking with people who agree with you.