FROST FIRE, ND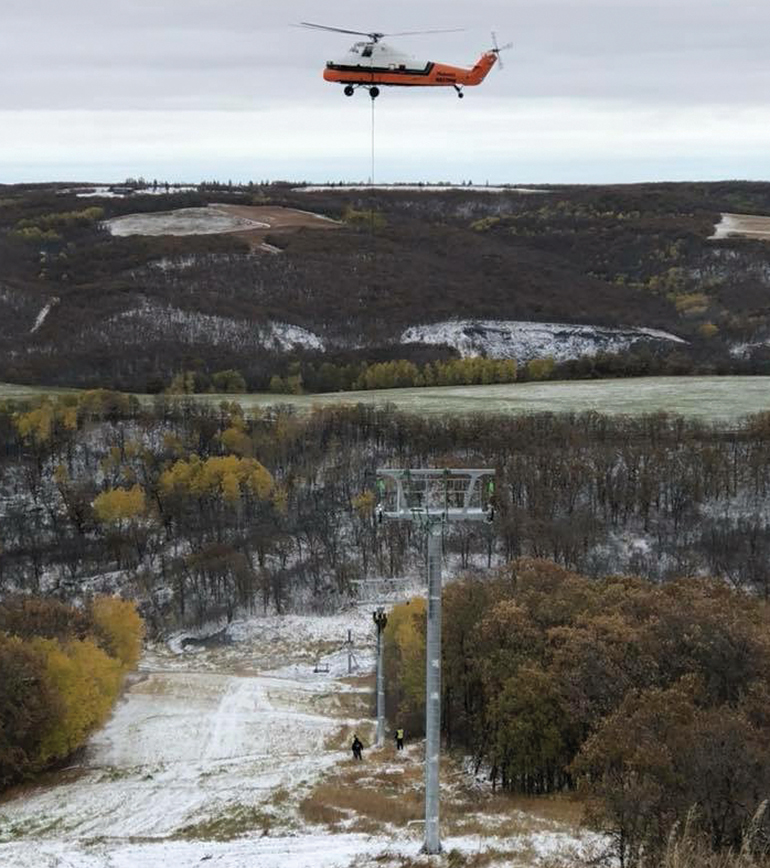 The eight lift towers for the new $1.3 million fixed-grip Skytrac quad at Frost Fire Park were installed by helicopter in October, and the local community turned out to watch despite unseasonably cold weather. That's a good omen for the recently reborn area. The new lift came to be after Frost Fire's 1950s Riblet triple broke down during a maintenance check ahead of the 2017-18 season. The Pembina Gorge Foundation, the non-profit that bought Frost Fire in 2017, could have opted for a refurbished replacement lift at a cost of $400,000 to $600,000; the foundation went with the new 57-chair Skytrac instead. The chair will help grow Frost Fire's year-round operations, offering more efficient access to its 25 skiable acres in winter and its growing mountain bike trail network in summer. The lift rises 343 vertical feet, spans 1,682 feet, and is powered by an 87 hp VFD top drive. Capacity is 1,800 riders per hour. Installation was scheduled to be complete by mid-November.
WEST MOUNTAIN, NY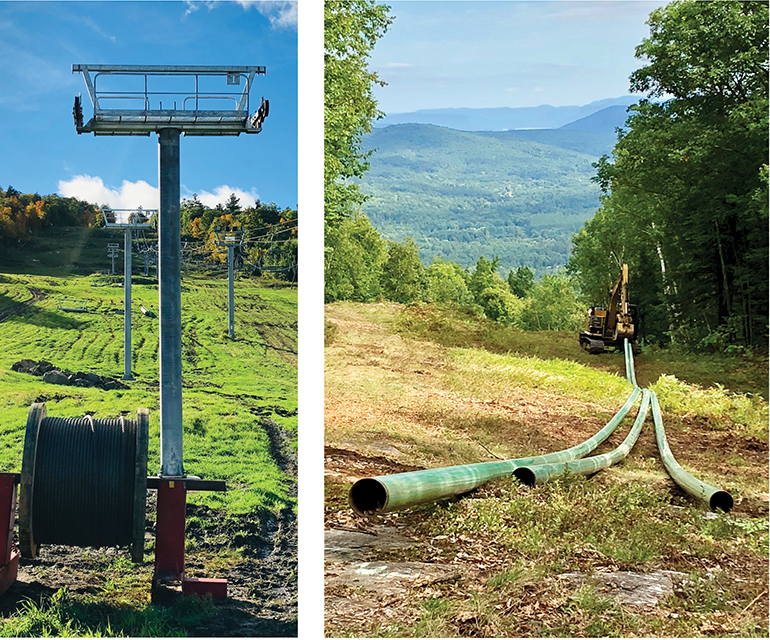 Over the past five years, West Mountain has invested $14 million in capital improvements, including $2 million in snowmaking upgrades, and another $1.5 million in a new lift and base lodge remodel this year. West added 10,000 feet of epoxy-coated, steel snowmaking pipe, two vertical 400 hp Gould pumps, and VFD to the new and two existing pumps. West also installed 49 fixed SMI Polecat fan guns and 96 fixed SMI Grizzly stick guns. To save time, instead of pouring large tower bases, the resort hired a blasting company to pre-drill holes in the ground at each gun location. Crews then preset the steel pipe and steel tubing on which the guns would be mounted. With all this work, West hopes to open the whole mountain by Christmas. And it will open with a new $900,000, 1,300-foot-long Partek quad that replaces a 1968 Hall double. The new Face Quad has an uphill capacity of 1,800 riders per hour and will rise 311 vertical feet from the base area. The $600,000, 6,000 sf remodel of the base lodge features a redesigned horseshoe-shaped cafeteria that is expected to double F&B revenue. Next up: in spring 2019, West will install a $2 million zip line and $750,000 six-course aerial adventure park designed by Tree-Mendous.
BIG WHITE, BC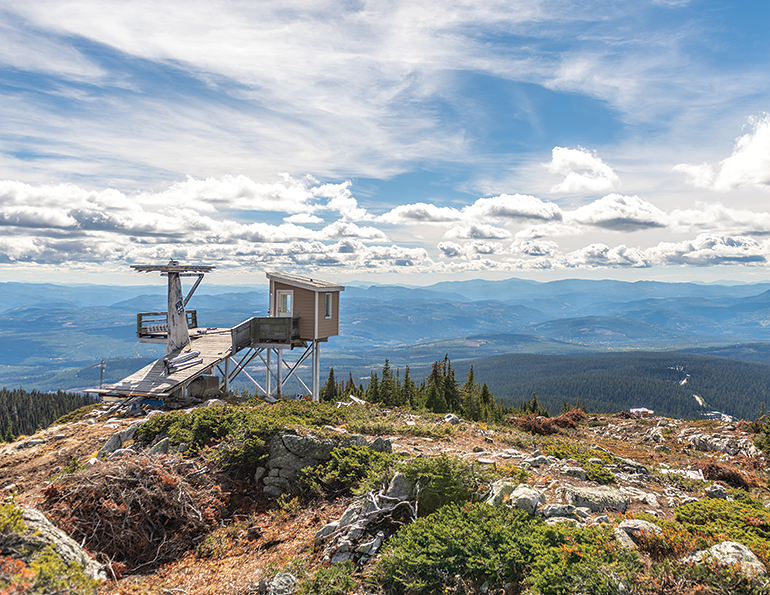 Big White has replaced its aging upper-mountain Powder Chair, a triple dating to 1979, with a new fixed-grip Leitner-Poma quad. The area also expanded the tunnel that passes under the Hummingbird trail and connects different portions of the slopeside village, and expanded its bike park. The CAD$3.9 million Powder Chair is 3,000 feet long and serves 1,000 vertical feet of terrain. It has a capacity of 2,400 passengers/hr. Tower and terminal work was largely completed in September, and the lift is expected to be ready for opening day. The new tunnel has expanded from a width of 25 feet to 60 feet, to accommodate both increased skier traffic above and foot traffic below. Crews were on schedule for a mid-October completion of the $1.5 million project. The resort invested $1.1 million to add three new trails, including blue- and black-rated flow trails, and a slopestyle course to its mountain bike operations. A new hiking trail in the alpine affords views of the Monashee range. Big White also constructed the first of three buildings for employee housing this year.
ARAPAHOE BASIN, CO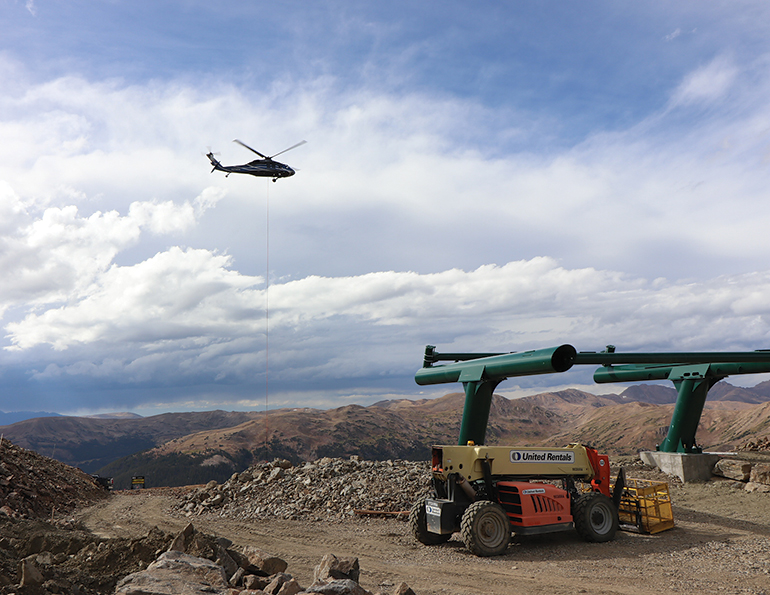 Arapahoe Basin Ski Area will fully open its 468-acre terrain expansion into two separate pods, the Beavers and the Steep Gullies, significant additions to the resort's other 940 acres. A new Leitner-Poma fixed-grip quad, the Beavers, serves the 339 acres of the pod's blue and black trails, glades, and above-treeline slopes. It's 4,100 feet long with 1,500 vertical and a 400 hp top drive and tension. Capacity is 1,800 riders/hr. A-Basin performed the trail and lift work in an environmentally sensitive way. To sustain lynx habitat, no work road was cut into the new terrain; helicopters delivered equipment and removed trees cut for the open trails. The trees were flown to the parking lot, chipped, and shipped to a biomass plant. Use of a spider hoe to dig tower foundations, grind stumps, and masticate brush also helped keep the construction footprint light, and tree removal overall was kept to a minimum. Crews also did a lot of pruning and cleaning up of slash and downed timber. With A-Basin's short construction season, the whole project required two years to complete. In 2017, crews did most of the trail work and prepped the lift site. All work was finished this summer and fall. The Steep Gullies, 90-plus acres of double-black chutes, are adjacent to the new Beavers terrain and accessed from the Pallavicini lift. Skiers and riders must make a 20- to 30-minute hike to return to the main area.
WHISTLER BLACKCOMB, BC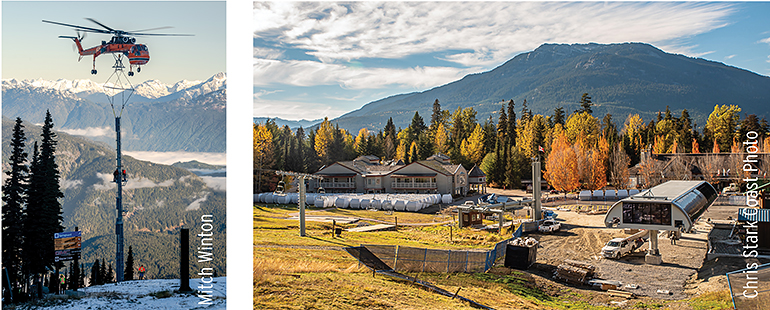 Vail Resorts is investing a whopping CAD$66 million (USD$52 million) at Whistler Blackcomb this year, much of that on three new Doppelmayr lifts at the heart of the resort. A massive new 10-passenger gondola replaces the Wizard and Solar lifts that formerly provided access to the terrain radiating from the Rendezvous Lodge at Blackcomb, and a new express quad replaces the nearby Catskinner triple. Over on Whistler Mountain, a six-passenger express chair upgrades the former Emerald Express Quad in the Family Ski Zone. Together, the lifts increase capacity by more than 40 percent compared to the lifts they replace. The gondola is actually two large machines in one; two separate lifts are joined at a midstation, and they can be operated separately as well as together. The top terminal is at the Rendezvous Lodge, adjacent to the Peak 2 Peak gondola that connects Whistler and Blackcomb. The lower portion is 6,200 feet long with 1,600 vertical and a 1,046 hp top drive. The upper portion is 6,470 feet long with 2,300 vertical; it has a 1,350 hp drive. Combined vertical is 3,900 feet. The new Catskinner Quad follows a modified lift alignment to improve access to the terrain parks and teaching terrain below the Rendezvous Lodge. The Emerald Express six-pack increases capacity by 29 percent in Whistler's upper-mountain Family Ski Zone. Top terminal is adjacent to the Whistler terminus for the Peak 2 Peak and the top terminal for the Whistler Village gondola, as well as the Roundhouse Lodge. The Whistler Mountain Bike Park continues to grow, too; it added 21 km of biking trails in summer 2018.
SNOWSHOE, WV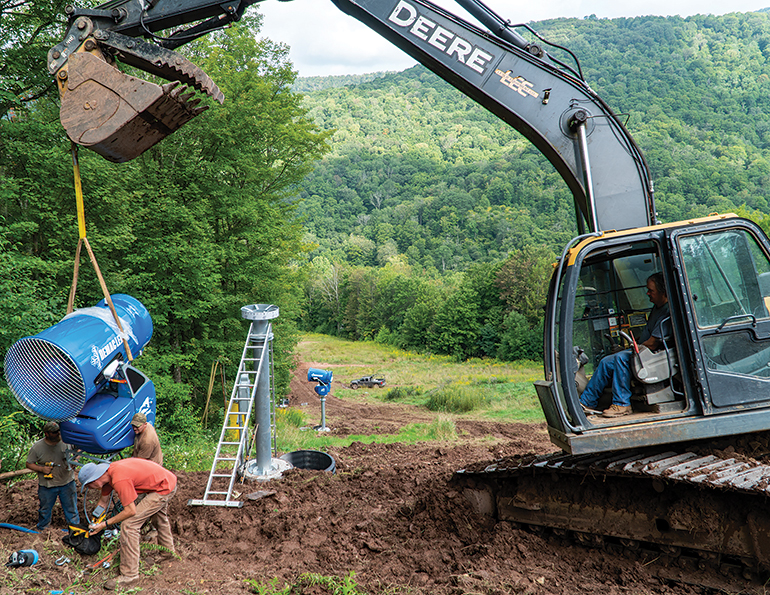 his summer, Snowshoe began the $3.5 million phase one of a two-phase plan to replace older energy-sucking snow guns with new higher-flow, higher-efficiency models, including 90 SnowLogic DV7 sticks and 74 tower-mounted DemacLenko Titan 2.0 fan guns. While much of the pipe for the new guns was installed last year, the DemacLenko Titans required new electrical infrastructure. So Snowshoe's crew ran armored-cable electrical lines through the woods by hand. A wet season caused some delay with excavation and installation, but the mountain is hoping to start making snow by late November. The upgrades are expected to cut energy cost and consumption significantly. The DV7 guns use less than 10 percent of the energy consumed by traditional snowmaking equipment and have better thrust than previous models. With the new guns—and increased automation—the resort anticipates it will return enough kWh to the electrical grid to power 500 homes for one year. The snowmaking itself enables Snowshoe to open core trails quicker and earlier, and to resurface them more efficiently throughout the season. Snowshoe aims to increase its percentage of open terrain in mid-December from 50 percent to 75.
KILLINGTON, VT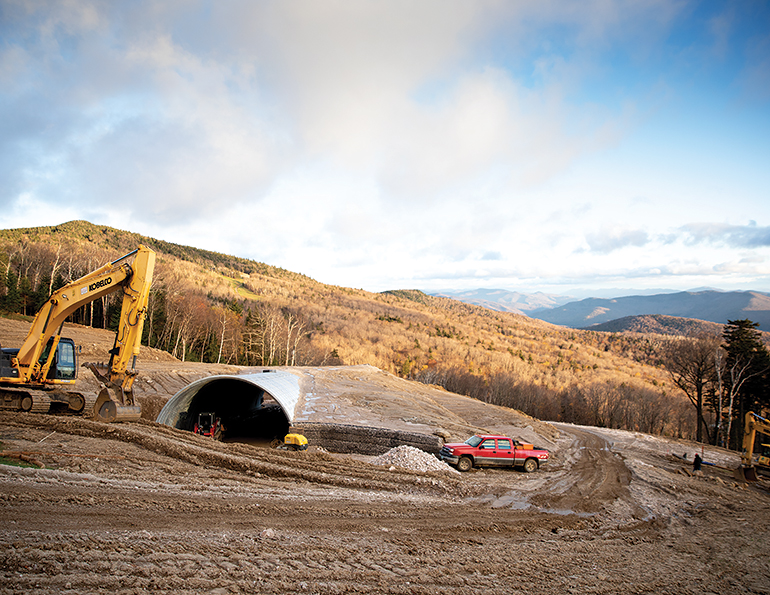 Killington made $25 million in capital improvements ahead of the 2018-19 season. The mountain's uphill capacity is expected to increase to 48,000 riders per hour; downhill improvements will expand intermediate terrain offerings and reduce crowding. To increase flow and ease congestion in high traffic zones, Killington has widened three trails, rerouted a key intermediate trail, Great Northern, and constructed three new tunnels and bridges at busy intersections. A fourth bridge, which is still under construction, will be ready for the 2019-20 season. Killington upgraded the K-1 Gondola, with a new haul rope and new eight-person Leitner-Poma Sigma cabins. And the resort installed a new six-person detachable Leitner-Poma bubble chair to replace the Snowdon Quad. The new lift spans 4,400 feet and climbs 1,100 vertical feet in four minutes, accessing predominantly intermediate terrain. It's powered by a 700 hp VFD top drive, and has active bottom tension. The Snowdon Quad, also Leitner-Poma, is being refurbished and installed on South Ridge. It will load and unload in the same place as the old South Ridge Triple, with a span of 3,900 feet and a vertical rise of 875 feet. Restoring lift service at South Ridge is part of a larger Bear Mountain revitalization plan, a $60-70 million, two-phase development project that includes a remodel of the Bear Mountain Lodge and the construction of a new ski-in, ski-out village, slated for 2020. In addition, this summer, the resort installed 44,000 feet of new and replacement steel snowmaking pipe, and added Axess RFID gates at both Killington and Pico.
MT. SPOKANE, WA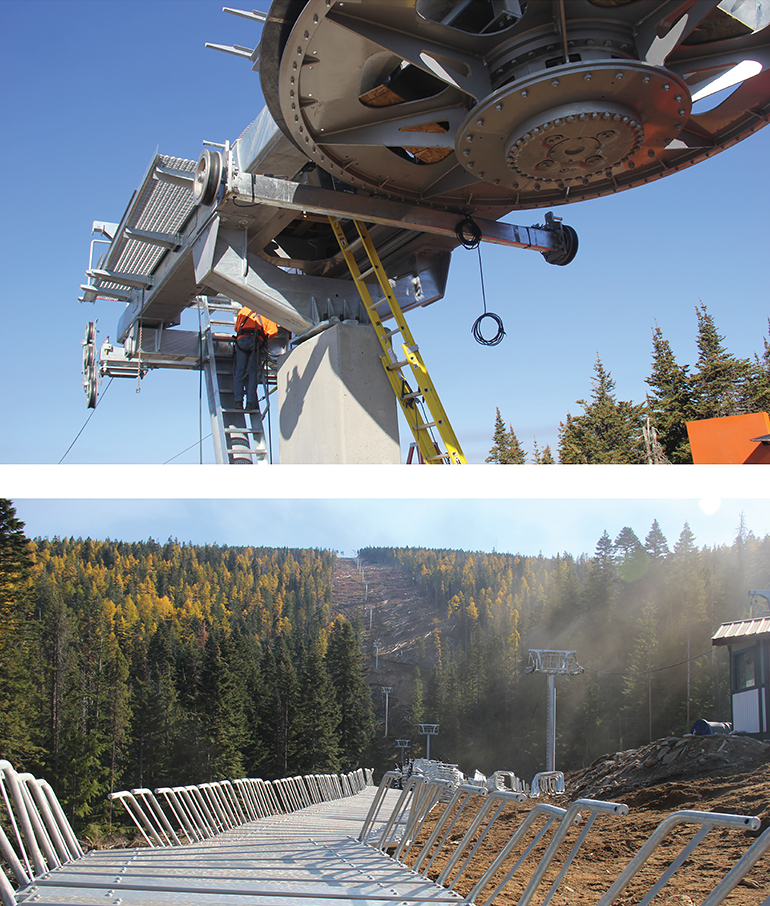 This venerable publicly-owned resort, founded in 1932, is adding new terrain and a $2.5 million Skytrac triple to serve it. The expansion has been a long time coming: plans were initially presented in 2003. The resort began cutting and grading seven runs on the backside's 279 acres in 2017 and completed that work this year. The mostly intermediate terrain is the site of the original resort, which was relocated after a fire destroyed the base lodge in 1952. The Skytrac triple is nearly 4,900 feet long with a 1,440-foot vertical, making it the biggest lift ever built by the company. It has a 400 hp top drive and top tension. Capacity is 1,200 passengers an hour, and it operates at a quick 500 fpm. A new 3,800 sf snowsport and skier service center at the base of the mountain is conveniently located near the parking lot and is designed to make first-timers feel more comfortable. The center offers a viewing area from which parents can watch their kids. And to give newcomers a relatively relaxed and secluded introduction to snow sliding, it's separated from the main lodge by a 17-foot-high, 200-foot-long retaining wall. A conveyor lift connects to the main lodge and also serves learning terrain outside the center.
BRETTON WOODS, NH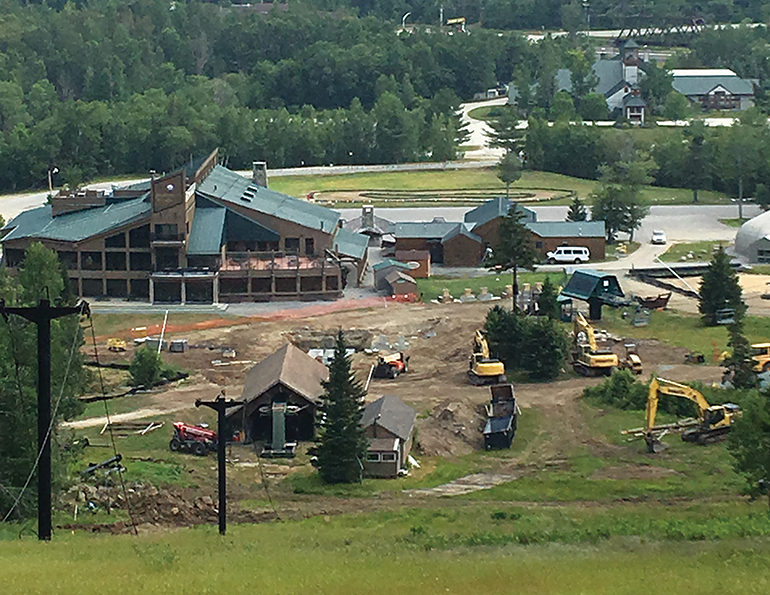 As part of a $15 million expansion of its four-season operations, Bretton Woods is installing an 8-passenger Doppelmayr gondola and building a new 14,000 sf restaurant and wedding/conference venue. The gondola will be completed this fall, the restaurant, next summer. The nearly 6,000-foot-long lift climbs 1,300 vertical feet, from the resort base area to a point just below the mountain's summit, with an initial capacity of 1,500/hr. That will rise to 2,600 eventually. Running at 1,200 fpm, ride time is five minutes. The gondola will serve skiers and riders in winter, and mountain bikers and others the rest of the year. It follows the route of an old 3,000-foot-long 1973 Heron Poma double chair that has been removed. A base area building was relocated to make room for the bottom terminal, and a summit patrol building was demolished in favor of the top terminal. The new two-story lodge, tucked 100 feet below the ridgeline and adjacent to the new gondola, will face Mount Washington with large glass windows and an outside deck. It will be built with heavy timber and stone, with a smaller restaurant and coffee shop along with skier services on the first floor and a 100-seat restaurant on the upper floor. The gondola is on schedule for a pre-holiday opening. All concrete work was completed in September, and the terminals in October. Crews completed the foundation for the restaurant this summer, and work will wrap up next year.
COPPER MOUNTAIN, CO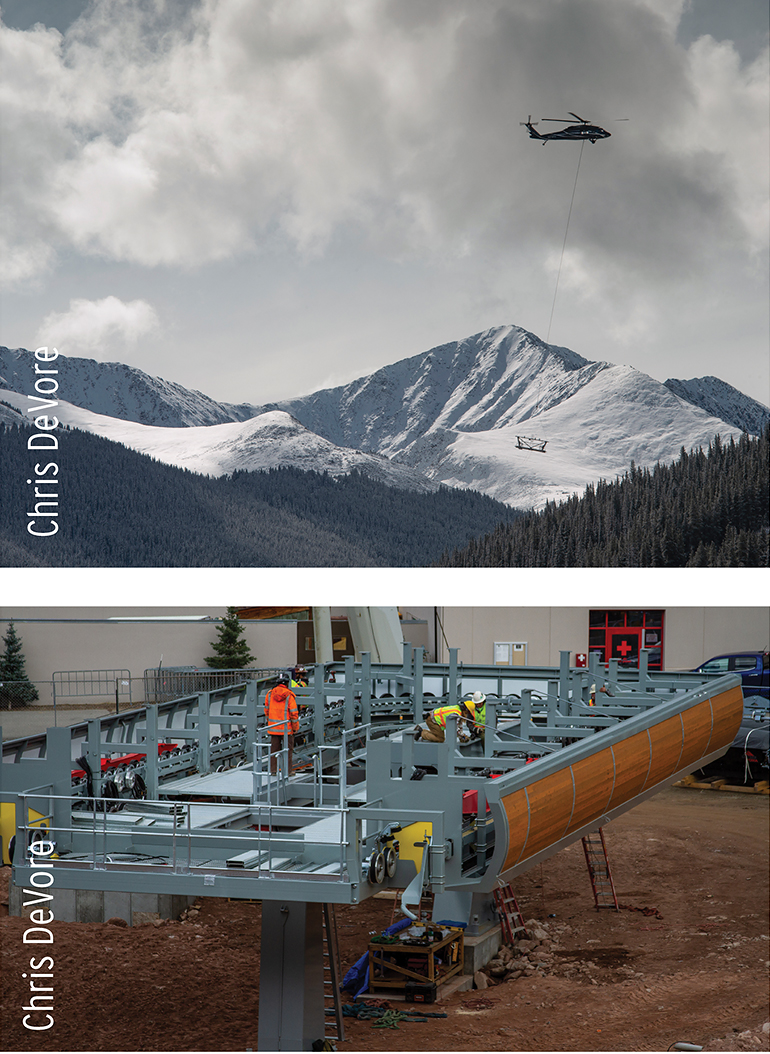 For the 2018-19 season, Copper Mountain is transforming mountain access at its Center Village with two new and impressive lifts that enhance guest comfort and significantly increase capacity from the main base area: the American Flyer high-speed six-pack bubble chair, and the American Eagle telemix—a combination of six-pack chairs and 8-passenger gondolas. Both these Leitner-Poma lifts employ the company's new Direct Drive system that reduces noise and energy consumption, and are the first such lifts in North America from Leitner-Poma. The American Eagle telemix is 6,200 feet long with a vertical rise of 1,500 feet, powered by a 1,000 hp motor. Every fifth carrier is a gondola cabin. The Eagle will transport 3,400 riders/hr, an increase of more than 40 percent. The American Flyer bubble six-pack is nearly 10,000 feet long with a 1,900-foot vertical rise; it's powered by a 1,200 hp motor and has a capacity of 3,200 riders/hr, up 33 percent from the lift it replaced. Both lifts are top drives with active bottom tension, and with ring and pinion evacuation drives. Copper tweaked some terminal locations during the makeover. The American Eagle now terminates 200 feet lower, to accommodate a future mid-mountain lodge. The Flyer's bottom terminal was relocated 30 feet uphill and 25 feet to the east to ease traffic flow. All that is part of a $20 million investment this year that also includes snowmaking, facilities, and parking lot improvements.
MAGIC MOUNTAIN, VT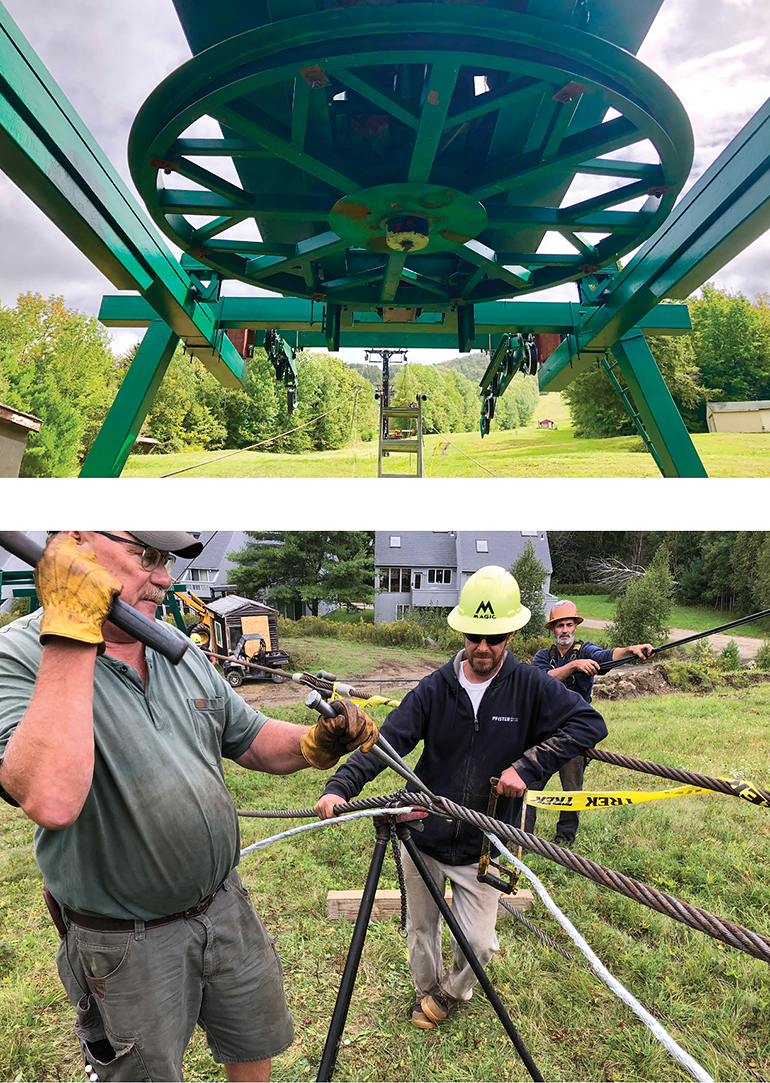 Magic Mountain is in the middle of a renaissance, with several game-changing upgrades in the works. Lift service to Magic's Sunshine Corner will return for the first time since the '80s thanks to a $425,000 investment to refurbish the Green Chair. The Borvig double was acquired from Stratton and partially installed in 2003, but was never completed, so it needed a major overhaul. Some parts were sourced from Suicide Six's old Borvig, but the comm lines, drive, and haul rope are new. The lift will serve novice, intermediate and gladed terrain. Restored lift service and upgraded snowmaking in this area will allow Magic to open earlier and faster. The resort's projected opening is Thanksgiving weekend, the earliest opening in a decade. As part of a $500,000 investment in snowmaking, a reinstalled pump and repaired pump house will allow the area to replenish its existing snowmaking pond quicker. These upgrades will give Magic 50 percent snowmaking coverage this winter. Pending permit approvals, Magic will build an additional snowmaking pond next year, doubling its snowmaking capacity, and install a second chair, a 1986 Poma quad acquired from Stratton for $1 million this spring. The refurbished quad will replace the old Black Chair, rising 1,500 vertical feet over its 5,000-foot span, and will move 2,000 skiers per hour, more than double the existing chair's capacity.
BIG SKY, MT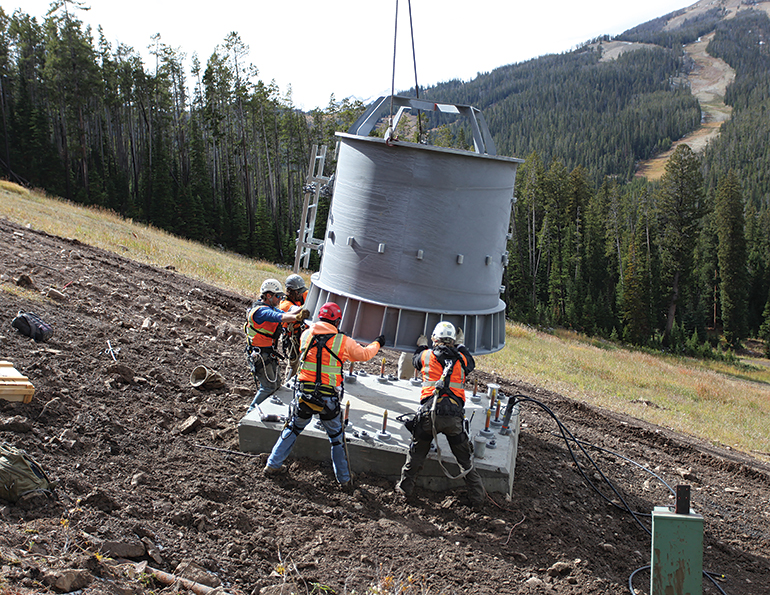 Big Sky is installing the first eight-seat, high-speed bubble chairlift in North America, a state-of-the-art D-line Doppelmayr with a remarkable list of amenities: ergonomically designed, extra-wide, heated seats; an adjustable-height loading conveyor; and an enormous integrated LED screen on the back of the terminal to provide information and engagement. Its cutting-edge technology also includes automatically locking and unlocking safety bars, fully automated overnight storage of the chairs, and Doppelmayr Direct Drive—the first D-line direct drive anywhere. Even the towers are innovative: they come equipped with speakers, so that lift operators can communicate with riders, and the tower bases are cone-shaped for reinforcement. There's a practical side to this. Ramcharger 8 replaces an existing lift on Andesite Mountain, one of Big Sky's many pods, and it increases the lift's capacity by 33 percent, to 3,200 riders/hr. The design capacity allows for a total capacity of nearly 4,000/hr. The lift is 4,200 feet long with a 1,160-foot vertical rise. Price of the installation has not been disclosed. The area is also replacing the Shedhorn double chair with a high-speed quad. The new lift will shorten the uphill ride by nearly two thirds, and the chairs will be more wind-resistant.